As of 2020, about 3.3 million people play pickleball. And while most only play a few times a year, all of those players need the best pickleball paddle they can get!
However, it can be difficult to figure out what paddle to get since there are tons of them out there. Keep reading to find the best pickleball paddle options, FAQs, and more!
Before we begin, if you're looking for a complete beginner's guide check out: Pickleball Strategy: Complete Beginner's Guide!
The Best Pickleball Paddle Contenders
No two players have the same technique, but fortunately, there are tons of paddles out there. Here are some to consider when looking for the best pickleball paddle for you.
The Paddletek New Era Bantam EX-L paddle is a full-size, medium-weight paddle. It features a top-weighted design, so you can get more power and control with your shots. You can use the paddle for many games, and it will still work well.
The velvet-textured polycarbonate surface provides lasting spin, and that can help you take down your opponent. There's also a PolyCore interior to help with responsive returns. It has a cushioned, high-performance grip to help you maintain control over your paddle.
Things We Like
A full-sized paddle for plenty of space to hit the ball
A strong core and an outer layer that lasts longer than other paddles
Top-heavy design to help with control and power
A comfortable grip that helps with performance
Medium-weight so it is not too heavy or light
The balanced design gives you more control over your shots
Versatile design works for a variety of pickleball shots
Things We Don't
Long grip means it can be hard for beginners to find the best place to hold it
Doesn't have as much control for off-center shots as some paddles
Not the newest model, so lacks some more advanced features
Only comes with one paddle, not a great option if you need or want a set
The ONIX Graphite Z5 paddle is another fantastic choice. It features an excellent touch that allows for more control over the ball. This paddle has a wide body shape to help you hit the ball from different angles.
Its handle feels like a tennis racket, which can be nice for people starting pickleball but have tennis experience. The core has a honeycomb shape that balances power and control, and the graphite face is lightweight.
Things We Like
The design makes it easy to manipulate the ball with the paddle
It feels lightweight so is easy to move
A honeycomb core offers more power and control without sacrificing one or the other
An edge guard helps with off-center shots to keep you from missing them
The grip feels solid and secure in your hand, and it shouldn't slip
Easy to upgrade the grip if it wears down or if you want something stronger
Durable materials make it great for indoor and outdoor play
Available in multiple colors, so you can choose one to match your style
Things We Don't
Only comes as a single paddle, so you would need more for a team
Doesn't come with a cover, so you need something else to protect it
The finish has some quality control issues, so it may not last that long
The paddle grip isn't as good quality as the rest of the paddle
The Niupipo Pickleball Paddle Set of 2 is suitable for tournament play, and it has approval from the USA Pickleball Association (USAPA). These paddles have a honeycomb layer on the inside and a graphite carbon fiber outside. Those materials help make the paddle durable and powerful.
The handle is comfortable to grip, and it can absorb your sweat. You can use the paddles for long bouts of play, and you won't feel as fatigued as with other paddles. The wide design on the paddle also means that you have more room to hit the ball. You'll get a neoprene cover for each paddle to protect it when you aren't playing.
Things We Like
USAPA approval means you can use it in any tournament or non-tournament games
The honeycomb design and fiberglass layers make the paddle long-lasting
You get two paddles, so you can have one as a backup or give one to a friend
The lightweight design makes it easy for any pickleball player
A combination of strength and stiffness helps you strike the ball with power
Design means it's suitable for use on any pickleball court
An edge guard helps the paddle last through more games
Things We Don't
The handle is short, so it can be hard to hold if you have large hands
The surface texture is too smooth for players who want a bit of grip
The sweet spot isn't as big as some other pickleball paddles
It can be hard to control the ball
Another option for the best pickleball paddle is the TICCI Pickleball Paddle Set. It comes with two paddles, so you can play with a friend or keep one as a backup paddle. The paddle uses fiberglass to provide a strong, lightweight design.
This paddle has an ergonomic grip, and that can help you balance the paddle without it slipping. The interior has a honeycomb design that can withstand harsh hits from the ball. You get everything you need to start playing pickleball when you get this set.
Things We Like
Lightweight design means it's suitable for beginners and intermediate players
It won't put too much stress on your wrist
Durable materials help protect the paddle when you strike the ball
An edge guard keeps the paddle from wearing down on the sides, so you can use it more
Fiberglass face helps you take more powerful shots
Comes with two paddles and a set of pickleballs to get you started
More affordable than the competition, so good for tight budgets
Things We Don't
The handle can come loose after a few games
The surface isn't as good quality as other paddles
Not suitable for outdoor courts
Price reflects the quality
If you're looking for a more advanced pickleball paddle, consider the Poach Advantage Paddle from ENGAGEPICKLEBALL. It features a unique polymer composite design inside, and the outside is a fiberglass polymer composite material.
The paddle is long and wide, so there's plenty of room to hit the ball. While the handle isn't that long, it's comfortable to hold. The surface holds the ball slightly longer than average, so you can get a good spin on the ball.
Things We Like
The big surface area makes it easy to hit the ball
The lightweight design takes some stress off your wrist
It has more layer skins that keep the paddle in good condition
The paddle feels soft and is easy to use
It falls within USAPA guidelines for roughness, so you can use it in a tournament
Multiple colors are available, so you can choose one to match your style
Things We Don't
It's more expensive than the competition, so it's best for advanced players
The space between the handle and the paddle doesn't have enough support to keep from breaking
An edge guard is there, but it can come off easily
How to Choose the Best Pickleball Paddle
Whether you're a beginner or an advanced pickleball player, choosing the best pickleball paddle involves a few factors. You should consider your specific needs. What works for one person may not be suitable for another.
Here are some things to keep in mind when shopping for the best pickleball paddle.
Shape
The first thing to consider when looking for a paddle is its shape. Most paddles have a rectangular face and a handle off one of the shorter sides. However, some paddles may be longer or wider than others.
If you want the best chance at hitting the ball, you should look for a bigger paddle. You'll have a greater surface area and a bigger "sweet spot," which makes it easier to get a strong hit.
Hitting a ball in the sweet spot can give you more control over your shot, so you want to maximize the chances of that. While a bigger paddle won't guarantee you'll always hit that spot, it can help.
Grip
Whether you choose a big or small paddle, you want to consider the handle's grip. It should be comfortable and big enough for your hand. Some paddles have short handles, and they're good for younger players, but they can be awkward for adults.
You may also want an absorbent grip if you tend to sweat. That way, you can keep the paddle from slipping in your hand.
If possible, test a few different paddles to see what feels best in your hand. You can compare how two different paddles feel to determine what you like best.
Weight
A paddle's weight can affect what it's like to hold. Even if a paddle has a durable handle and grip, it may be too light or too heavy. Similarly, the paddle's size can affect the weight.
You may need to consider these factors together to find the best pickleball paddle for you. If you're new to the sport, you may want a lighter paddle so that you don't overwork your wrist.
But as you get more experienced, you may decide to switch to a heavier paddle for more power and strength.
Materials
Pickleball paddle manufacturers can use a variety of materials. Many models have a honeycomb interior to withstand hard hits from the ball. While the interior never contacts the ball, you want a thick paddle that won't break after a few hits.
You should also consider the exterior layer. Common materials for this include graphite and fiberglass. Fiberglass is lightweight yet strong, so it's an excellent material for advanced players and beginners alike. Graphite is another strong material, so you can't go wrong with it.
Cost
Of course, you have to consider your budget when choosing the best pickleball paddle. If you're new to the game, you may want to try a more affordable option. Then, if you don't like playing, you won't feel like you wasted as much money.
However, a cheap paddle can only take you so far. As you get more advanced, you'll want a paddle with more features and power. And a lot of the more powerful paddles cost more money.
FAQ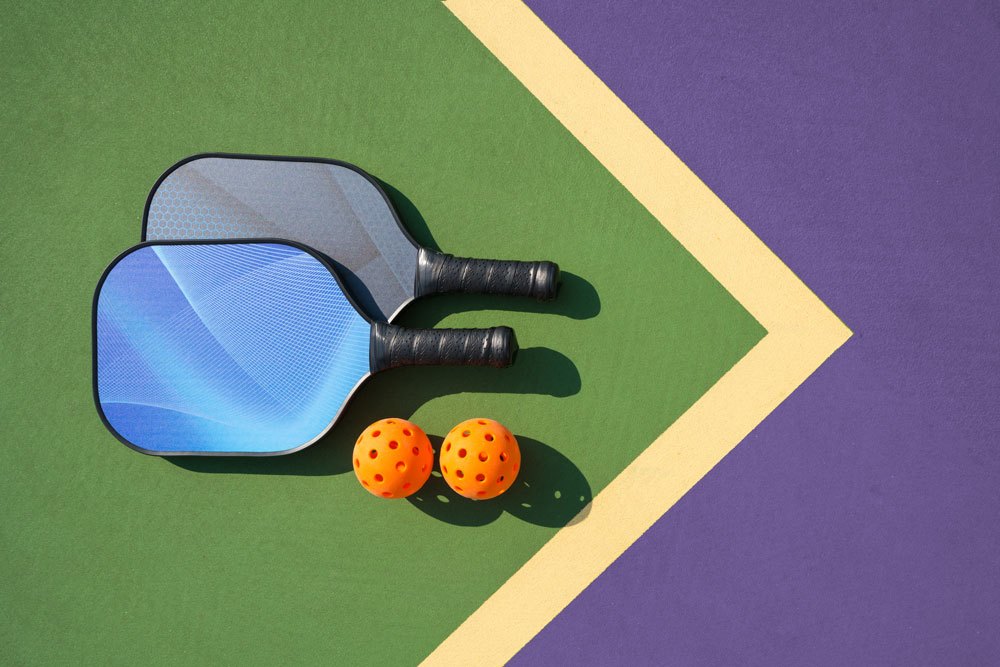 When looking for the best pickleball paddle, you may have a few questions. It doesn't matter if you're a beginner or have some pickleball experience. You should learn as much as you can about paddles.
Here are some common paddle questions.
How Long Do Paddles Last?
The lifespan of a paddle depends on the materials and construction. If the paddle's interior is thin and the exterior is too smooth, your paddle may not be good for long-term use. However, it can be good to get you started.
You should also consider that the area between the paddle and the handle is crucial. That can be a weak spot on a lot of paddles, and that can cause your paddle to break even when the surface is still usable.
If possible, feel the paddle and inspect the edges and the handle. Then, you can determine if it's durable enough to last through many games.
What Paddles Give You More Power?
Heavier paddles have the most power. While lightweight paddles can be easier to hold and maneuver, they won't be as strong.
You can also look for super-heavy-weight paddles for even more power. But if you just need an average amount of that, you can get a medium-weight paddle.
What Paddles Offer More Control?
While a larger paddle is more powerful, you may sacrifice control. Smaller and lighter paddles are better for players who need to respond quickly in a game.
You should look for a lightweight or medium-weight paddle for more control. A smaller head can help reduce the overall weight, so you can have more control over your shots.
Can a Good Paddle Help a Beginner?
Many things can help beginner pickleball players, and the right gear is essential. You don't need the most expensive paddle, but you do need a good quality one that won't break the first time you use it.
As a beginner, you may want to start with a lighter paddle. While it won't be as powerful, it won't strain your wrist. Once you start playing more, you can decide if you want a heavier, more powerful paddle.
How Should You Hold Your Paddle?
While playing, try to keep your paddle near your chest. That will help improve your reaction time, so you can make more shots early on.
You should also consider stretching before you play. Many pickleball injuries are preventable by warming up. Start by walking or jogging around the court, then stretch out your wrists and arms to help avoid fatigue.
Make sure your paddle feels comfortable and secure in your hand. If the handle feels too short, you may not have the best pickleball paddle for you. It shouldn't feel like you have to strain to hold the paddle securely.
Do You Need a Longer Handle?
Even if your hand fits on a shorter handle, a longer one can be beneficial. You can use a longer handle to get more leverage on serves, and it can give you more reach on groundstrokes.
A longer handle can also slightly increase the paddle's overall power. So you can still enjoy a somewhat lighter paddle.
Are Expensive Paddles Better?
While many expensive paddles are of great quality, they aren't always the best. You should consider your current paddleball experience and your needs.
Sometimes, paddles are more expensive because they're thicker and heavier. So if you want something lighter, you may prefer a more affordable option.
How Do You Choose the Right Paddle?
You can research all of the pickleball paddles on the market, but you need to try them in person. The fit and comfort of paddles can vary, so you should test how a paddle works with you.
An online review or product description can give you an idea of what you will like. But the reviewer probably doesn't have the same hand size and shape as you. They might also have a different preference when it comes to paddle weight.
Test as many paddles as you can from different brands. Consider the shape and weight as well as your hand position. Then, you can decide which is the best pickleball paddle for you.
Wrap Up
You can find many pickleball paddles, and you'll probably find people who love all of them. But some paddles are better than others.
The best pickleball paddle is the Paddletek New Era Bantam EX-L. It offers a balance of power and control, and there's plenty of room to hit the ball. The design makes it suitable for beginners and advanced players, and the handle is comfortable.
It's also quite durable, so you can use it game after game, and it won't wear down. Now, it is on the more expensive side. So if you have a smaller budget, consider the TICCI Pickleball Paddle Set.
You get two paddles and a set of pickleballs, so it's excellent for beginners. One of the paddles can serve as a backup if one breaks, or you can lend it to a friend.
However, all of the paddles on this list have fantastic features. Test them all out before you decide which is the best for you.
Looking for more? We have plenty of guides for you to choose from! We have guides that cover the best equipment, the history of pickleball, how to play pickleball, and more! Check them out, What is Pickleball?

, Why Is It Called Pickleball?

, Pickleball Scoring

, How to Play Pickleball

, Pickleball Rules

, Pickleball Court Dimensions

, and Best Pickleball Shoes

!