People first played pickleball in the 1960s, but recently the sport is experiencing a surge in popularity. For anyone who plays the game, it is well-known that it is not only a fun way to get exercise but also an intense sport.
As with any sport, having the right gear is essential. Part of the equipment you should focus on is the shoes you will wear when playing.
Picking the right pickleball shoes can have a significant impact on your gameplay. It can also influence how well your body holds up under the demands of the sport. So, you must make choosing shoes a top priority.
In this article, you will find the top 5 shoes for pickleball, types of shoes to consider, FAQs, and more!
Before we begin, if you're looking for a complete beginner's guide check out: Pickleball Strategy: Complete Beginner's Guide!
Review of the Top 5 Pickleball Shoes
Most shoe companies do not make shoes specifically for pickleball, but there is a range of options on the market that will work perfectly for playing this sport. Your choices include tennis, court, volleyball, and cross-training shoes.
Since shoes differ in indoor and outdoor play needs, we decided to provide you with indoor and outdoor options in both women's and men's styles.
The Hypercourt Express tennis shoe from K-Swiss gives you a lightweight option with long-lasting comfort. Ideal for outdoor courts, the shoe has a mesh upper to reduce weight and make it breathable.
The Aosta 7.0 rubber sole provides excellent traction for all the quick moves you need to make on the court and keeps the shoe durable. The 180 PCS support chassis gives you stability and support for safe playing, while the Guideglide EVA midsole helps absorb shock.
Pros
Features a Durawrap toe guard
Advanced cushioning from the K-EVA Strobel board
Minimal time to break-in
Durable
Cons
The Gel-Resolution 8 is a volleyball shoe that provides the ideal traction from the gummy sole for indoor pickleball. It's a comfortable shoe with a GEL cushion forefoot unique to ASICS.
It features a stabilizing technology that gives you traction when making quick changes as you dart from side to side and back to front on the court. The shoe is also lightweight and well-constructed.
Pros
Affordable
Solid support
Lightweight
Cons
Lacks in durability against other shoes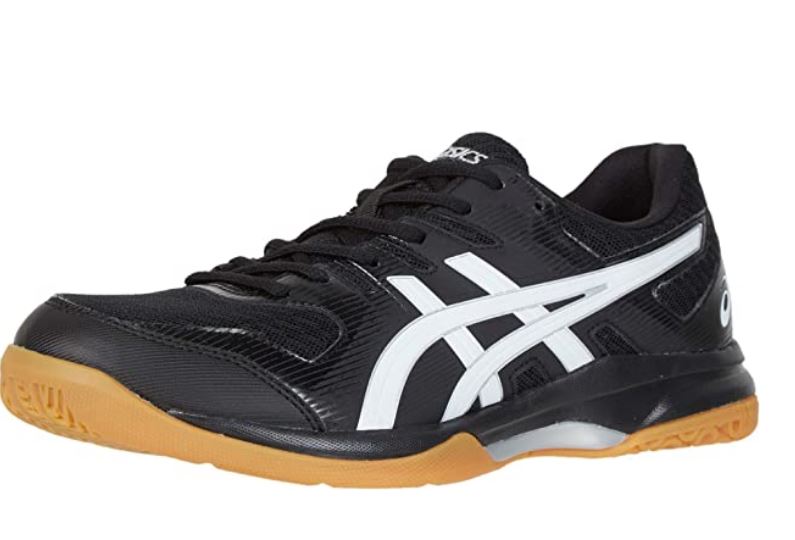 ASICS Men's GEL Rocket 9 is a volleyball shoe that you now know is perfect for pickleball since movements are similar in the feet and ankles. It works wonderfully for indoor court play due to the durable gel sole with a design specifically for the indoor court floor.
These well-made shoes feature a special system and gel cushioning to provide superior support. The materials also help to keep the shoe lightweight to avoid fatigue during a long pickleball game. It also has breathable mesh and foam that pads the tongue and collar.
Pros
Many extra comfort features
EVA midsole shock absorption
Unbelievable floor grip
Cons
Lack of arch support
Not a tight fit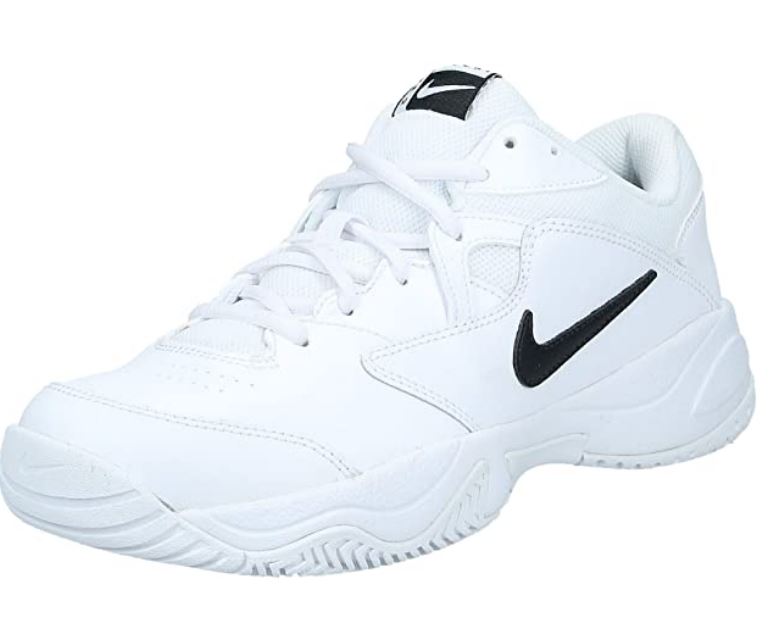 For a solid outdoor play men's shoe, consider the Nike Court Lite 2. The design is specific to hard court play with a GDR rubber outsole with a zonal tread pattern. It gives you superior traction on the court. The shoe's support and stability allow for quick lateral movements, easy stopping, and fast direction changes.
The shoe is leather with a tongue and collar that has padding for a comfort fit. It also has a molded foam footbed with lightweight cushioning to produce a shoe that feels as good as it looks. You won't have concerns about this shoe weighing you down.
Pros
Incredible durability
Breathable mesh inserts
Extra toe cushion to absorb impacts
Excellent arch support from phylon midsole
Cons
Sole is almost too hard and affects comfort
Leather upper is very stiff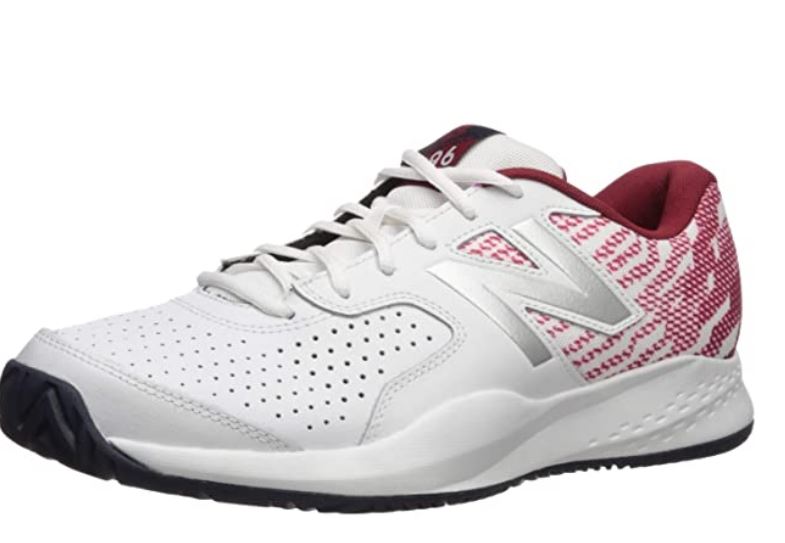 The New Balance 696V3 is a budget-friendly option if you are new to pickleball or don't have a lot of money to invest. It provides you the support and comfort of a more expensive shoe but at a reasonable price. This cross-training shoe has a classic design and works for indoor or outdoor courts.
It's great for traction due to the NDurance rubber outsole with a herringbone design. The midsole uses EVA, which is lightweight and provides adequate cushioning. The shoe is also breathable.
Pros
Easy to break in
Excellent comfort
Sturdy support
Cons
Not as durable as more expensive options
Reasons You Need to Choose Pickleball Shoes Carefully
Pickleball is a very active sport. You run and jump throughout a game. It also requires being able to change directions quickly. With all this movement, it is very easy to strain your ankles or knees. Pickleball Max explains that it is critical to choose your pickleball shoes carefully to avoid injuries.
Safety must be your primary concern over anything else, such as style or brand name. The shoe you choose must provide support for your ankle and be lightweight enough to allow you to move about the court without causing excess strain on your legs.
The Center states that the best pickleball shoes will provide you with a comfortable yet sturdy fit around your ankles. They should have rubber soles with a pattern in the tread that allows for quick lateral movements. In other words, the tread shouldn't catch so that it makes you stumble or you have to compensate for it.
Types of Shoes to Consider
According to the USA Pickleball Association, you should never use running shoes as your pickleball shoes. They lack the support you need in the ankle and will allow you to strain your ankles. Better choices are tennis or court shoes, which have a design that allows for the types of back and forth and side to side movement you have while playing pickleball.
Tennis or court shoes also have soles that work well for the type of court you'll play on in pickleball. The soles give you proper traction while also allowing for easy movement.
Looking inside the shoe, tennis and court shoes provide not only the proper support but also cushioning in the areas that are important for the movements you will make. It leads to the best comfort possible, so you won't have to worry about sore feet.
Considerations When Choosing Pickleball Shoes
A general idea of which type of shoes to buy is helpful, but knowing specific things to look for will ensure that you get pickleball shoes that will adequately support your foot and help you with your game. You need to consider the different parts of the shoe and their design to know if a shoe will work.
The upper needs to have good stability to prevent injuries. When trying on a shoe, check how secure your foot feels. Move side to side to see if it feels locked in or if there is too much room for movement.
The midsole is not as important as the other parts of the shoe and is about your comfort. You need to consider the arch fit and width. You want good arch support and a shoe that isn't too wide because it will allow too much movement, which could lead to injuries.
If you play indoors, it is imperative to look for an outsole that is non-marking. You don't want to leave marks on the court. You also want it to be durable and responsive. It's nice if it is lighter towards the front of the shoe because that will help with your movements to keep them light and fast.
The insole is another personal choice, but make sure it feels comfortable. Pay attention even after you buy the shoes. If you start feeling more pain in your knees or back, it may be time to change the insole or get a new pair of shoes.
Taking everything together, you want to be sure the shoe overall is not too heavy. Some court shoes have a tendency to weigh a lot more than tennis shoes, which is why many people shy away from them. While a lighter shoe will aid in faster movement, a heavy shoe can help provide more support, so consider which is more important and go from there when it comes to weight.
Finally, when it comes to color, this is often a personal choice, but strategic players will choose a color that matches the court so that opponents can't use the strategy of shooting to their feet. When your shoes blend in, it is harder for them to aim accurately at them.
Best Pickleball Shoe Brands
The brand of shoe you choose is not really as important as the other features of the shoe, but it can play a role in your decision.
K-Swiss has been making shoes since 1966. The company began with two brothers from Switzerland wanting a shoe line explicitly made for tennis that offered the support needed for the way tennis players move.
ASICS is the work of Mr. Kihachiro Onitsuka, who started the company in 1949. At that time, it operated under a different name, but the company we know today has grown into a leader in the industry. The company focuses on making sports shoes that match the needs of players.
New Balance works to provide shoes that support the athlete wearing them. The company also prides itself on offering shoes made in the USA and has done so since 1906. Surprisingly, the inspiration for the company came from the founder watching chickens move about.
Perhaps the best-known name in sport's shoes, Nike has been around since 1964. Started by a track and field coach, this company makes shoes to help improve athletic performance.
FAQ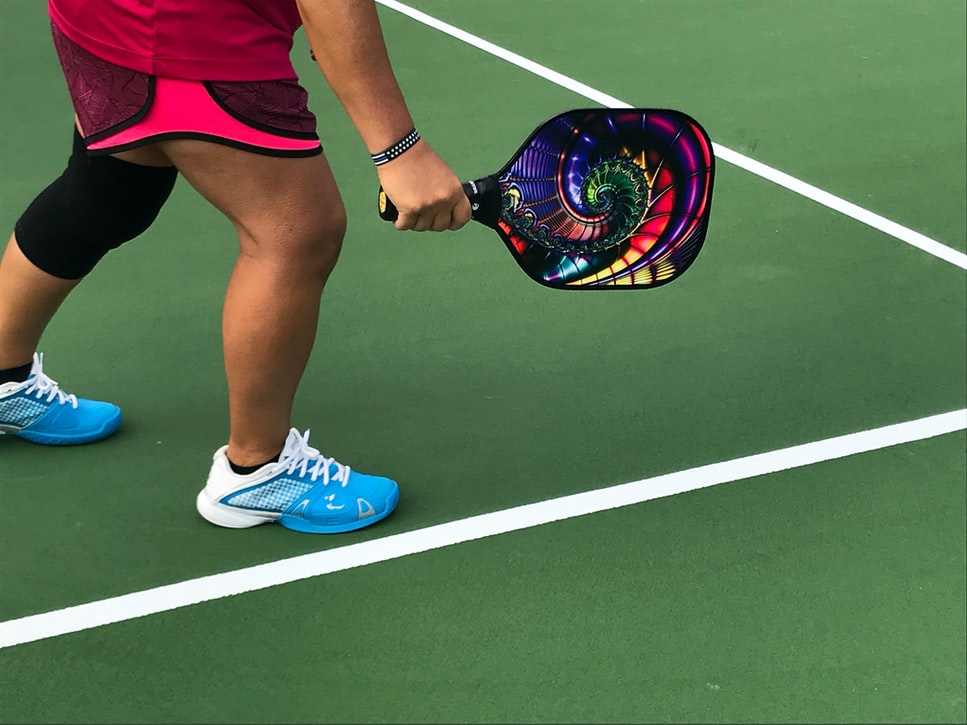 Now that you know quite a bit about choosing the right pickleball shoes, you may feel ready to make a purchase. However, before you do that, read through these frequently asked questions to ensure you completely understand how to choose the right shoe for pickleball.
Do you need special shoes for pickleball?
You don't need shoes made specifically for pickleball, but you do need shoes made to offer you the support you need when playing the game. Good shoe choices have to give you the right ankle support and grip so that you can move quickly on the court without worrying about rolling your ankle or slipping.
Are pickleball shoes and tennis shoes the same?
There are not many shoes on the market made specifically for pickleball, so the shoes you buy will usually be for another sport. So, it is best to look for sports that have similar movements to pickleball, and tennis is right up there. With that said, tennis shoes are ideal for pickleball, so you could say they are tennis/pickleball shoes.
How long do pickleball shoes last?
Pickleball is a sport that is tough on shoes. You move a lot when playing, but most of the moves you make are very similar, and you repeat them over and over. That constant stress and use on your shoes will wear them down in specific areas pretty quickly.
How fast, though, depends on your playing style and where you are stressing the shoe. In general, you can expect your shoes to last about three to four months, but if you have a specific spot that is taking hard wear, it could mean you need new shoes earlier. For example, if you move off your toe a lot and your shoes lack a toe guard, then you could blow through a pair of shoes in a couple of weeks.
Do I need to break in pickleball shoes?
No matter the reason you buy new shoes, you will always have a period where you need to break them in. Unless you get custom-made shoes, there is no way to avoid rubbing and tightness that could lead to blisters and foot pain.
The Wall Street Journal explains that breaking in your shoes will help avoid these issues because it allows the shoes to conform to your foot. Always take time to walk around and do some light playing in your shoes before wearing them for a full game.
Wrapping Up
Looking back on the five picks we made for pickleball shoes, we feel the top choice for women is the K-Swiss Hypercourt Express. The shoe offers everything you need in a good pickleball shoe, from support to durability.
For men, we tend to lean towards the ASICS Men's GEL Rocket 9 because of its all-around exceptional comfort fit. The gel in the sole makes it a step above the rest because it can help your game by encouraging your movements and keeping your steps light.
However, we know that K-Swiss and ASICS may be a little too pricey for some players, so we completely support the New Balance 696V3 as an affordable alternative. While the shoe doesn't have a large price tag and isn't known for being one of the fancier brands, it gets the job done well. It provides support and function that is comparable to every other shoe on our list.
Now that you have all the information, it's time to buy your pickleball shoes. Choosing any of the five shoes we've reviewed is a winning idea, so make your decision and buy today!
Looking for more? We have plenty of guides for you to choose from! We have guides that cover the best equipment, the history of pickleball, how to play pickleball, and more! Check them out, What is Pickleball?

, Why Is It Called Pickleball?

, Pickleball Scoring

, How to Play Pickleball

, Pickleball Rules

, Pickleball Court Dimensions

, and Best Pickleball Paddle

!