The best part of pickleball is that it doesn't require much equipment. You can grab the gear and accessories you need in order to be comfortable on the court (and all without breaking the bank). But if you want to be at the top of your game, here's what you need to know about the best pickleball accessories and must-have gear.
Before we begin, if you're looking for a complete beginner's guide check out: Pickleball Strategy: Complete Beginner's Guide!
Our Picks For Top Gear
Not sure where you need to start? Here are our picks for the best pickleball accessories: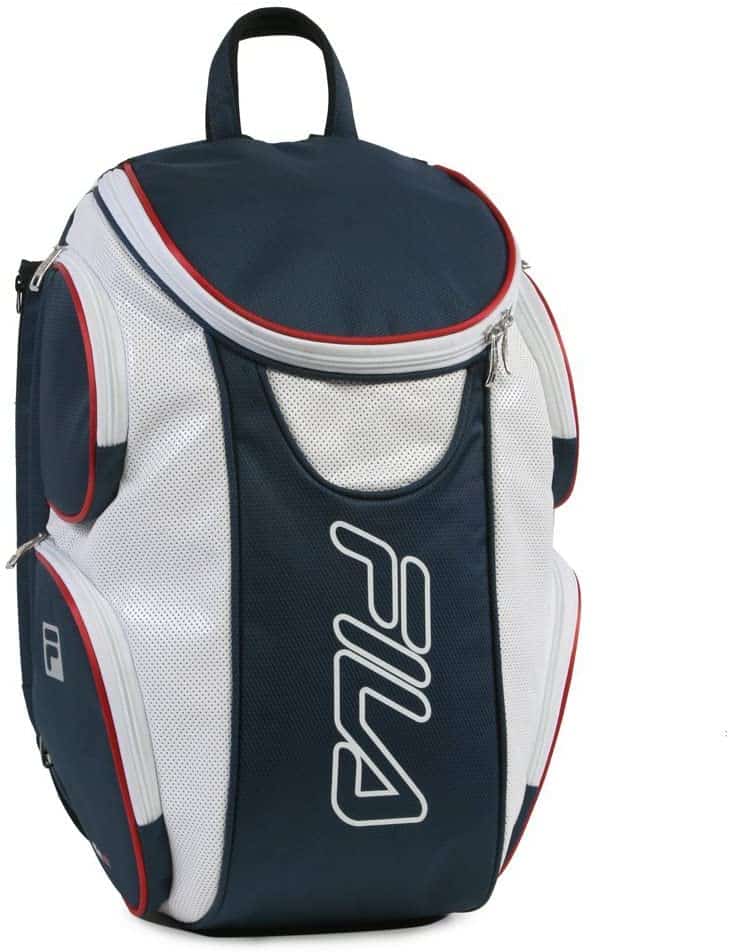 Sure, it's originally designed for tennis, but considering the similarities between the games, the Fila Ultimate Backpack is great for pickleball. It's spacious with plenty of room to hold all your gear, accessories and personal effects with its variety of easy-access compartments and pockets.
The adjustable shoulder straps promise the backpack will be extremely comfortable and transportable without applying undue stress on your torso. You can get two to four paddles in separate compartments. A special felt-lined pocket is ideal for storing a cell, keys, wallet and other fragile items. Compartments separate shoes and clothes. This is a great feature for anyone who doesn't want wet clothes or dirty soles interacting with each other.
Features
Weighs less than three pounds
Will fit shoes, clothes, paddles, accessories and more
One side pocket for a beverage
What We Like
This bag's affordable
Pockets are organized and can be closed with zippers
Insulated pocket keeps beverages cold
Shoes don't have to touch other items, like clothes
What We Don't Like
The bag's durable but also a little too heavy
Beverage pockets only have room for cans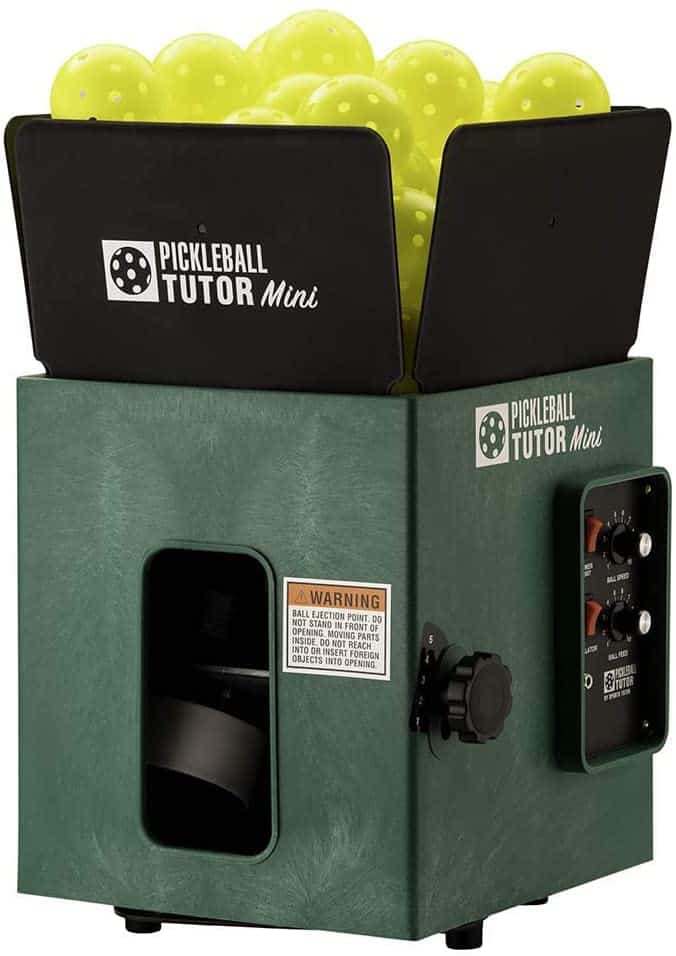 The Pickleball Mini is a compact and convenient solution for the beginner while offering more than enough features to get the experienced pickleball player streamlining their game. It's sold as battery-operated only, but an AC adapter can be purchased separately.
The unit can have a non-oscillating or oscillating operation. (See more about oscillation in the Ball Machine section below.) The basket holds over 50 pickleballs of any type and serves them at speeds of up to 50 mph. This feature works for beginner learning as well as gives the pro the chance to test their mettle.
Features
Manages ball diameters between 2.854" and 2.992"
Trajectory can be adjusted for varied experience
Delivers random shots to boost endurance
Three hours of play on battery
Manual elevation for working on your form
Holds over 50 pickleballs
Time delay startup
What We Like
Shoots any type of shot
Weight makes for easy transport
Charges overnight
Has auto shut off to prevent overcharging
Can use varying sized pickleballs
What We Don't Like
Remote is an optional purchase but has to be done when you buy the machine
AC adapter is a separate purchase
Pricey for a beginner's ball machine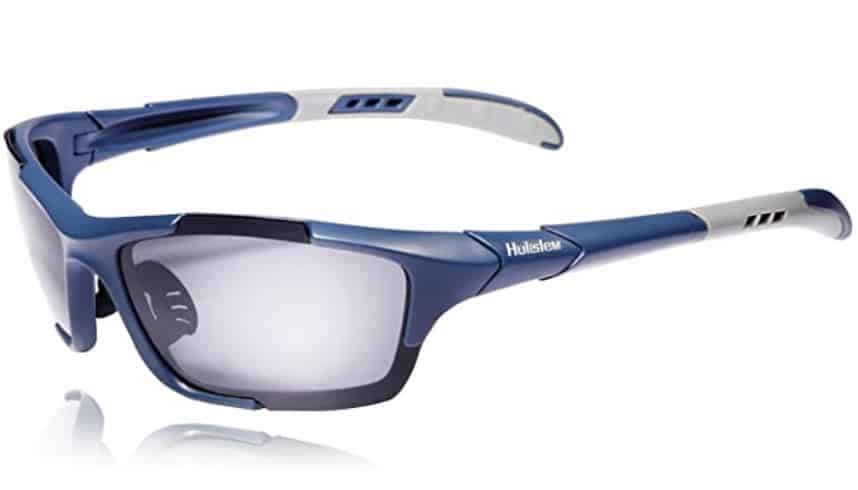 FDA approved, these sunglasses are excellent for eliminating sun glare. The plastic frames are polycarbonate. Manufactured for athletes, they have a tremendous resistance to shock, impact, and damage. These sunglasses are designed with a dual polaric ellipsoid geometry. This is essentially two lenses cut from a single toric shield. That means the sunglasses allow a greater color contrast and depth perception.
This is state-of-the-art Italian and Swiss engineering. The lenses incorporate a three-point fit that keep them in precise optical alignment and provide error free clarity. There's over a half dozen colors to choose from.
Features
TR90 thermoplastic material
Snug three point fit
Dual lens polaric ellipsoid geometry
Stress resistant
Solid, durable framing
What We Like
Color variety allows personalization
Comes with hard case for protection
Stress resistant
Blends Italian and Swiss tech
Mirror UV 400 coating
What We Don't Like
Lenses arrived with scratches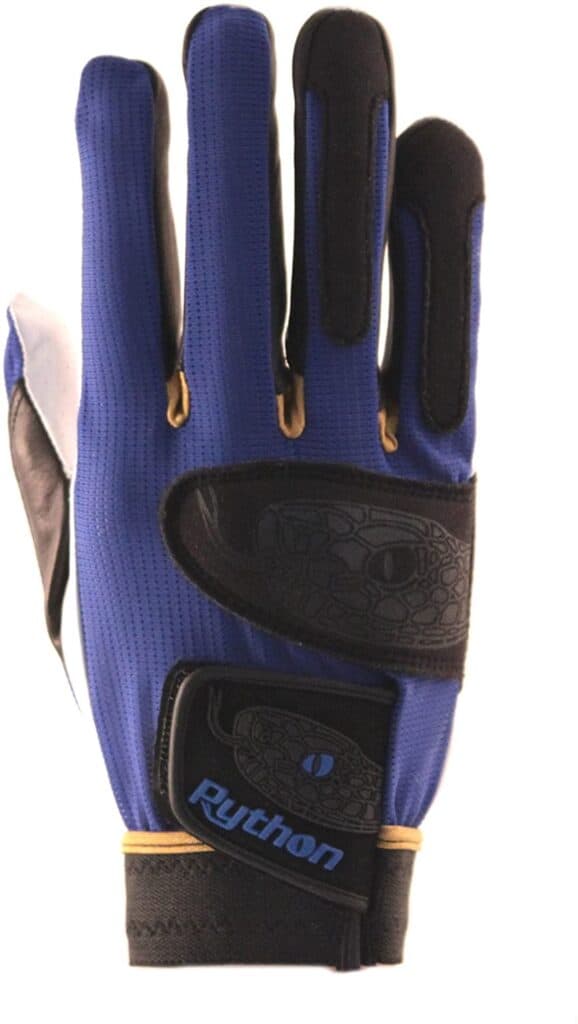 Designed for adults and children, this is actually a racquetball glove that many pickleball players have come to love. It has a perforated Cabretta leather palm with a tackified palm strip, which enhances grip as needed. This ensures a better delivered shot.
Its sweat resistant and breathable construction is perfect for out- or indoor play. Thanks to a high elastomeric nylon and spandex blend backing, you're guaranteed a comfortable, snug fit that doesn't squeeze. Thin dive pads protect your hands from unexpected impacts.
Features
Added grip for increased power in the palm
Perforated leather creates breathability and sweat resistance
Velcro wrist closure for stable fit
Knuckle dive pads
Elastomeric back for better fit
What We Like
Tough and durable
Good grip
Breathable and absorbent
Protects against blisters
What We Don't Like
Gloves have a short lifespan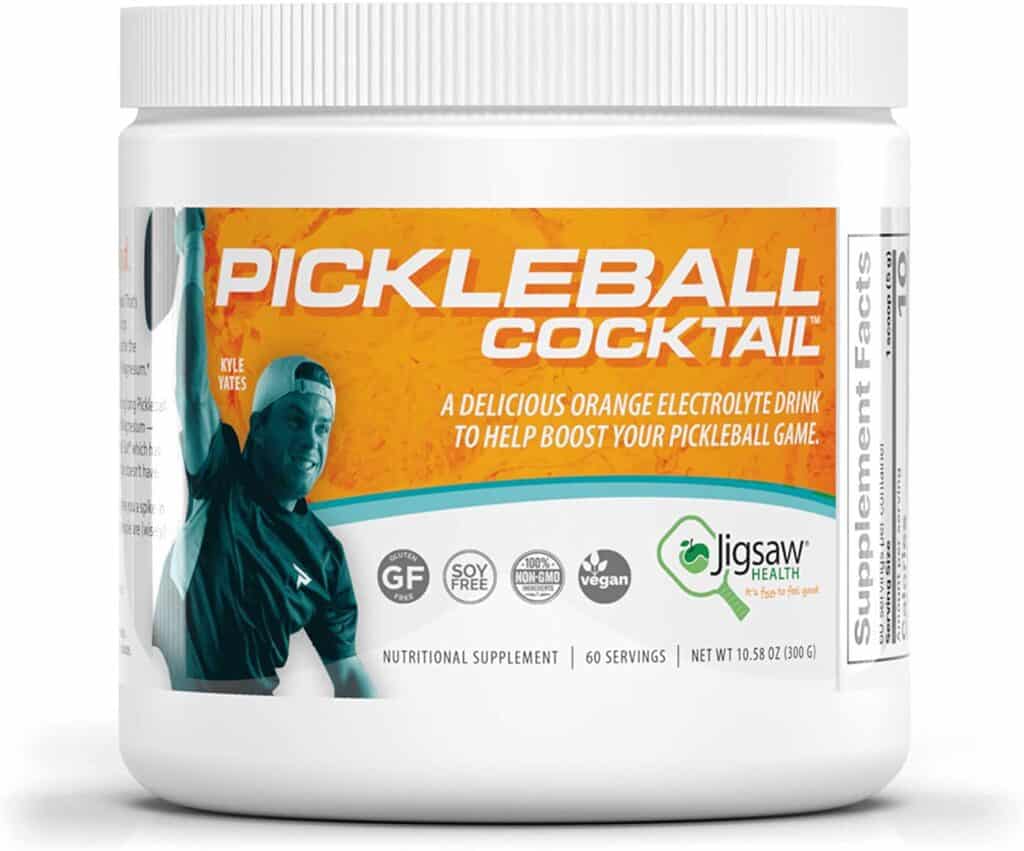 Specifically designed for our favorite sport, the Pickleball Cocktail is engineered to support a healthy, relaxed muscle tone. It replenishes important electrolytes to get you through the entire day, whether you're playing one or six strenuous games.
Using this drink, you promote healthy energy levels while managing proper fluid balance within body cells. You only have to drink an approved dosage in the morning and you're good for the day. The beverage is filled with chloride, sodium, potassium and magnesium, which prevents muscle fatigue and cramping. Your body will be filled with the nutrients you need to feel great and play through.
Features
800 mg of potassium
Trace minerals that regular sodium-chlorides lack
A single scoop in 16 ounces of water for a single daily dose
Replaces electrolytes missing in plain water
Sugar free
What We Like
Replaces lost fluids for reproducing and balancing electrolytes
Potassium content equals two bananas
Contains zero caffeine and sugar
90 day money back guarantee
60 servings to a jar
What We Don't Like
What to Know When Shopping For Pickleball Accessories and Gear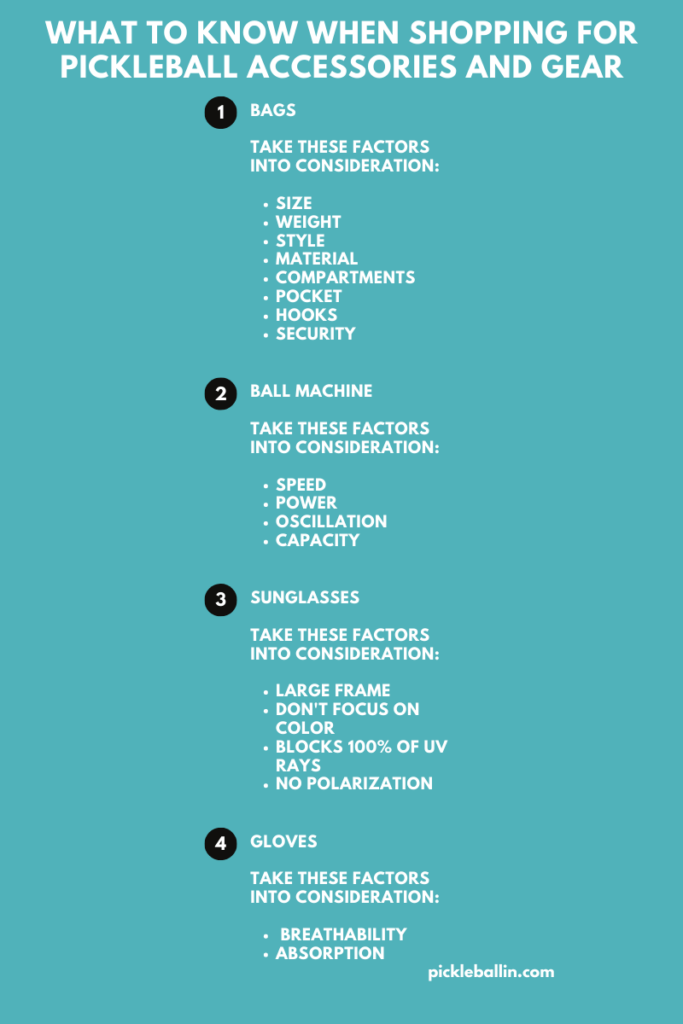 Shopping for pickleball accessories can be tricky, especially if you're not sure which features matter to you. Here's everything you need to know about finding the best pickleball accessories:
Pickleball Bags
You want a good bag to carry your gear. These bags are designed for tastes and accommodation. You want enough room to take your necessities and anything else you might consider.
You want to safely and comfortably transport your grips, keys, paddles, gloves and shoes. The bag should have room for your wallet, phone, a change of clothes, towel, sunglasses, sunscreen or a water bottle.
And this list only gives you a start. Everyone has their own needs when putting together a go-bag for pickleball. Take these factors into consideration.
Size
Weight
Style. Backpacks, duffle, drawstring, sling, and tote are all available.
Material. This is important. Can you keep wet clothes or towels in separate areas of the bag? Would you be more comfortable with a water-resistant product?
Compartments. Keep things organized and easily found. Depending on what you're carrying, you may want zippered compartments.
Pockets. Inside and out of the bag.
Hook. It may not seem important but some players prefer to hang their bags as opposed to setting it on the ground.
Security. You may want a bag that protects personal items with customized features such as locks.
Ball Machine
A ball machine is a serious investment but highly recommended for anyone looking to pump up their game. Practice and get to the top of your game. And, as we all know, the path to better play is practice.
There are many options here. Ball machines can be AC or battery powered. You have a range of options for oscillation (see bulleted list below). Models with oscillation are available with wireless remote or electronic elevation.
Here are a few things to take into account before choosing a ball machine.
Speed. When choosing a ball machine, speed is the prime factor. Practice goals and style of play can require adjusting to speeds.
Power. AC power means needing a power source wherever you choose to engage. Battery-operated machines tend to be more portable.
Oscillation. Oscillation features simulate real ball play. Balls can be fed side-to-side or in random direction. A feature in higher end models is oscillation programming.
Capacity. Machines can hold anywhere between 50 and 300 balls.
You need to gauge the size of your budget and the size of the spaces where you'll use the machine. (You'll want a smaller machine for indoor use, for example.)
Sunglasses
The use of sunglasses falls into two categories: health and comfort. In its simplest form, sunglasses allow you to see better under often difficult conditions. They improve color and minimize glare. Even on cloudy days, sunglasses improve vision. This will be critical when you're trying to follow a brightly colored pickleball in reflective glare.
Sunglasses enhance vision while also protecting your eyes from UV rays. Anyone who spends time under the sun should know about the potential threat to your eyes from exposure to ultraviolet rays. When you're on the court squinting to see, you're also getting hit with UV radiation that can have a harmful impact over time.
Here are things to consider when buying a pair of sunglasses.
Go with larger frames for coverage. Wraparound and oversized will better cut down on exposure.
Color is irrelevant. Colors don't block more or less UVs but can vary in contrast.
Go with sunglasses that block out 100 percent of ultraviolet rays. While it might seem practical to think they all do so, most do not.
Keep in mind polarized lenses disrupt glare, not UVs. Polarized sunglasses are better for driving or being out on the water, not the court.
Most of us look at the price tag but almost no one looks at UV blocking. Don't let cost be a factor. Definitely pick a pair that align with your tastes but sunglasses that block 100% UV are effective at any price.
Pickleball Gloves
Gloves are recommended as they improve paddle grip with increased cushioning and minimize hand fatigue. Here are a few things to look at before choosing a pair of gloves.
If your hands tend to get clammy, you want a breathable product that maximizes absorption. You want a quality leather and backing material. Sheepskin is expensive but will be supple and plush. Goatskin is soft and has a lower price compared to sheepskin but loses softness with use. There's also tackified leather and synthetic leather.
Leather gloves are considered the best way to improve paddle grip. Leather works fine with standard grip wraps but a rubber paddle grip and gloves will improve your game. And you have to keep in mind your play style. Full fingered or half-fingered gloves can vary on needed ventilation. Wicking properties will be beneficial too. Cushioning provides comfort as well as affects tackiness on paddle grip.
Electrolytes
The fluids we ingest dissolves in water. The resultant substance plays a major role in bodily functions. Electrolytes interact and an imbalance can be toxic to your health.
Steady and consistent sports interaction can impact electrolytes. Imbalances are the result of low or high levels of electrolytes. These levels change based on water levels in the body, as well as through sweat. This is why you see everyone from golf pros to basketballers consistently taking in fluids.
The benefits of electrolytes include:
Fluid level regulations in blood plasma and throughout the body
Managing pH blood levels in normal ranges
Generating strong muscle contraction, such as heart beating
Delivers nerve signals to cells from muscles, heart and nerve centers
Helps build new tissue
There are many ways to balance electrolytes. If you're playing sports, taking in fluids is a good option. They help balance body water amounts, pH levels and help make sure the body works the way it should.
Pickleball FAQs
What's the best glove size for a woman with small hands?
We'd go with an extra small or junior. You can get an accurate sizing, measuring across the palm of your dominant hand with a tape measure. For women, six inches across the palm is extra small and eight inches call for extra large.
Can polarizing sunglasses be worn over my regular frames?
We wouldn't advise that. The whole point is to safely cover the eyes. Any obstacle that prevents this stops the sunglasses from doing their job. You want the sunglasses close fitting. If you're wearing prescriptions, we'd suggest you look at prescription sunglasses. They'll be useful on and off the court.
For traveling purposes, can I take my pickleball bag through the airport?
Yes, it will pass through with no trouble and fits in the overhead compartment. You can have all your gear in one place.
Why is the Tutor Mini so expensive?
You can certainly spend less. We've seen ball machines for as little as $30, but we decided to average in the benefits of each model. And we truly believe for the buck, this model is going to help you learn the game and play better than comparably priced devices, let alone cheaper ones.
The Last Word
If you're going to go for anything on our list, we strongly recommend the Fila Ultimate Backpack. It's affordable and your entire game is enhanced when all your gear and accessories are organized. The product has a myriad of features that simplifies being ready, including keeping shoes away from your clothes and easy-to-carry features.
Looking for more? We have plenty of guides for you to choose from! We have guides that cover the best equipment, the history of pickleball, how to play pickleball, and more! Check them out, What is Pickleball?

, Why Is It Called Pickleball?

, Pickleball Scoring

, How to Play Pickleball

, Pickleball Rules

, Pickleball Court Dimensions

, Pickleball Shoes

, and Best Pickleball Paddle

!