Once upon a time, retirees and country club folk dressed in pairs of cotton shorts and shirts (maybe a tucked-in polo, including belt) and showed up at the pickleball court ready to play.
Although there's nothing inherently wrong with wearing such an outfit, there are many more options to choose from these days.
There are plenty of pickleball clothes on the market, from silly graphic tees displaying pickleball puns to high-performance athletic wear. With so many choices, it can be overwhelming trying to find outfits worth buying. That's where we come in!
We've dug through the digital racks, sifted through the reviews, and picked out the best pickleball clothes for men and women we could find. Please keep reading to find out which items made our list, plus our tips on what to look for in a great piece of athletic wear.
Before we begin, if you're looking for a complete beginner's guide check out: Pickleball Strategy: Complete Beginner's Guide!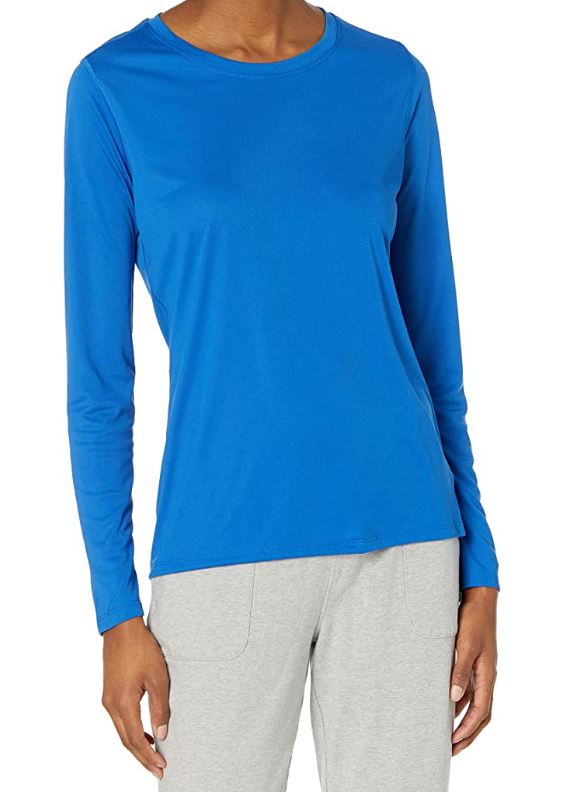 When you're out on the court, you want your pickleball apparel to be comfortable, first and foremost. Moreover, this means finding a top that fits nicely and keeps your temperature regulated. The Hanes Cool DRI long sleeve tee does all that and more.
The tee has a flattering feminine fit but still provides just enough slack around the torso for comfort and range of movement. The lightweight polyester is soft and provides sun protection to keep your body dry and cool or warm, depending on the season.
Thanks to the moisture-wicking technology and Cool DRI material, the shirt dries quickly, so you're not walking around looking like a wet mess. You could even wear this tee to the pool, take a dip, and be dry enough to play a round of pickleball not too long after.
Plus, these tees are tagless, which means no fiddling with itchy, scratchy tags!
The budget-friendly price makes it easy to pick up one in every color (Awesome Blue, Razzle Pink, Fresh Berry, among others) so that you have plenty of style options.
Features:
100% polyester
Cool DRI technology
Fresh IQ advanced odor protection
Double-stitched cover-seamed neck
Double-stitched sleeves and bottom hems
Tag-free neck
Pros:
Wicks away moisture to keep you cool and smelling fresh
Feminine fit provides comfort and style
Has a UPF of 50+ for extra sun protection
Machine-washable and dries quickly
Comes in a variety of colors so you can mix and match
Cons:
Sizing runs small
Sleeve length falls a little short for some wearers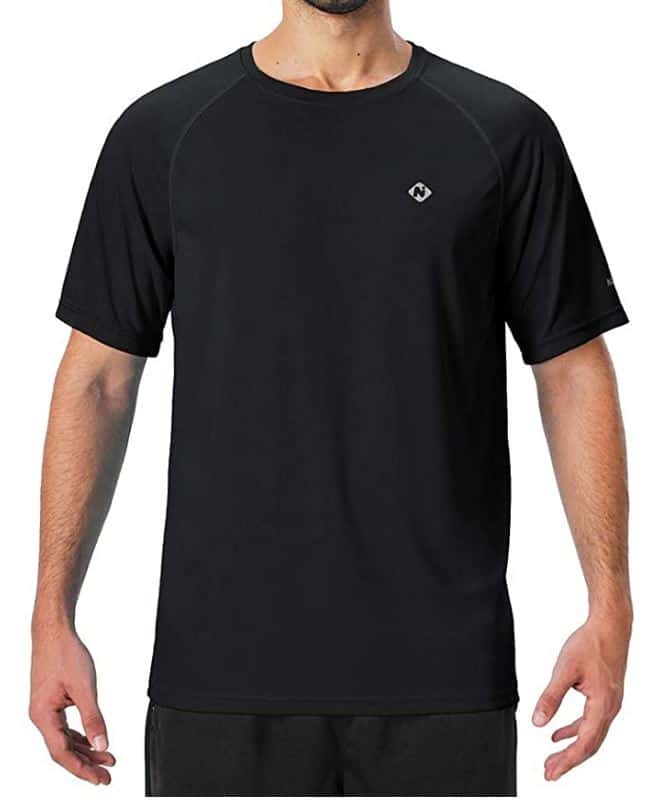 The great outdoors calls for a great t-shirt, even if you are on a shaded pickleball court.
The Naviskin long sleeve tee for men gets one of our top spots for pickleball clothes because it checks all the boxes of what excellent activewear should include: moisture-wicking technology, sun protection, comfort, lightweight material, and long-lasting results.
Many reviewers who wore the Naviskin tee said the fabric felt heavenly, which is excellent news when you're making quick moves across the court. It also doesn't hurt that most men found the shirt flattering, no matter their body type.
One of the most significant benefits of this shirt is that it provides ultimate sun protection. When you wear this long sleeve, there's no need to slather sunblock on the areas the shirt covers. Moreover, men who hate that greasy, lotion feeling praise this pickleball clothing for that reason alone.
Features:
100% polyester
UPF 50+ fabric
Moisture-wicking material
Crew neck with flatlock seams
Raglan sleeves
Pros:
Water-resistant technology keeps you cool, even on hot days
SPF 50+ U.V. protection keeps burns away so that you can play longer
The lightweight, comfortable fabric gives you a range of motion
Cons:
Sizing runs slightly large
Overall length may not be suitable for some
Low neck exposes skin to the sun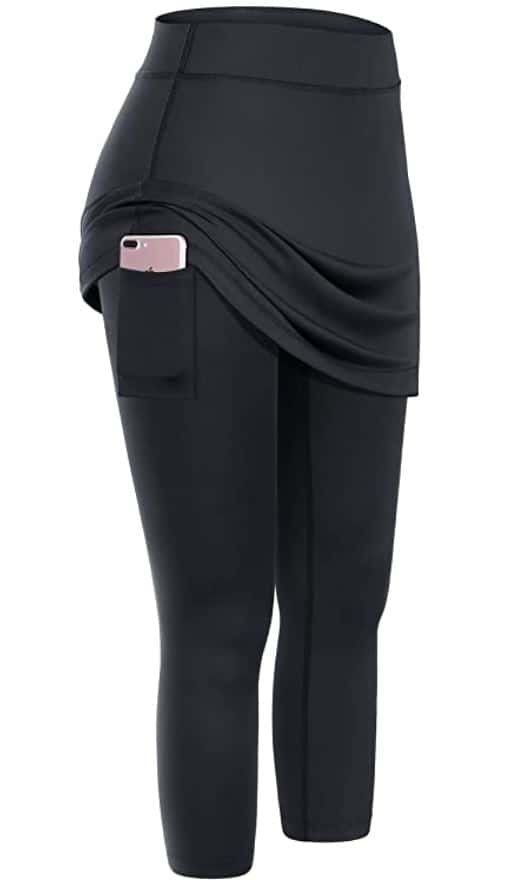 It's a skirt! It's leggings! It's both! The ladies who can't decide between these popular forms of athletic wear, the Kimmery Skirted Leggings, provide the solution.
This combo design has many great qualities to support its highly-starred reviews. Functionally speaking, the quick-dry fabric is soft, breathable, and lightweight. There's a tummy-control waistband that keeps its shape and contours the body.
Maybe best of all, there's a convenient side pocket for storing keys, phones, and other small items you may need while you're clocking time at the court.
On the fashion side, the piece is form-fitting, but not so much that it constricts the body or reduces comfort. Plus, the skirt/pant combo gives you the extra coverage a typical tennis skirt or leggings on their own would not.
Various patterns and colors are available, so you can mix and match your favorite tops and create pickleball outfits that are stylish both on and off the court.
Features:
Polyester-spandex blend
Quick-dry fabric
Tummy control waistband
One side pocket
Pros:
Combination skirt and legging design gives you the best of both worlds
Waistband provides midsection control
Stylish colors and patterns to choose from
Convenient side pocket for holding small essentials
Fits true to size
Cons:
Leg opening may gape a bit
Some wearers may find the fabric too form-fitting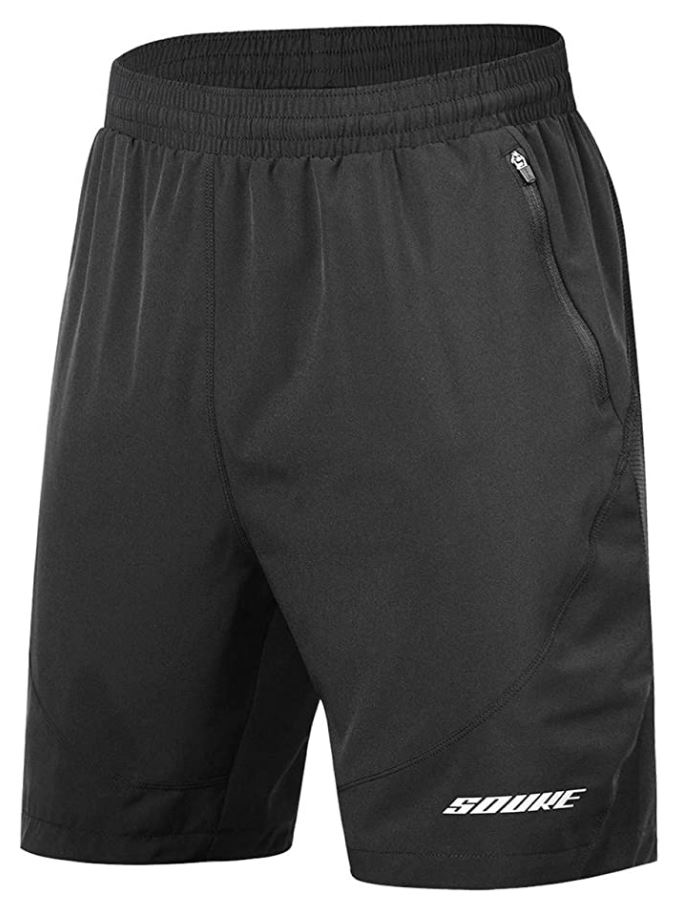 The last thing you want to deal with when you're trying to play pickleball is a pair of unsupportive, uncomfortable shorts. When you're making quick strides, dashing back and forth, and jumping around, you want flexible pickleball clothes, but also provide comfortable reinforcement.
Souke workout shorts land on this best pickleball clothing list because they offer satisfaction and security in several ways. The built-in underwear is the main advantage because it provides support while decreasing chafing. Also, there's no need to worry about your underwear riding up because they're already built into the fabric.
Moisture-wicking material keeps you cool and dry, and there are perforated back and side panels to improve airflow. Zipper side pockets give you a place to store loose change, keys, phones, and other on-the-go essential items.
Features:
Polyester-spandex blend
Perforated back and side panels
Moisture-wicking fabric
Built-in undergarment
Elastic waistband with drawstring
Two side zipper pockets
Reflective detailing
Pros:
Built-in support provides the perfect fit for all your moves
Zipper pockets keep items secure
Material doesn't chafe or ride up the leg
Available in two lengths and various colors
Reflective details keep you safe at night
Cons:
Sizing runs smaller than some reviewers expected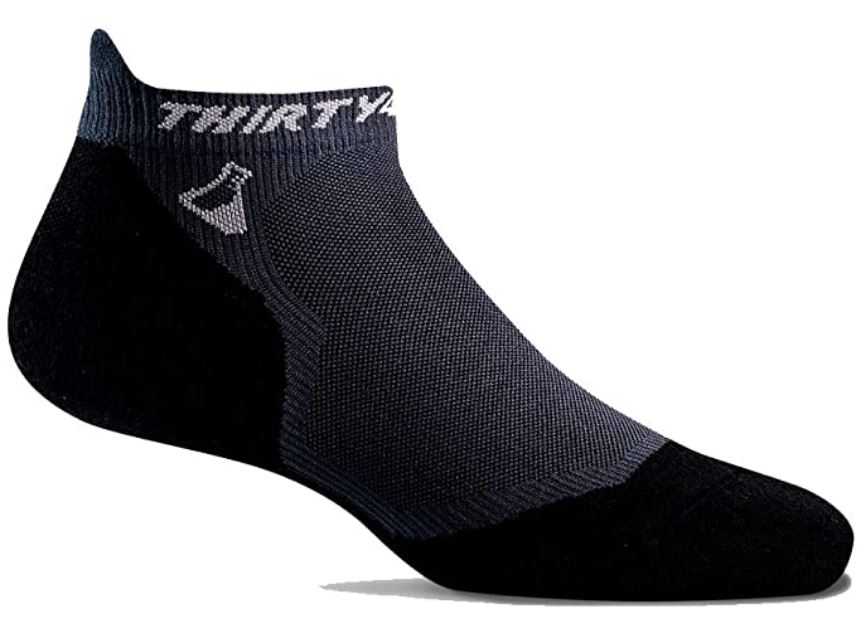 As a pickleball player, you know how important it is to wear tennis shoes, rather than running shoes while playing. What's more, this is because tennis shoes have a different grip explicitly made for the kinds of moves your feet make on a tennis court.
The same goes for socks. Sure, you could don a pair of plain old socks, or you could slip on a couple of moisture-wicking socks with a seamless toe and cushion padding and see how they boost your performance.
The padded instep and seamless toe protect against abrasion. The curled tab at the heel keeps the sock in place, reducing blisters. Water-resistant fabric keeps your feet dry and cool. Last but not least, cushioned heels give you extra comfort while you run, walk, dash, and dink.
Features:
50% Nylon, 14% Lycra Spandex, 23% Wick Poly, 13% Cotton
Uses 3D modeling for anatomically-correct fit
Seamless toe closure
Heel pull tab
Extra cushion on instep and heel
Pros:
Second-skin technology forms to your foot for ultimate comfort
Moisture-wicking mesh provides ventilation for fresh-feeling feet
Pull tab on heel keep socks in place, but also makes them easy to take off
Seamless toe closure and added heel cushion decrease abrasion and give extra comfort
Cons:
Sizing runs slightly small
Some reviewers noted that socks are thicker than they expected
What to Wear for Pickleball
What kind of pickleball outfits you put together depends on what you like aesthetically and what feels comfortable.
Pickleball is fast-paced, and players move around quite a bit, so wearing clothing that moves with the body is imperative. Harvard Health recommends wearing shorts instead of loose pants to avoid tripping, court sneakers (tennis shoes), and even goggles to protect your eyes from the fast-flying balls.
If you want to lessen your chances of changing outfits during a tournament or competitive play, avoid wearing "inappropriate" apparel. According to the USA Pickleball 2020 Official Rulebook, rule 2.G states that an outfit may be deemed inappropriate if it causes a distraction, creates a safety risk, or displays objectionable graphics, writing, symbols, etc.
How to Choose Pickleball Outfits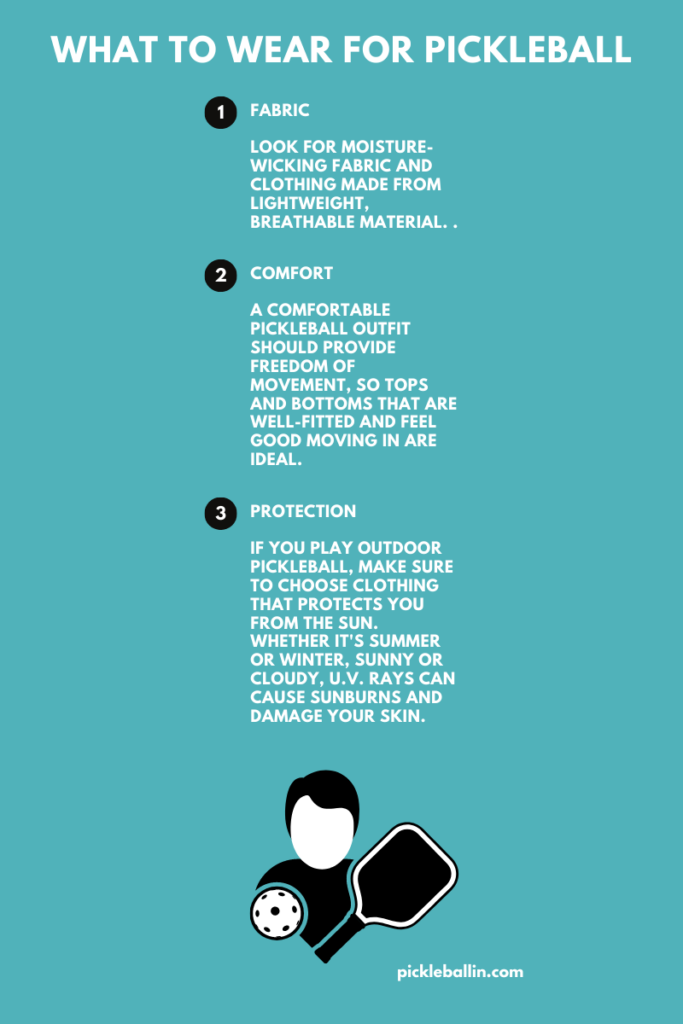 There may not be a standard dress code for pickleball, but that doesn't mean there aren't clothing items that can't boost your performance on the court. Here are a few things you'll want to consider to find the right pickleball apparel.
Fabric
Look for moisture-wicking fabric and clothing made from lightweight, breathable material. Cotton, polyester, nylon, and spandex are flexible fabrics typically used in athletic wear because of their sweat-resistant properties.
Sweating isn't a crime, of course, but wearing fabric that absorbs sweat allows you to play longer and keeps you more relaxed. Moreover, this is especially important on hot days, as overheating can lead to all sorts of issues, including cramps, headaches, nausea, and heatstroke.
It's just as essential to keep cool and dry during the fall and winter, so looking for these kinds of fabrics is suggested. You can always wear layers and shed them as your body heat rises.
Comfort
Comfort may be king or queen on the court, but that doesn't mean your pickleball apparel should be baggy. Save the sweatpants and baggy tees for low-impact sports. Not only can oversized clothes impact your movement, but wearing them can lead to injuries and game faults (if your clothes hit the ball, for example).
Yes, even though pickleball isn't as strenuous on the body as other racket sports, like tennis or badminton, falls, sprains, breaks, and other injuries can still happen on the pickleball court. Having the right equipment and appropriate apparel will make all the difference in how you play and reduce accidents.
A comfortable pickleball outfit should provide freedom of movement, so tops and bottoms that are well-fitted and feel good moving in are ideal. Even if something fits well, if you don't feel comfortable in it, then you shouldn't wear it.
Do they feel too tight? Is there gaping? Is the material scratchy? Can you squat and jump comfortably? When trying on different shirts, shorts, and leggings, move around in them, just as you would on the court, to see how they feel. Raise your arms and legs, move from side to side, and see how the clothes look and feel while making these motions.
Protection
If you play outdoor pickleball, make sure to choose clothing that protects you from the sun. Whether it's summer or winter, sunny or cloudy, U.V. rays can cause sunburns and damage your skin.
A long-sleeve tee with built-in ultraviolet protection will keep you just as cool as a short-sleeve tee and decrease your chances of burns and developing skin cancer. Be sure and slather sunblock on the exposed areas of skin!
You might also want to consider wearing a cap or visor to protect your scalp from the sun's rays. A hat can also shield your eyes from harsh light and sweat.
Best Pickleball Clothing Brands
Check out these top brands that specialize in pickleball clothing.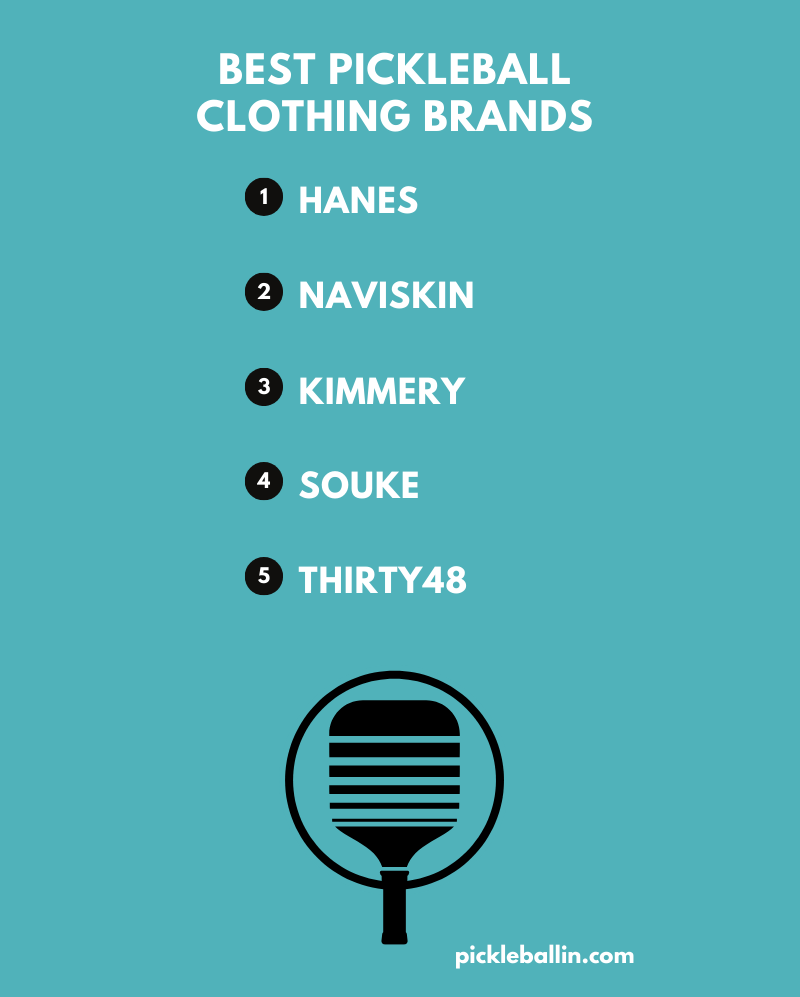 Founded in 1901, Hanes is the world's largest seller of basic apparel. Nearly 90% of U.S. consumers have Hanes products in their homes. The company sells men's and women's activewear, bras, underwear, shapewear, socks, t-shirts, sweatshirts, and more. Hanes invented the sports bra, stretch-cup t-shirt bra, and popularized the tagless tee.
Naviskin takes sport seriously. Their motto is, "Life lies in movement; sport is the source of all life." The brand is all about technical innovation and creating quality products at fair prices. They sell everything from athletic tops and bottoms to underwear, caps, and arm sleeves. Their UPF collection offers an abundance of stylish and functional sun protective wear.
Kimmery offers a range of clothing and accessories through its Amazon store. Women and men can find a plethora of athletic wear suitable for pickleball, yoga, hiking, and many other activities. The brand also carries casual wear, hoodies, bras, and shoes.
Souke's founder created the brand while on vacation in Switzerland. As a fashion designer, he felt inspired to develop activewear, and biking around the Swiss Alps motivated him to make his dream a reality. In 2007, he started Souke by providing apparel to family and friends. Now the brand supplies athletic clothing to people around the globe.
Thirty48, a manufacturer out of Irvine, California, puts their heart and soul into making socks. They're passionate about creating socks that feature fabric technology, innovative design, and ultimate comfort for casual and competitive athletes.
Frequently Asked Questions
Q: Who plays pickleball?
A: Anyone and everyone! An NBC News article said that the game had seen a 650% increase in players over the past six years. The great thing about pickleball is that it's relatively easy to learn, and you don't have to be particularly athletic to enjoy it. People of all ages play pickleball, which makes it an excellent game for the family. The game is low-impact enough to remain easy on the joints but still provides a cardio workout.
Q: Are pickleball and tennis shoes the same?
A: Yes, but the best shoe to wear will depend on whether you're playing indoors or outside. If you play pickleball outdoors, then a standard tennis shoe is adequate. Outdoor pickleball courts and tennis courts have the same surface, so tennis shoes provide the kind of grip and traction you need. On the other hand, indoor courts are generally made of hardwood, which can be too slippery for a tennis shoe. A volleyball shoe or other athletic shoes made for gym use is a better option.
Q: Do I need a pickleball glove?
A: Wearing a pickleball glove is a matter of choice and what works best for you. Some players wear them because their hands get sweaty, and they want extra grip. Other players don't like wearing them because they lose a feel for the paddle. Experiment with wearing and not wearing a glove to see which option works for you.
Final Thoughts on the Best Pickleball Clothes for Men and Women
How you perform in a pickleball match doesn't fall on what you wear, but no doubt, having the right equipment and clothing can give you a leading edge over the competition.
Choosing the best pickleball clothing comes down to what's comfortable, provides support, offers protection, and helps you play at your best. When you step out onto the court, you want to feel good. Wearing the right outfit can boost your confidence so that even if you don't win the game, you'll still look and feel great.
Our top picks for pickleball clothes are on this list because they provide everything you need in a quality piece of athletic wear. The shirts shield you from U.V. rays and keep you cool and dry. The leggings and shorts allow for a range of motion. The socks give your feet the extra cushion they require during vigorous exercise.
Most of all, the best pickleball clothes for men and women are comfortable. All of the items we listed here received high ratings in comfort. From soft, lightweight fabrics to flexible fits, reviewers loved how these clothes felt on and off the court.
Looking for more? We have plenty of guides for you to choose from! We have guides that cover the best equipment, the history of pickleball, how to play pickleball, and more! Check them out, What is Pickleball?

, Why Is It Called Pickleball?

, Pickleball Scoring

, How to Play Pickleball

, Pickleball Rules

, Pickleball Court Dimensions

, Pickleball Shoes

, and Best Pickleball Paddle

!