When I first learned about the pickleball

game some years ago, I never thought it would be such a challenge to find a court in my city. The game was still gaining momentum, I had my first pickleball paddle

, and all I wanted now was a pickleball court

.
If you're like most pickleball players, you want a court that's close to your home or at least within your city limits. Fortunately, thanks to growing appreciation for the game, you can lace up your game shoes

, find a court within a few blocks, and play!
I discuss some quick tips for finding pickleball courts around you but let's first see where pickleball can be played.
Before we begin, if you're looking for a complete beginner's guide check out: Pickleball Strategy: Complete Beginners Guide

!
Where is Pickleball Played?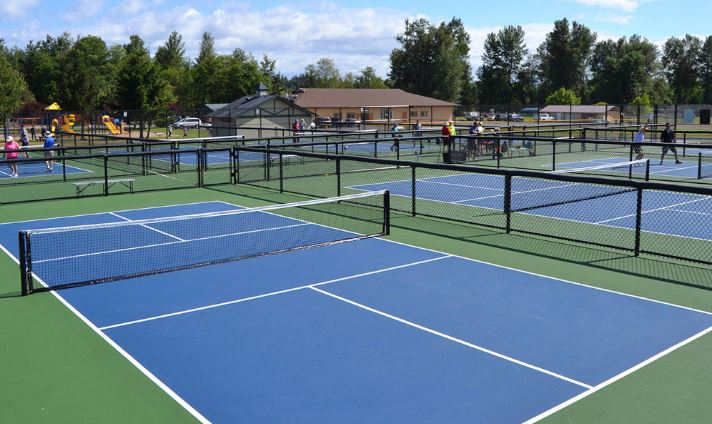 For most players, playing indoors is the preferred method to play pickleball. The reason is because playing indoors offers a consistent environment that is not affected by the random whims of nature.

pickleballkitchen.com
If you are a fan of the game, this probably sounds quite obvious. Pickleball is played on a pickleball court. Originally, pickleball started from an outdoor badminton game and is, therefore, an outdoor game.
However, it is also played indoors today as a necessity occasioned by aspects like bad weather.
Today, there are many pickleball courts across the world, and according to the Global Pickleball Network, the number stands at 1882 pickleball court locations globally. You can choose to play on an indoor court or an outdoor one. It all narrows down to personal preference. However, both options come with a share of pros and cons.
Outdoor Pickleball Courts
Outdoor courts are more common, and you are likely to find more of them within your local area.
You will love their aspects of:
Fresher air as space is not limited. No congestion as it can be the case in a closed-door setting
You are under direct sunlight, and the natural vitamin D will do your body good
Fewer distractions from the noise of fans and other players
On the other hand, an outdoor game can have the setbacks of:
Extreme weather. You may not enjoy the game under too much sun or rain. Also, strong winds can affect ball motion to your disadvantage.
Indoor Pickleball Courts
Although they can be rare to find, indoor courts provide some level of convenience. Some of their pros include:
You do not worry about extreme weather conditions. Whether it's sunny, rainy, or over the winter, you are good to go
You can track the path of the ball without interferences of the wind or sunlight
As mentioned earlier, indoor pickleball courts have their hurdles as well, the most prominent being noise. The hall could get quite noisy and disruptive, mostly if it's filled with fans or players.
In any case, no pickleball court type is specifically recommended. Besides, pickleball games do not have a calendar of seasons. The games can kick off at any time of the year, so you can choose what feels suitable at that time of the year. You can also choose your preference between private and public courts.
Private pickleball courts can be better, whether indoor or outdoor, simply because they will most probably have more amenities. You may reserve a court and have access to refreshments, pickleball paddles, and other equipment, but they all come at a cost.
For public pickleball courts, you ideally play for free since you pay no dues. But because you are a resident and pay taxes, you still paid for them in some way.
The standards may differ from one public facility to another, depending on the particular city's maintenance practices. In case your state employees are keen on sports, lucky for you as the courts may be in good condition.
If you are a beginner, now you have a picture of the categories of courts you are likely to find. Back to the big question, how do I find a pickleball court near me?
There are different ways through which you can land a pickleball court just around you. Besides, finding a location doesn't have to be a hassle in this era — so, let's see some of the most straightforward ways you can opt.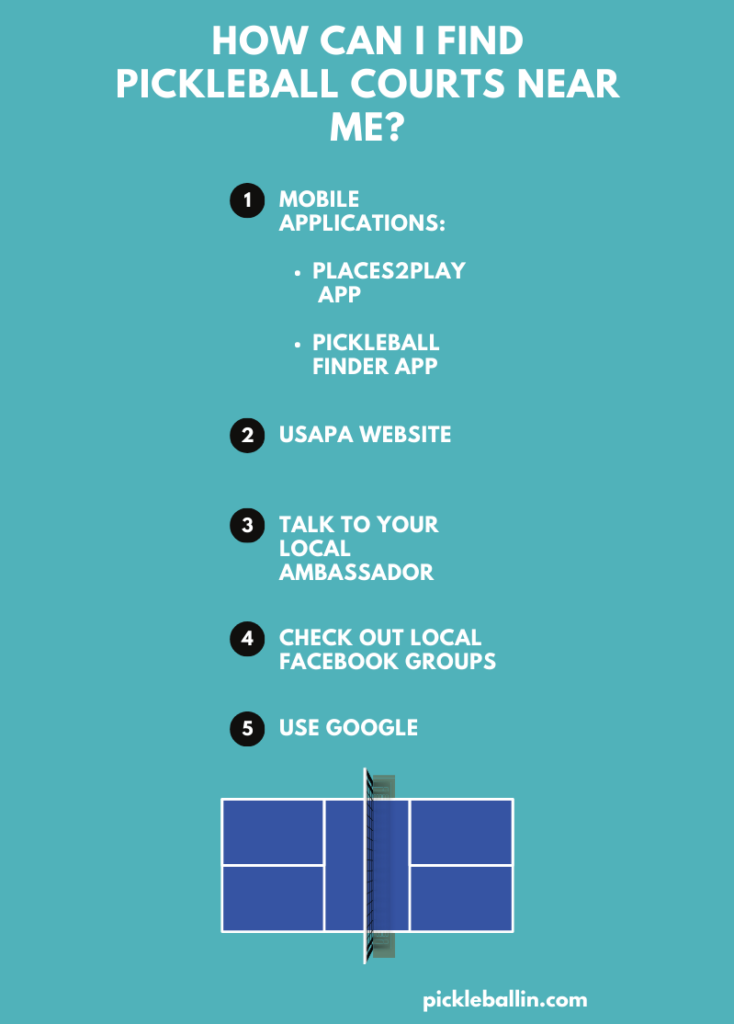 1. Mobile Applications
If you want to find a pickleball court without moving a step or making any call, use mobile apps. There are different mobile applications designed to help anyone find different pickleball court locations.
The Places2Play App
Places2Play is a convenient mobile application that places pickleball court locations at your fingertips. The only pitfall about it is that it cannot serve android phone users. It only works on iPhones. Download the app from the Apple App Store, and allow it to find your GPS location.
You can also type in your location like your city or zip code, and you will not have to go to the settings to turn on the GPS.
Once your device's GPS location is on, you can see the different pickleball courts near you indicated on your screen in different colors. The app can be challenging to use due to different color displays, so be sure you know what each represents.
Orange icons represent outdoor pickleball courts, while red icons represent indoor pickleball court locations. A blue icon means the location has outdoor and indoor pickleball courts, while an icon with a padlock symbol means it's a private court.
There is also an icon of a dollar sign ($), which means you will pay to use the court.
The app also lets you have more details of the location, such as schedules and user reviews. All you need to do is touch on the icon for this information to display.
It also features a wind barometer that appears as a grey-colored ring with a red-pointing arrow. The wind barometer tells you the status of the wind on the court and its direction.
One of the app's exciting features is its ability to filter pickleball courts according to user needs. For instance, if the weather is not favorable, you can deselect outdoor courts, and they will not appear on the screen. You can also filter out any locations you feel are unfavorable.
Pickleball Finder App
Pickleball Finder is a free app designed by Alexander Murray. It is much similar to the Places2Play app. You can download the app or have someone share it with you, but you all need an iPhone.
This app finds the pickleball courts near you and far away. It searches the global pickleball court map; thus anyone can use it anywhere. Each pickleball court location appears on your screen with pictures and descriptions, including directions for getting there from where you are.
The app has a feature that allows users to share locations through text messages or social media. You can easily identify a location and send the details to your friends. You can also add a location if you find a new pickleball court location or update existing details.
2. USAPA Website
The USAPA website is a useful source of pickleball information, and you can use it to locate a pickleball court. The website has a page named Places2Play, where you can find different kinds of information. It is not as convenient as the app, but you can still use it and find a favorable court.
It provides you with a manual search option by typing on the search box or exploring a map.
For the search box option, you click the Places2Play option on the menu, and the search box appears in the middle. You type the name of your city or the location you want to find a court, and a list of them will appear. You can also filter based on states or zip codes.
For the other option, click on By state on the menu, and a map will display. On the map, click on the state you prefer, and a detailed list of pickleball courts in that state will appear.
The USAPA website updates pickleball locations regularly so you can be sure to find even the most recently established courts near you.
3. Talk to Your Local Ambassador
The United States of America Pickleball Association (USAPA) is a trusted body that undertakes the oversight role for pickleball games. It is a rich source of pickleball game information. The organization has several programs aimed at promoting the sport, including an ambassadorship to different territories.
You can contact the USAPA ambassador in your city, and you can be sure these people know every pickleball court in their territories. The ambassador can help you find the perfect court near you and provide further assistance if you are really into pickleball — perhaps an aspiring professional player.
However, you are free to contact the ambassador, whether you are just a beginner or an advanced player who is new in the city. Using mobile apps may be easier, but again, not all of us are using iPhones. Besides, it's a good start in your networking efforts if you are new in the metropolis.
You can locate your local ambassador from the USAPA website on the ambassador menu option, usually on the page's top right side. Alternatively, search the ambassador list and filter by location name or zip code.
4. Check out Local Facebook Groups
Facebook is one of the leading social platforms, and you are likely to find more than one pickleball fans' and players' Facebook group. It's where peers promote and discuss upcoming or previous games and other matters about pickleball.
If you are new to a locality or just developed an interest in pickleball, looking for colleagues and groups on Facebook is a good start. Just log in to your account and search 'Pickleball Forum' and see what comes up. You can also filter the results based on your location.
You will be interacting with like-minded people, so feel free to post a query about pickleball courts near you. Even if you are fresh in the group and don't know anyone, someone will gladly respond with useful information.
You will discover groups, most probably a couple of them, with tons of useful information. Take some time to skim through the groups and choose the most active page. You can discover other pickleball enthusiasts and connect with them. If you keep looking, you could even make friends with players you can match against or end up in a league if you are a real pro.
5. Use Google
Google has results for almost every search you make. It could be just what you want or anything related. You can type 'Pickleball courts near me' and find a solution. If this doesn't feed you with satisfactory results, try replacing the 'me' with your city and search again.
Pickleball's popularity is growing every day, so you will likely find something useful from this search.
6. Other Options
You don't have to lock your mind to pickleball and ignore every other sport. There could be a tennis center around, and that's where your answers are. Contact the nearby tennis centers and inquire about pickleball courts around. Some tennis centers might also have pickleball courts.
Even if they do not have pickleball options, your contact person is probably a local, knows the city better, and can give you directions to the nearest pickleball court. You can also get these details from community centers of Young Men's Christian Association.
Got Your Pickleball Court? What Next?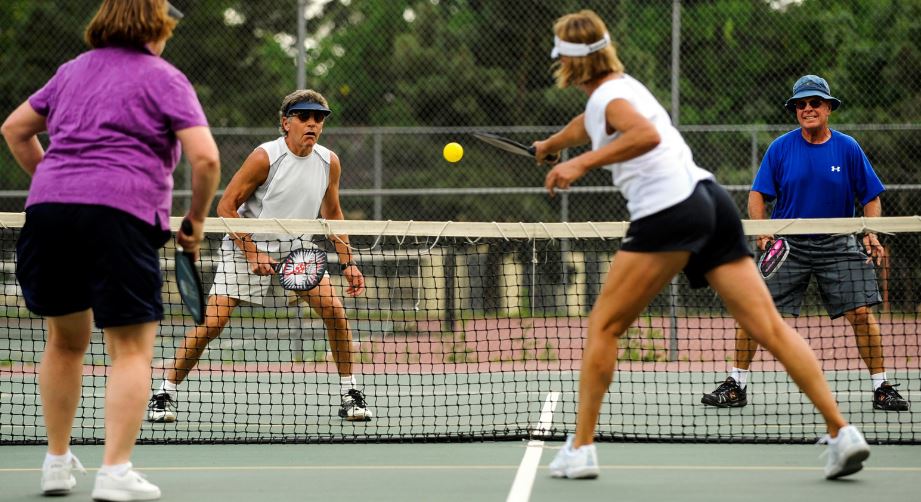 Hopefully, you now have a clear picture of the available options for finding pickleball courts near you. I believe everything feels easier now with all the above options. All you need to do is choose the most comfortable method to find a court and have some fun.
Some methods will lead you to a court, and you could discover it is just in the next block. So, are you planning to show up to the pickleball court empty-handed? Well, unless it is a private pickleball court with all the equipment, you will need a pickleball paddle.
Intermediate or advanced players who know the game may have one already, but consider buying your first pickleball paddle if you are a beginner.
You should consider a few personal factors, but the right guide will help you know what the different paddles available can do for you. Some paddles are good for beginners, and others are only fit for advanced players. However, don't fret, with the right attitude and practice, you will get there. Start with beginner-friendly paddles and switch over to the others as you gain more experience in the sport.
You can look out online for resources and start learning if you just developed an interest in the game. Most local teams are also welcoming to new members, so don't shy away from revealing you are inexperienced. They can help you to up your game quickly, and soon you could be in the major league.
Have You Given Pickleball Local Groups A Thought?
Even if you know a couple of pickleball courts near you already, it doesn't feel okay always playing amidst strangers. As such, it would help if you consider becoming part of a local group. The sense of belonging and playing amidst friends cheers you up and boosts your confidence, which means a lot to your performance.
While you can approach a team alone amid your nervous state, it would help if you found a friend first. It's easy to make one through the Facebook group or even during your first visit to a court.
Even better would be contacting an ambassador to accompany you to the court and teach you a couple of pickleball ropes. The ambassador can formally introduce you to a group with other newbies, and you will have a team at your level to practice together. That way, it becomes easier to find a pickleball court and get started in the game.
You will now be part of a group where you can always hold friendly matches or even organize tournaments with other local pickleball communities.
Conclusion
If you are an 'I dream about Pickleball' kind of enthusiast, I understand just how much finding pickleball courts near you means. Perhaps you are new in the city and don't want to miss another day away from the court.
The fact is you can find a pickleball court in your new local area the same day you jet in. It would be even better to know the nearest pickleball court location before you get to your new residence. When you finally settle, all you need is to get your paddle and head to the court.
However, remember that what happens when you get there also matters, so it's better not to be in so much hurry. If you already found a location from websites or mobile applications, you may still want to talk to the ambassador and perhaps learn some new things. It could even be the rules of the city or about an exciting upcoming program.
Do not ignore all other methods simply because you already found a pickleball court. You could learn more than just the pickleball court locations from some of them.
Remember, what you need is not just to find a court but to play as well. Google searches could help you find beginner tips or pickleball equipment buying guides. You may want to look at some pickleball paddle buying guides to ensure you get the right quality.
Facebook group conversations can also be a source of pickleball paddles user reviews.
Are you looking for more information on pickleball? Check out some of our other guides Pickleball Scoring

, How to Play Pickleball

, Pickleball Rules

, and Why is it Called Pickleball

?