Pickleball

is a fun, social game. Anyone can play: beginners, competitive and experienced players.
Pickleball is played with paddles

on a court

with a net, much like tennis. The game combines elements of tennis, ping-pong, and badminton. You can play this game inside or outside, and you can play as doubles or singles.
The pickleball balls are one of the main components of the game. The play and quality of the balls you choose can determine if you will have fun or will be frustrated.
Having the right equipment is the difference between having to stop a game due to equipment

failure, or playing on through the day to your ultimate victory, hopefully.
Your sports equipment's longevity will also give you more time throughout the season for the game and not trips to the store.
If you have ever played pickleball

, you know the value of a good pickleball ball. The weight, bounce, material, and even color all make a difference in how you play

. So you can see the value in how to buy the best pickleball balls.
Still, others have taken the step to go from amateur matches to playing professionally in tournaments. Whether you are playing for fun or sport, the right balls are critical. Having the right pickleball ball for you is everything.
Before we begin, if you're looking for a complete beginner's guide check out: Pickleball Strategy: Complete Beginners Guide

!
The Pickleball Ball: A Pickleball Player's Best Friend
One of the essential pieces of equipment in any pickleball player's arsenal is the ball. A good ball is incredibly sturdy and durable. One that allows for windy conditions, that has a good bounce and weight and resists cracking.
In this guide, I intend to break down the best pickleball ball for amateur play and competitions, so you'll have the ball that you feel most confident and comfortable with-whether you are a serious pickleball player or just someone who likes to play for fun.
The Best Pickleball Balls – Our Top Picks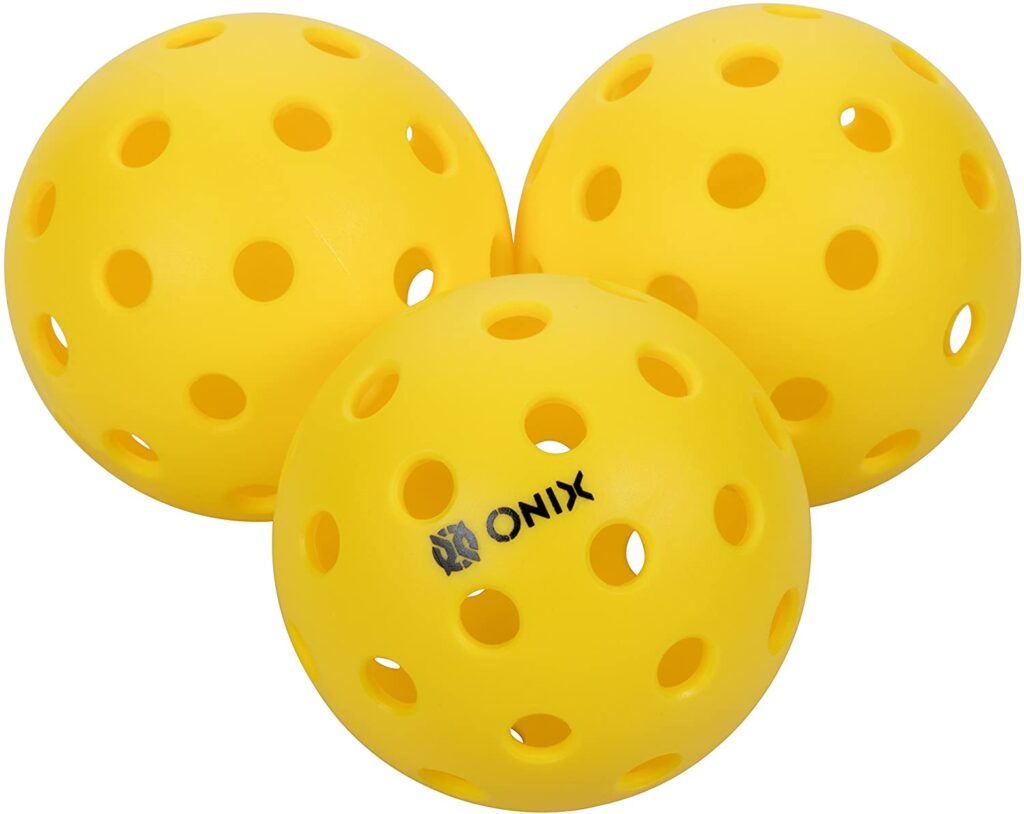 These pickleball balls are one of the most fun I've used to play. The thickness and weight of the plastic keep the ball from blowing around in the wind. It is so frustrating having to chase after windblown balls in the middle of a match.
The bounce to these balls is excellent. It feels sturdy, and you can feel the difference when you hit the ball with the paddles. It gives a feeling of more control of the ball and the hit.
The heavy plastic is sturdy and durable. After a season of pickleball, these balls still looked great and had zero cracks. I also love the yellow color. It makes it easy to keep my eye on the ball.
Things we like:
Heavier weight
Color
Durability
Great bounce
Split resistant
Balanced
Fun
Things we don't:
It's a little more expensive
Not USAPA approved for tournament play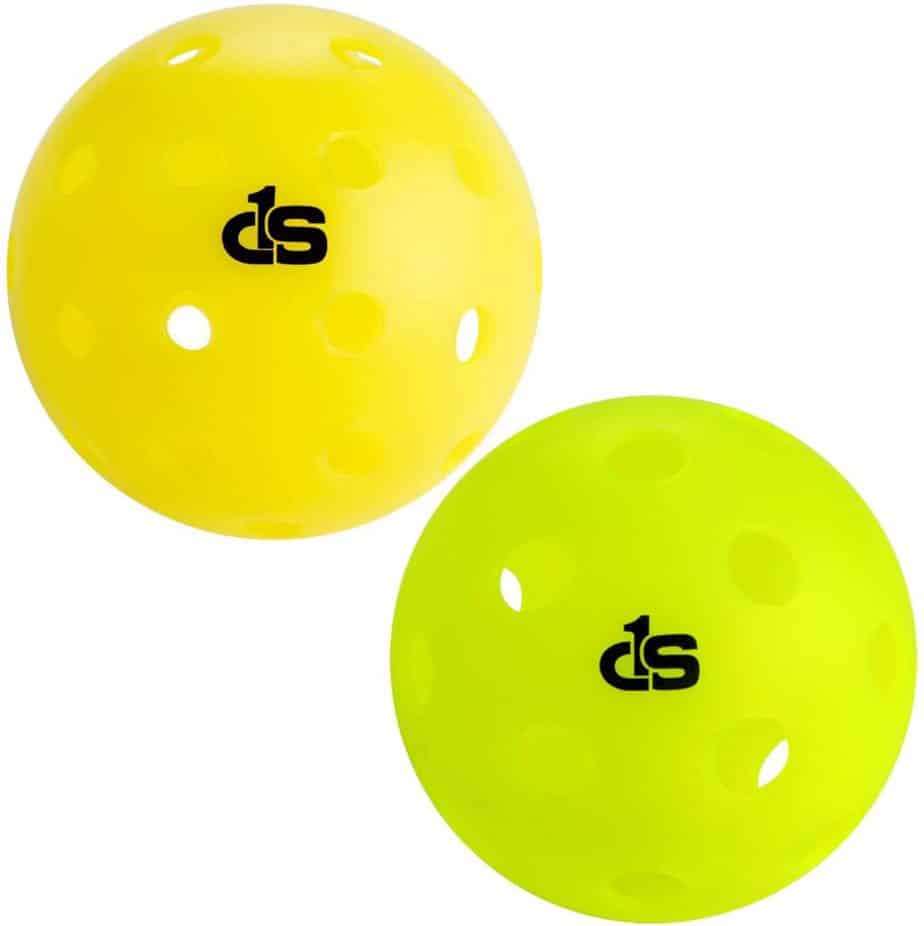 These pickleball balls are great as they are sturdy and reliable. I like that they are for indoor and outdoor use.
The weight is good to keep the ball from blowing away. The color yellow makes it easy to see.
The balls respond well and take a lot of punishment. I like that these are suitable to practice with and are less expensive than tournament balls.
They are USAPA approved but cost less than tournament balls. Great for practicing.
Things we like:
Indoor or outdoor
Weight
Color
Durability
Lower price
USAPA approved
Things we don't:
Bounce isn't as great as others
Not as crack-resistant as just an outdoor pickleball ball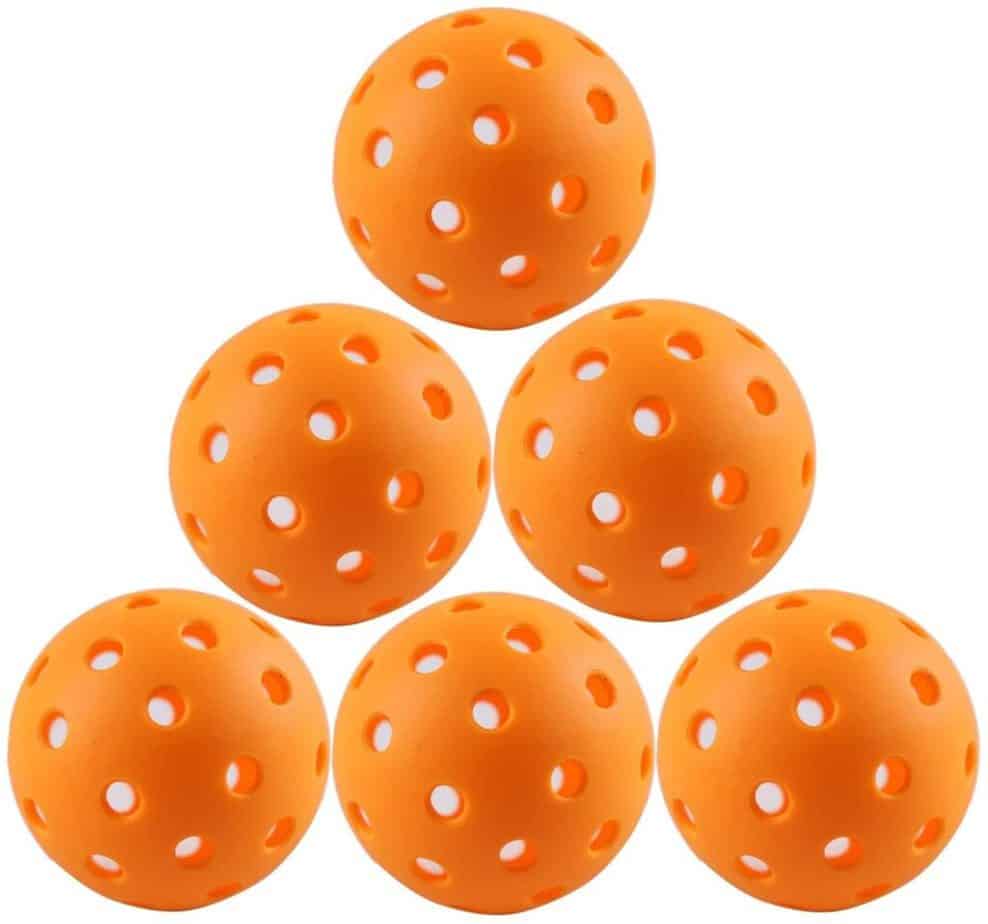 The weight of the IUZIT pickleball balls is nice. I found the orange ones easier on my eyes than yellow, especially when playing outdoors.
I like the solid feel of these balls. They are of good quality. I love that they are suitable for outdoor or indoor use.
Things we like:
Durable
Color choice
Good quality
USAPA Standard
Satisfaction guaranteed
Great bounce
Flies straight
Precise play
Things we don't:
Not as great a bounce as others
Doesn't do well in high wind
USAPA standard, not approved
Crack easier than others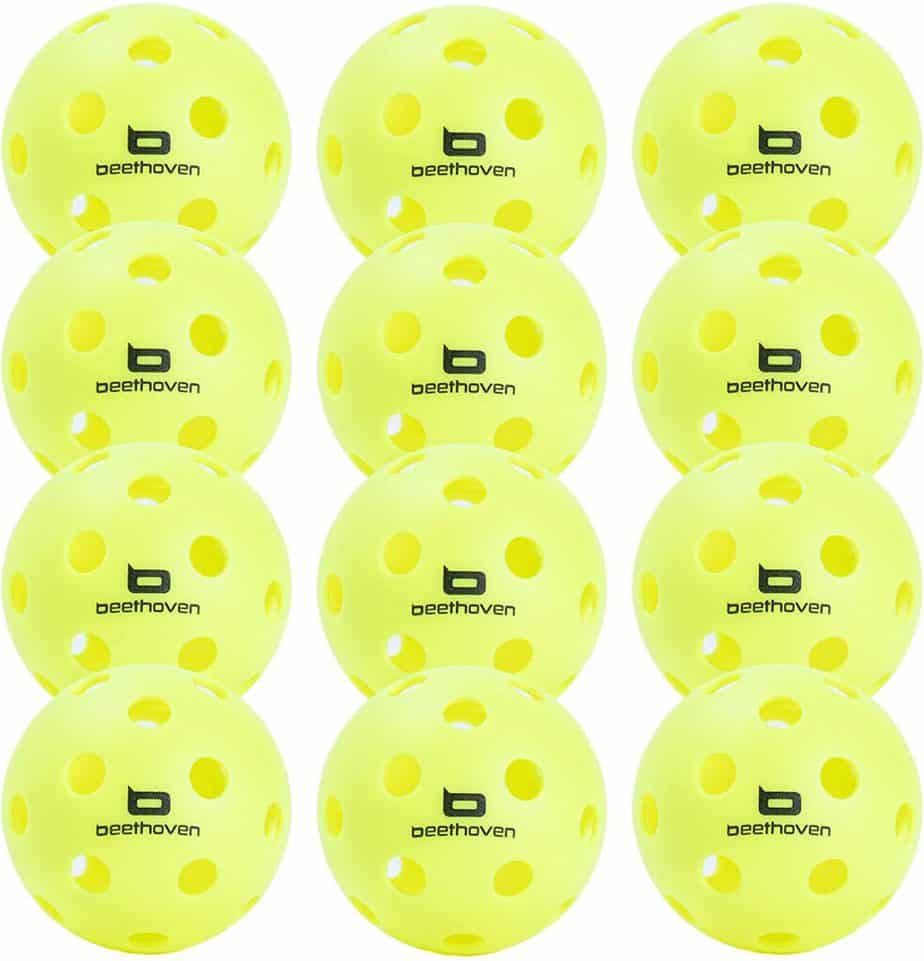 I like the way these balls hold their bounce even after several sessions. I had to get used to the bounce as it was a bit more bouncy than I've used.
They are less expensive than others. These are durable and last well over many games. Orange color is easy on my eyes. Flies straight in the wind.
Things we like:
Heavier weight
Split resistant
Visible orange color
Great price
Things we don't:
A bit too light for outdoor play
Bounce not as good as other brands
Seam is visible
USAPA standard, not approved
Crack easier than others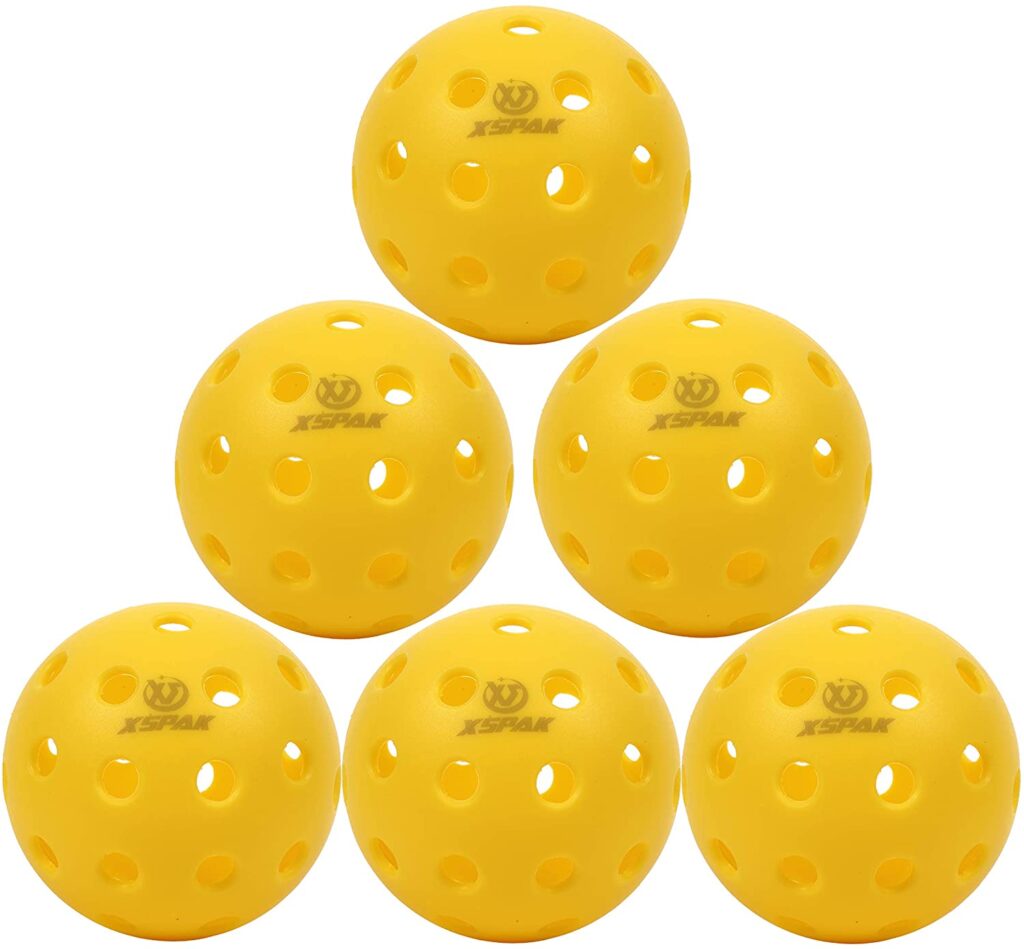 These balls are a great price and good quality for the price. As usual, I like the yellow color as it makes it easier to track the ball during play.
The bounce is good and, in the wind, had an accurate fly. The ball is the right amount of softness for indoor play.
Things we like:
Yellow color easy to track
Good quality
Great price
Good bounce
Great in the wind
Right amount of softness for indoor play
Things we don't:
A bit heavy for outdoor play
Wear out quicker than other balls
Choosing a Pickleball Ball
When choosing a pickleball ball, considerations in design, weight, bounce, color, and materials used to make them, what surface you will be playing on, and the likelihood of wind or lack of it.
"Balls perform differently when used outdoors on hard surfaces. Outdoor surfaces are usually asphalt or concrete. Indoor surfaces such as wood gymnasium floors or carpet absorb more energy, resulting in a much lower bounce compared to concrete or asphalt."
Choosing the right pickleball depends on the answer to a few simple questions:
Who are you playing? If you are playing with your children, you may choose a more kid-friendly or beginner pickleball ball.
What are you playing? If you are playing in a tournament, you will want to choose a USAPA certified pickleball.
When are you playing? If you are playing soon, you may have to get your pickleball balls in a hurry. If you are playing at a later time, you may be able to order one online.
Where are you playing? If you play indoors or outdoors will directly affect your ball choice.
Why are you playing? If you are playing for fun or practice, there is no need to get an overly specialized or expensive pickleball ball. If you are playing a competitive match with a friend, you may want to break out the pickleball ball you have the best games with.
If you choose balls for an official pickleball tournament, be sure to pick from one of the approximately 30 USAPA/IFP approved tournament pickleball balls. Click here to find a list of USAPA-approved balls.
If you are looking for activities to do with the kiddos, pickleball is tremendous fun for the family. For other activities that can be done with your children and are right in time for the season of gift-giving, see our 33 Super Easy and Clever DIY Projects to Do at Home.
Tips On How To Maximize the Bounce of a Pickleball Ball
The way a pickleball ball bounces might not seem like a big deal, but it is. The bounces are essential for the play throughout a game or tournament.
A ball that bounces higher is favorable for a tennis variety of play, which is more aggressive. A less bouncy ball results in shorter shots.
You want a ball that provides a consistent bounce. Bounce patterns help those who hit with power.
The bounce of a pickleball ball can be felt on the paddle and creates a solid contact and feel for the player.
Indoor vs. Outdoor Pickleball Balls
They are made from more rigid plastic than indoor balls, making them last longer in outdoor play.
They are weighted for wind resistance.
Have more holes, about 40, and smaller holes to travel smoothly through the outdoor air.
It is made for hard-hitting and faster shots.
Provide less control.
Higher bounce.
Noisier.
They weigh about 0.9 oz.
Due to exposure to elements, they need replacing more often.
They were created for the still air of indoor play.
It is explicitly made for smoother indoor courts.
Made from softer plastics
Lighter, weighing about 0.8 oz.
The bounce is not as high.
Allows for more control
Less power
Wears out by going soft, instead of cracking
The construction of indoor and outdoor pickleball balls are slightly different. Indoor balls are made from a softer material.
The amount of holes in an indoor ball is about 26, causing the ball to move more slowly. Indoor balls are lighter and weigh 0.8 oz.
Outdoor pickleball balls have about 40 holes and a heavier surface. The increased amount of holes makes the ball move faster through the air.
The heavier weight helps to keep play going even in windy conditions. Outdoor balls are usually smoother and harder and weigh 0.9 oz.
Outdoor balls don't do well indoors due to the skip on the gym floor, but you can use indoor balls inside or outside. People like to use the indoor balls outdoors because they are more forgiving, allow for longer matches, and last longer.
When playing outdoors, remember, your pickleball balls will be more hardened in the cold and softer in the heat.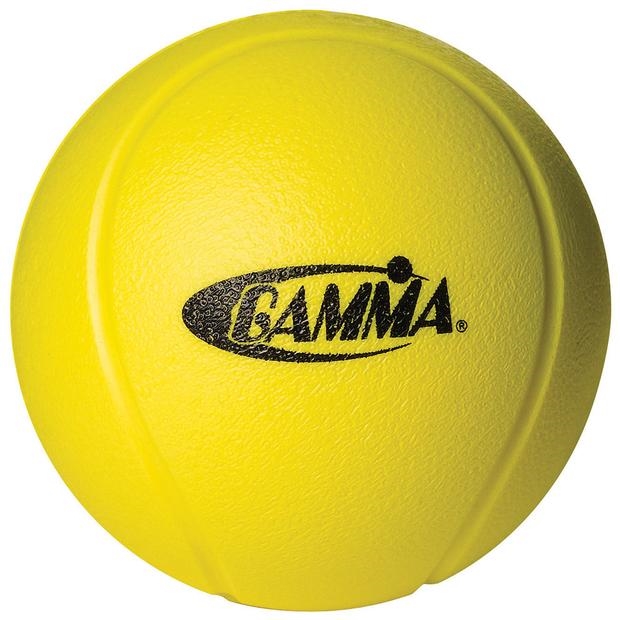 Some complain about the sound of the paddles hitting the balls. Some balls are made out of foam that significantly reduces the noise produced on impact.
These softballs are different because they are not made from plastic; they don't have holes, are quieter, and are a bit smaller.
These are a good substitute if you need quiet play and want to practice. You can also use these foam pickleball balls for drills and casual games. They are not approved for tournament use.
When using these foam balls outdoors, be aware that the wind can affect their movement. The bounce height is relatively good.
Pickleball Ball Color
Pickleball balls come in all different colors. The most popular colors are yellow, orange, and white, as they are easier to see and track while in play.
You want to choose a color based on the surroundings you will be playing in. You want your ball to contrast against your surroundings' background so that you can track it with your eyes more comfortably.
Don't forget to consider lighting. Most people go for neon colors like bright yellow and orange. Color is a personal decision based on where you will be playing and which colors you can see more easily.
The diameter and weight of the ball vary by type, ranging between 2.874 inches (73mm) and 2.972 inches (75.5mm) in diameter and 0.78 ounces (22 grams) and 0.935 ounces (26.5 grams) in weight.
Frequently Asked Questions
Q: What's the difference between pickleball balls and Wiffle balls?
A: A Wiffle ball only has eight oblong holes. A pickleball ball has at least 26 holes and up to 40 holes, depending on the type. The shape of the holes are different, Wiffle balls have oblong holes, and pickleball balls have round holes.
Q: How long do pickleball balls last?
A: Indoor balls last longer and won't crack. After a lot of use, the indoor balls get soft when worn. Outdoor balls are subject to extreme weather conditions. The outdoor balls are harder and will crack or will lose their shape after a while.
The amount of time they will last also depends on how often you use them, how hard you play, and what the court's material is made from. If you don't play hard, the indoor ball can last a few weeks.
Q: What are the differences between tennis balls and pickleball balls?
A: Pickleball balls are slightly larger than tennis balls, and they are lighter. Tennis balls have no holes and have a fuzzy out texture to them. Pickleballs are made of hard plastic.
Final Thoughts on Buying the Best Suited Pickleball Ball
When you're looking to buy pickleball balls for your next match or tournament, it's worth evaluating where you intend to play. As you can tell, the floor of the court and the conditions, whether indoors or out, affect the way your pickleball balls play.
Buy the Best Ball for Pickleball
For most pickleball games that are for fun, most any ball will be sufficient. If you are a more serious player or if you hope to one day enter an official tournament, you will want to pay more attention to the details of the balls you choose.
As far as price, if you are playing for fun with the kids, don't break the bank with the most expensive pickleball ball. If you are serious and wish to go pro, remember you get what you pay for and want to invest in your goal.
My top pick is the Onix Pure 2 outdoor pickleball ball. It is the most fun I've used to play, and I am ultimately a player of the game for fun. The ball holds up well and keeps me from having to run to the store.
If the Onix Pure 2 is out of your price range, and you are for a fun player as I am, I would look at the Day 1 Sports Professional balls. They hold up well and are at a lower price.
You can buy the Onix Pure 2 by clicking here.
Looking for more? We have plenty of guides for you to choose from! We have guides that cover the best equipment, the history of pickleball, how to play pickleball, and more! Check them out, What is Pickleball?

, Why Is It Called Pickleball?

, Pickleball Scoring

, How to Play Pickleball

, Pickleball Rules

, Pickleball Court Dimensions

, Pickleball Shoes

, and Best Pickleball Paddle

!