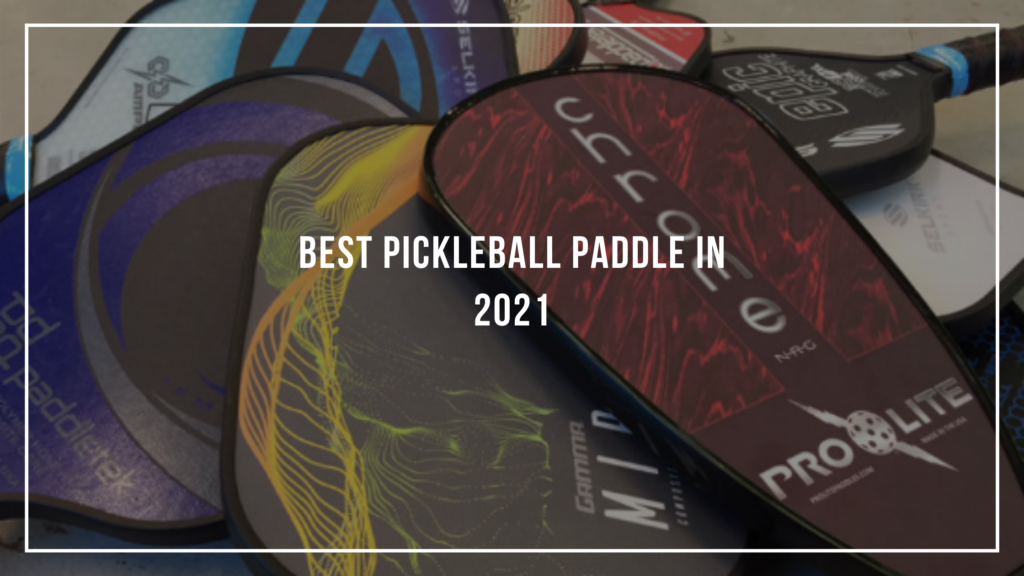 The popularity of pickleball has exploded in recent years, and for good reason. This hybrid of tennis and badminton is fun, dynamic, and keeps you in fantastic shape. But if you want to refine your technique and enjoy the game to the fullest, you need the best pickleball paddle for your level and budget. Keep reading to find the best pickleball paddle in 2021!
If you're looking for a complete beginner's guide to pickleball check out: Pickleball Strategy: Complete Beginners Guide

!
The Best Pickleball Paddles–Reviewed
Here are our top picks from some of the best pickleball paddle brands out there in no particular order. 
Before we begin, check out this video on how to choose a pickleball paddle that's right for you:
We're kicking things off with the Onix Graphite Z5, one of the highest-ranked models that's suitable for both beginners and advanced pickleball players alike. This paddle features a classic widebody paddle shape with a 5-inch handle, and it weighs in comfortably at between
7.5 and 8.2 ounces.
Its lightweight design allows you to generate significant power when smashing, and the Nomex honeycomb core and graphite face combine to make more effective shots. Onix put a wider face on the Graphite Z5 than most other brands do, which gives it a corresponding large sweet spot. Many manufacturers are now choosing this ample body shape for its ease of use.
The combination of all these features on this model makes playing pickleball even more fun and dynamic. The Graphite Z5 also has a good amount of pop, meaning that the ball bounces quickly off the face. Plus, it's approved by the USAPA for tournament games, and many professional players choose to use this paddle.
It has a solid construction, though a few reviewers complained that the grip quality could be improved–though overall, not a common complaint. If you're just starting to play pickleball, the Graphite Z5 may be a bit expensive, but the price is right for such a fantastic paddle. Onix sells the paddle in several colors, and the attractive design looks good no matter where you go.
Things We Like
Excellent value for money
Suitable for players of all levels
Lightweight design
Things We Don't
Grip quality could be improved
Next on the list is the PROLITE Titan Pro Black Diamond, one of the most advanced paddles available. It combines to deliver superior ball control, touch, and feel, thanks to its carbon fiber body and carbon fiber polymer core, which includes a large sweet spot. This model weighs in at between 7.6 and 8.3 ounces, making it a midrange size paddle.
PROLITE designed the Titan Pro Black Diamond with an avant-garde face that helps grab the ball, enhancing spin and control. As you use the paddle, the fibers in it fray to create a rougher face for added control. But perhaps the best feature is the paddle's super thin edge, offering players extreme accuracy and command over the ball.
Lots of players are delighted with the sound-absorbing materials that make it fairly quiet. These materials help reduce shock throughout the paddle and can mitigate the effects of tennis elbow and wrist pain. The model also features PROLITE's No Sweat Diamond Grip, a perforated surface that pulls sweat away from your hand and has comfy cushioning.
Overall, PROLITE has delivered another fantastic-looking paddle with the Black Diamond, and its sleek design is available in several colors. It is on the more expensive end, but this paddle is a worthy investment for serious players.
Things We Like
Top-grade polymer honeycomb core
No-Sweat Diamond Grip
High performance
Things We Don't
Engage is among the best brands of pickleball paddle and one worth considering in your search. The Encore Pro includes a core made from specialized polypropylene, and the face is made with proprietary fiberglass.
Like most of the other models on our list, it weighs between 8.0 and 8.3 ounces and is considered a mid-range paddle. It is one of the heavier options, so this paddle might take some getting used to, but it's worth it. Engage designed the face to produce a fair amount of spin whether you're serving or returning shots–a design that makes serving an enjoyable affair.
Additionally, the Encore Pro has a medium-sized grip that's 4 ¼ inches in circumference and 5 inches in length. It's approved by the USAPA, and it's available in several colors, though not as many as other options on our list.
The only downside is that Encore might do well to improve the quality of the grip. Some reviewers noted that it wore out a little too fast for their liking. But other than this flaw, the Encore Pro is an excellent, well-balanced choice that may very well become your best pickleball ally.
Things We Like
Comfortable grip
Helps with effective ball placement
Big sweet spot
Responsive
Made in USA
Things We Don't
Grip may wear out quickly
A bit heavy
Fourth on our list is the Paddletek Tempest Wave Pro, which features a lightweight graphite body and an ultra-responsive Propylene core. It has a large sweet spot and a no dead spot guarantee–in other words, if the ball makes contact with the paddle, you'll be able to produce a somewhat decent response.
The paddle length is 5 ¼ inches, and the Tempest Wave Pro weighs about 7.6 ounces. Paddletek included a highly comfortable perforated grip on this model, which allows sweaty hands to breathe. All of these features combine to make it easy to be aggressive and smash the ball with quite a bit of power, whether you're a novice or an advanced player.
The only real downside is that the acoustics of this paddle could be improved. When you hit the ball, it produces somewhat of a high-pitched sound. But overall, there's plenty to love about this model, despite its high price (which is one of the highest on this list). You'll see the Paddletek Tempest Wave Pro in many different settings, including casual play and tournaments.
Things We Like
Longer handle
Solid construction
Ideal for players of all levels
Things We Don't
High price point
High-pitched sound
The last model on our list is a second Engage option, the Poach Advantage, another reliable, highly recommended paddle. It has a wide-bodied face with an extra-large sweet spot, and the Ultra Perforated Cushion Grip is both comfortable and stays in your hand. Engage also included the Cyclone Low-Profile Vinyl Edge Guard that delivers a consistent feeling, regardless of how fast you're swinging.
Additionally, the unique six-layer paddle skin can help you take your game up a notch. Having six layers of fiberglass polymer provides a unique advantage: it allows you to control the ball at varying swing speeds. But perhaps the best feature is that this paddle helps put the ball where you want it, which is extremely useful if you're just getting into pickleball.
Overall, the Poach Advantage feels excellent when you're holding it and delivers the spin, accuracy, and power you're looking for. However, with such excellent quality comse a steep price tag–though, in our opinion, it's well worth it if you want to continue evolving your game.
Things We Like
Excellent paddle for beginners
Fantastic accuracy
Lots of spin
Things We Don't
A bit expensive for a beginner paddle
Slightly heavy
Buyer's Guide
There's more to buying a pickleball paddle than you might think. Whether you want to take your game to the next level or you're a beginner searching for the best paddle, here's what you need to know to make the best purchase.
Pickleball Paddle Material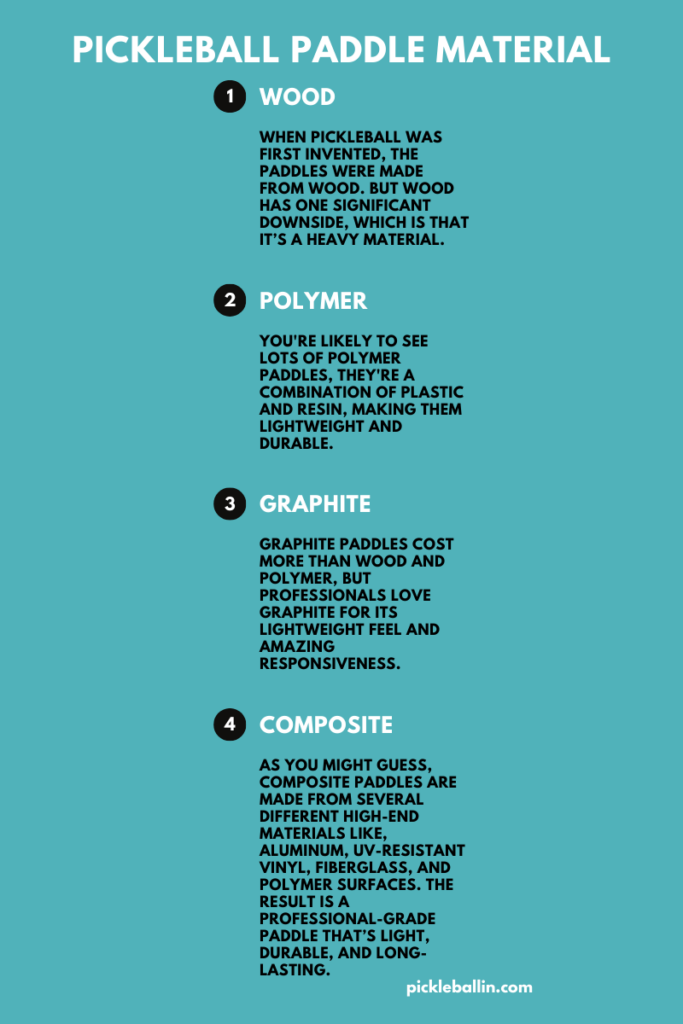 How much the paddle weighs and how it deflects the ball depends entirely on the material it's made from. Here are the most common materials used in pickleball paddles:
Wood
When pickleball was first invented, the paddles were made from wood, offering players a durable, cheap, and reliable option. But wood has one significant downside, which is that it's a heavy material. It can also be rather clunky and awkward to hit with.
Polymer
You're likely to see lots of polymer paddles when you play because they are generally the most affordable kinds of pickleball paddles. Polymer paddles are a combination of plastic and resin, making them lightweight and durable.
For amateurs, this material is perfectly fine, especially because it's affordable. But you'd be hard-pressed to find polymer paddles at professional events because other materials perform better. However, nowadays there is quite a range when it comes to the quality of these paddles, and some of them are quite respectable.
Graphite
If you're looking to upgrade your paddle, graphite is the gold standard. It costs more than wood and polymer, but professionals love graphite for its lightweight feel and amazing responsiveness. Controlled yet aggressive shots are easy to achieve with graphite, and this material can help give you an edge over your competition. It's also the best for dinking.
Composite
As you might guess, composite paddles are made from several different high-end materials. The result is a professional-grade paddle that's light, durable, and long-lasting. While there is no strict definition of a composite paddle, some common materials include:
Aluminum
UV-resistant vinyl
Polymer surfaces
Because of the high price tag that comes with using high-end materials, composite paddles are generally best for serious players.
Pickleball Paddle Core Materials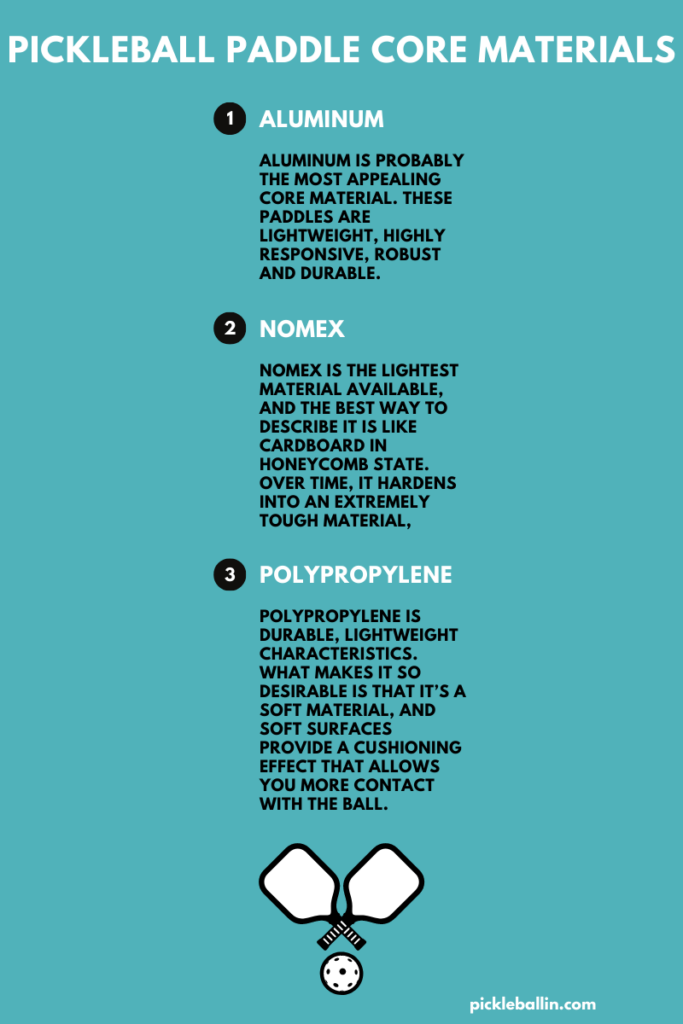 Now let's talk about the primary materials used in pickleball paddle cores, which forms a significant part of how the paddle feels and how the ball reacts.
Aluminum
Of the common pickleball paddle core materials, aluminum is probably the most appealing. These paddles are lightweight, highly responsive, robust and durable, and there aren't many downsides to speak of. The best part is that you get a paddle that will last years, or until you are serious enough about pickleball to upgrade.
Nomex
Nomex is the lightest material available, and the best way to describe it is like cardboard in honeycomb state. Over time, it hardens into an extremely tough material, which makes these paddles become progressively harder and louder.
It's typically the core material that professional players use, as Nomex gives the most control. Most beginners would choose aluminum or polypropylene.
Polypropylene
Polypropylene is another trendy core type, thanks to its durable, lightweight characteristics. What makes it so desirable is that it's a soft material, and soft surfaces provide a cushioning effect that allows you more contact with the ball. They're also generally flexible enough to provide the perfect amount of bounce, so you get increased ball control.
Features to Keep in Mind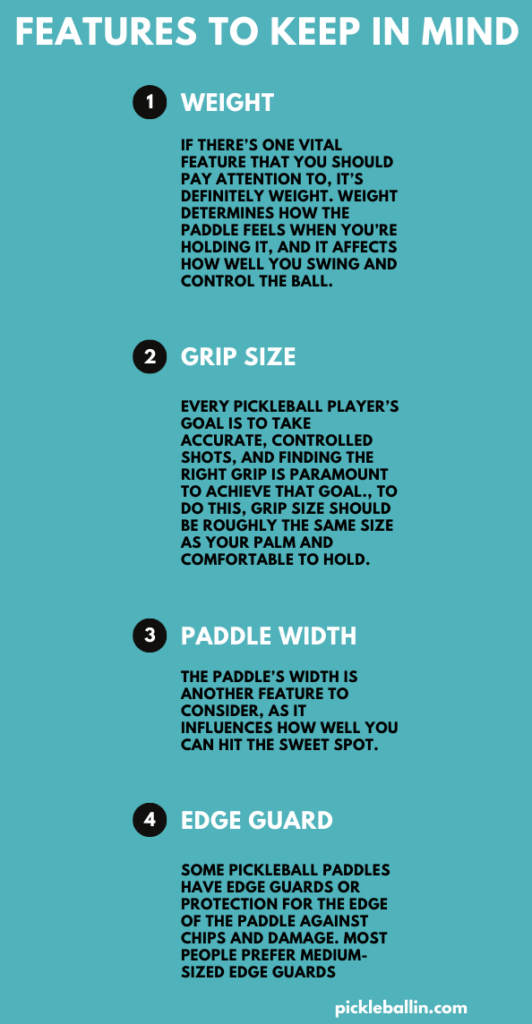 Pickleball materials are just one aspect to understand before purchasing a paddle. Here are some other characteristics to keep in mind as you search for the right model for you.
Weight
If there's one vital feature that you should pay attention to, it's definitely weight. Weight determines how the paddle feels when you're holding it, and it affects how well you swing and control the ball.
Pickleball paddles can range significantly in this area, from anywhere from six to fourteen ounces. Lightweight paddles are those under 7.3 ounces, while medium ranges from 7.3 ounces to 8.4 ounces. Anything over 8.5 is considered heavy.
We recommend holding different models to get an idea of what feels good in your hand.
Grip Size
Every pickleball player's goal is to take accurate, controlled shots, and finding the right grip is paramount to achieve that goal.
There is some debate about long vs. short grips. You'll hear that longer grips offer more stability, while shorter grips deliver greater control. But in our humble opinion, the grip should be neither too long nor too short. For most people, a good rule of thumb is that it be roughly the same size as your palm and comfortable to hold.
Paddle Width
The paddle's width is another feature to consider, as it influences how well you can hit the sweet spot. In most cases, paddle width should not exceed twenty-four inches.
Edge Guard
Some pickleball paddles have edge guards or protection for the edge of the paddle against chips and damage. Most people prefer medium-sized edge guards, though others go with large sizes, which increase the hitting surface. The trade-off with large edge guards is that the pickleball paddle's weight increases, which may or may not be something you want.
FAQs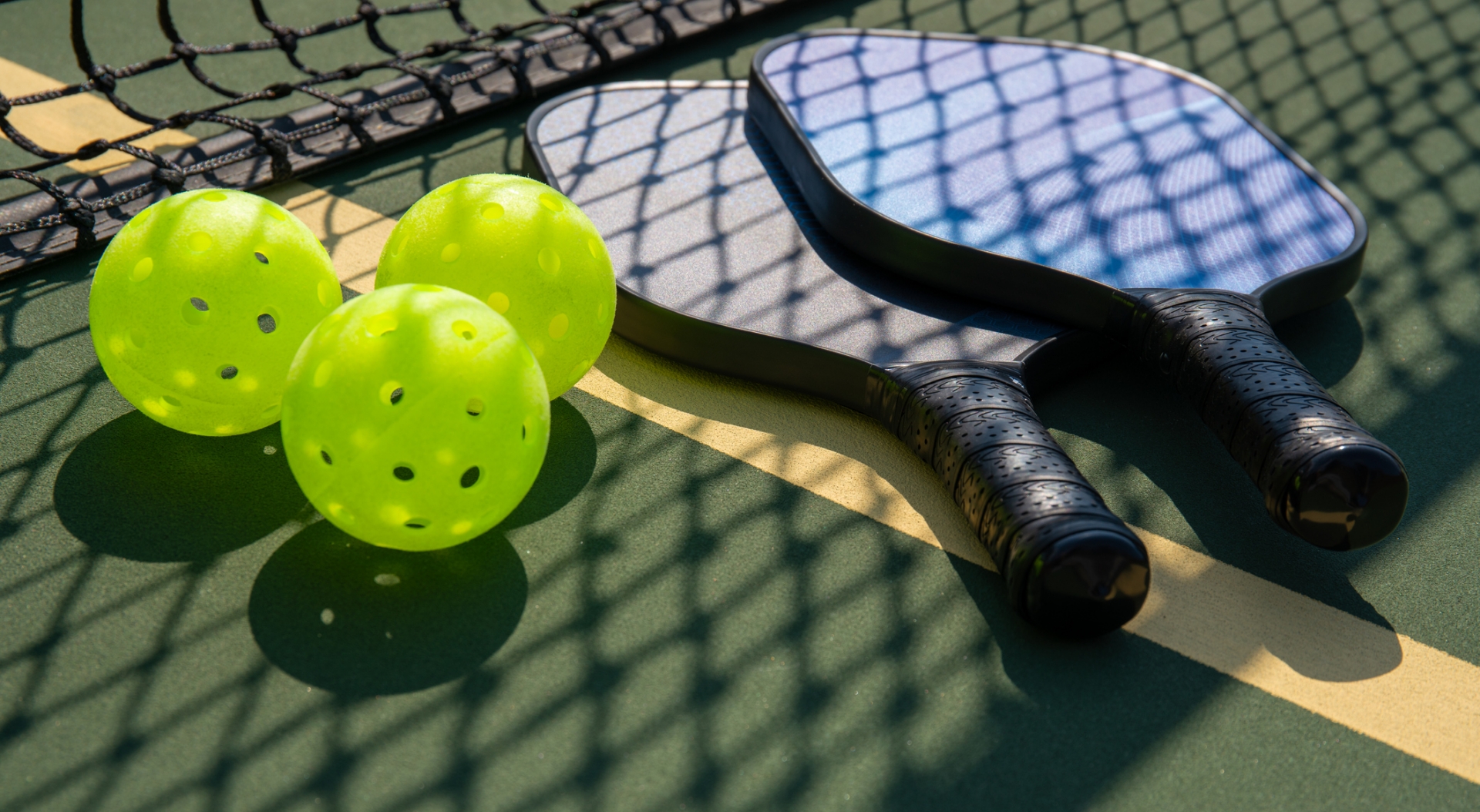 Below are frequently asked questions that can help to guide your final pickleball paddle pick.
What is a Sweet Spot?
Sweet spot refers to the center of the paddle; it's the area where the paddle most effectively strikes a ball. In general, the bigger, the better, as the sweet spot makes it easier to return the ball. Normally, the wider the body of the paddle, the bigger the sweet spot will be, which is something to keep in mind as you shop for the right model.
Is There a Difference Between Indoor Paddles and Outdoor Paddles?
Though there is no true difference between indoor paddles and outdoor paddles, indoor paddles are generally designed to produce less din. This design helps adhere to noise regulations, and it also helps keep the players more comfortable while playing.
What is the Difference Between Honeycomb and Composite?
"Composite" refers to the elements that make up a pickleball paddle, such as the face, core, edgeguard, and handle. "Honeycomb" describes the vast majority of pickleball paddle cores, which are designed to mimic the structure we see in beehives.
Is Handle Length Important When Buying a Pickleball Paddle?
You'll notice all of the reviews above mentioned handle length. While not a make-or-break feature, some people like longer handles that give more reach in certain situations. A "long" handle is considered one that's five inches or longer.
Is There an Advantage to Rough Surfaces?
Yes, rough surfaces can help counteract the power you're using to hit the ball, which translates to better control and accuracy. On the contrary, smooth surfaces are more suited to heavy-hitting.
Wrap Up
Of course, you might be wondering what our top pick would be. While the competition on this list is stiff–and you can't go wrong with any of the options listed–we do feel that there is one model that stands slightly above the rest. Our top prize would have to go to the Onix Graphite Z5 Pickleball Paddle.
It has several features that we think are useful for players of all ability levels. For one, we like the Nomex honeycomb core and graphite face, which help make your shots more accurate. Then there's Graphite Z5's comfortable weight, wide sweet spot, and long handle, all of which are characteristics that pickleball players look for in a paddle.
Overall, Onix helps players achieve a fun, dynamic play with this model, and you'll notice lots of pop when you hit the ball. Lastly, the price makes this pickleball paddle attractive. You can get a well-performing model at a price that won't break the bank, which many new to the sport will appreciate.
If you've found the information in this article useful and you're ready to buy the Onix Graphite Z5, you can find it here.  
Looking for more? Here are some of our other guides we recommend:
Learn: About Pickleball

, Why is it Called Pickleball?

, Pickleball Rules

, Pickleball Court Dimensions

, What is Pickleball?

, and Pickleball Singles vs Doubles – Strategies and Rules

.

Equipment: Best Pickleball Clothes for Men and Women

, Best Pickleball Accessories And Must-Have Gear

, and Men's Pickleball Shorts.
Play: How Can I Find Pickleball Courts Near Me