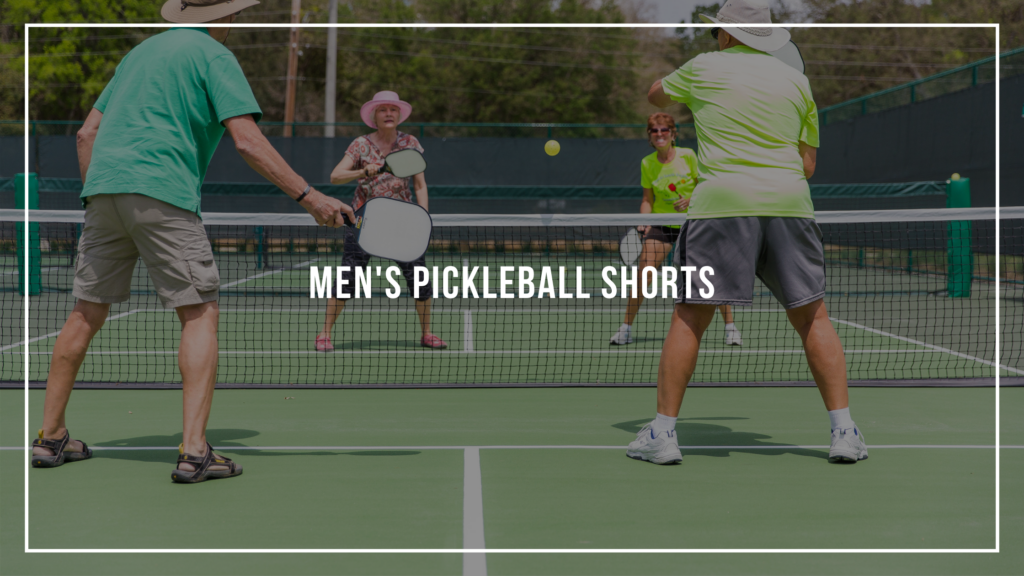 When playing a sport like pickleball, your gear is just as essential as your technique, especially when the weather outside is warm. Fortunately, you don't need to find shorts designed explicitly for pickleball to enjoy playing the sport; all you need is a pair of high-movement, comfortable shorts that you feel good in.
In this guide, I'll introduce you to a few of the best men's pickleball shorts options on the market today.
Before we begin, if you're looking for a complete beginner's guide to pickleball check out: Pickleball Strategy: Complete Beginners Guide

!
These seven-inch inseam shorts from Roadbox are an excellent option to start our list. These are relatively short, lightweight shorts that are excellent for the hottest days spent out on the court. They're also the least expensive athletic shorts on this list, so if the lightweight fabric causes them to wear out faster, your wallet won't feel it as much.
These shorts are made from a mix of polyester and spandex, meaning they'll wick moisture away from you as you exert yourself, too. However, some men may find that these shorts' ultra-lightweight nature is too revealing in some aspects, as they do run a bit small. That's the trade-off you get for something so lightweight and breezy.
Things We Like
Lightweight, moisture-wicking material is excellent for hot, sweaty days
Deep pockets can hold a phone, wallet, etc. safely
Inexpensive – easy on your wallet
Things We Don't
It can be a bit too "revealing" in some cases, so size up
Pockets aren't zippered or velcroed, so items can fall out during play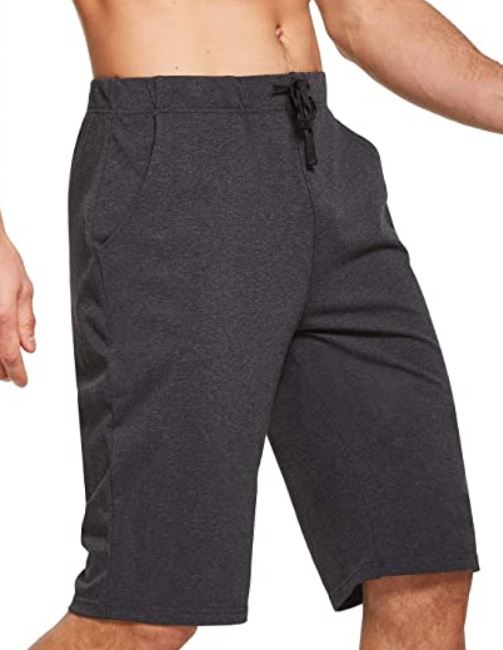 If you're looking for something a bit longer and more lounge-friendly, then these dual-purpose shorts from BALEAF are sure to be a hit. These shorts are made from a mixture of cotton and polyester or spandex (the exact mix depends on which color and material you choose), so they're a bit heavier than the Roadbox shorts up above.
This makes them great for days that feel cool but not cold enough that you'd want to upgrade to pants entirely. They're not ideal for conditions where you'd get sweaty – the cotton fabric will absorb moisture readily, but it'll hold onto it, too.
Despite the longer length (12-inch inseam), these shorts are still very flexible and comfortable, but some men may find them more constrictive because of the length. The pockets are acceptably-sized but note that these shorts do not have a fly despite what the pictures might suggest.
Things We Like
Longer fit – below-the-knee for most men
Structured yet flexible fit that's great for cooler days
Things We Don't
Longer length means it may feel more restrictive, especially during heavy movement
No fly, even though it "looks" like it has one
No closure mechanisms on the pockets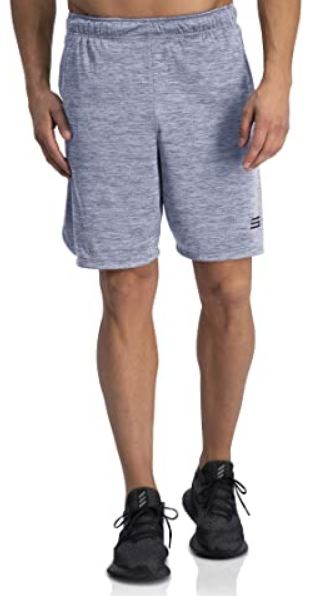 These gym shorts hit an almost-perfect midpoint between both of the shorts we looked at above. At an inseam length of nine inches, these pants will hit right around or just past the knee for most users, and the fully-polyester makeup is lightweight and moisture-wicking. According to the manufacturer, the "knitted polyester" design allows more air through, as well.
Unlike any of the other shorts on this list, these have "vented hems" that are designed to allow you a greater range of motion as you move. If you're an aggressive pickleball player, you might notice a significant difference in how these feel because of that.
However, the drawstring on these shorts is a little questionable – they can get lost in the shorts' waistband if you're not careful, especially on larger sizes. The sizes themselves can be a bit inconsistent as well, so make sure to check your fit when they arrive and exchange them if necessary.
Things We Like
Vented hems offer extra movement
Middle length right at the knee
Lightweight, breathable, and moisture-wicking
Things We Don't
The drawstring doesn't always work as designed
Sizing can be inconsistent, even between two pairs of the same size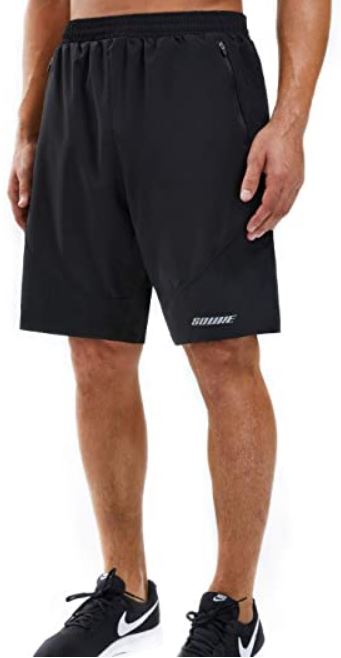 These athletic shorts from Souke are our second-shortest shorts on this list – they should hit at the top of the knee or slightly lower, and the inseam starts at just under eight inches for the smallest size.
The material is mostly polyester with a small amount of spandex, and these are also the first "lined" shorts on this list. That'll give you extra support for when you exert yourself, and men who need a less revealing short will appreciate the lining as well. The inner lining also helps prevent chafing.
However, our favorite feature about these is the zippered pockets, which can't be beaten if you want to keep your belongings with you as you play. All in all, the extra internal lining is often more convenient than not. However, even though these shorts are "perforated" for extra breathability, they'll still likely be warmer than unlined shorts under the same conditions.
Things We Like
Interior lining holds everything in place, wicks moisture, and prevents chafing
Zippered pockets prevent belongings from falling out during play
Much-appreciated 90-day money-back guarantee, just in case you decide you don't like them
Things We Don't
Warmer than unlined shorts
Not as lightweight as you would expect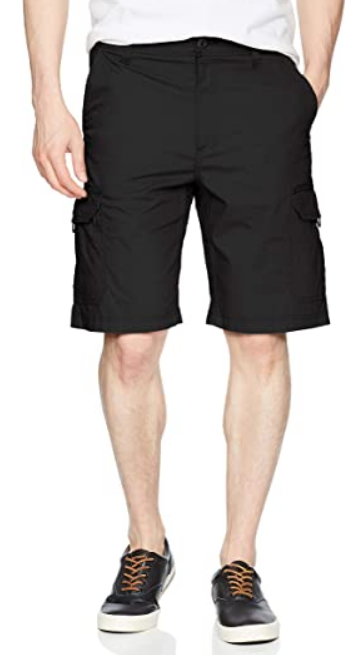 If you're not a fan of the "athletic shorts" look, then this alternative from Lee might be just what you've been hoping for. These are not athletic shorts, but rather super-stretchy cargo shorts! Made of mostly cotton, some nylon, and the rest spandex, they're made to look and feel like everyday fabric shorts, but they can hold up to strenuous activities as well.
Unfortunately, since these are not really athletic shorts, they're missing some of the features of a good pair of pickleball shorts, such as moisture-wicking fabric. However, they do have velcroed cargo pockets, which are great for holding your belongings in place.
Overall, these are only great for those who want the mobility of an athletic short without the look – true athletic shorts provide more advantages in every other capacity. However, for what they are, they're excellent.
Things We Like
Much better movement than regular cargo shorts
Velcro-lined pockets keep everything inside, even during pickleball games
Things We Don't
Moisture-wicking capabilities are average at best
Heavier than standard athletic shorts
Loose, but not overly breathable
Pricey
Education
Fortunately for sports lovers, picking out a good pair of mens pickleball shorts isn't all that different from picking out gear for any other sport. When in doubt, you can pretty reliably go with any pair of shorts branded for tennis or badminton, too, since pickleball uses similar movements.
If you've picked out this kind of gear before, you should already know what you're looking for. However, if you're new to this, I'll guide you through the most important considerations you should make below.
Fit
Different people like different fits when it comes to men's athletic shorts – this is undeniable. Some like compression shorts that keep everything securely in place, while others prefer something more flowing and breathable. Still others like something in the middle.
Beyond the compression factor, though, you should consider where the shorts sit on your body, too. Do you want something that sits a bit higher on your hips? Perhaps you find low-rise shorts more comfortable? If you take the time to look, you can find one of just about everything out there.
Fortunately for pickleball players, most athletic shorts have a drawstring to help you situate your shorts properly (including four out of five of the picks on this list, and the fifth has an elastic waistband to help make up for it anyway).
Length
VIDEO: https://www.youtube.com/watch?v=Sn5s5hDuEzc
Of course, the length of your pickleball shorts goes hand-in-hand with the fit. While pickleball generally favors a longer short that hits just above the knee, you should let your preferences dictate your final choice. After all, as long as you feel comfortable, cool, and mobile, the length doesn't really matter.
For other activities, such as running or climbing, the length might make a more significant difference. However, as pickleball tends to be less strenuous than both of those activities, you have a bit more freedom to work with.
Material
The material you choose plays an enormous role in the comfort of your shorts, too. I've been careful to mention the material of each pair of shorts we reviewed up above. Still, you can simplify the materials even further by separating them into either "natural" or "synthetic" materials.
Synthetic (man-made) fibers are, overall, better for strenuous activity. If you tend to get really active when you play pickleball, you'll want to look for mostly synthetic materials. If you sweat a lot when you play, you'll want to do the same.
This is because synthetic materials are lighter and cooler than most natural fibers, and they're superior for wicking away moisture, too.
However, that doesn't mean there's no case for natural fibers. Pickleball shorts mens with natural fibers work just fine for moderate exercise. If pickleball is more of a relaxing sport for you and you don't usually sweat much, a pair of cotton shorts is flexible and mobile enough to get the job done.
However, keep in mind that synthetic fibers tend to be softer than many natural fibers, too (not all of them – bamboo fabrics, for example, are often extraordinarily smooth and plush). If you have problems with chafing or irritation, you may want to stick with synthetics.
Extra Features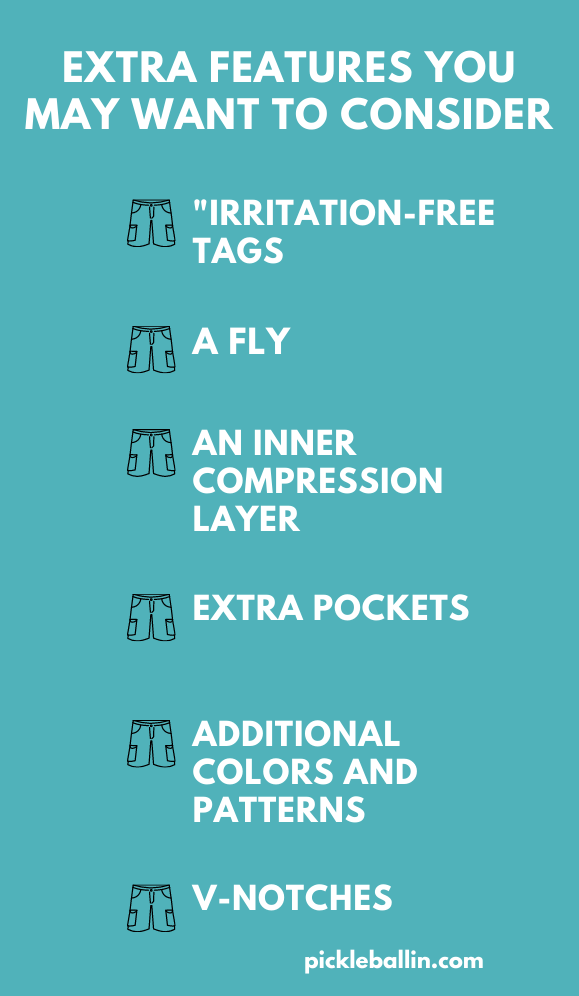 Finally, make sure you have a mental list ready of any additional features you want in your men's pickleball shorts. For example, are secure pockets, such as those that close with a zipper or velcro, significant to you? If you play on a public court where leaving your phone or keys on the side of the court isn't an option, this can be a much-appreciated feature.
Other optional features you may want to keep an eye out for include:
"Irritation-free" tags
A fly
An inner compression layer
Extra pockets
Additional colors and patterns, in case you want extra shorts
V-notches
FAQ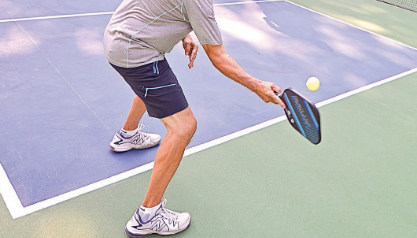 Q: What are pickleball shorts?
A: Essentially, pickleball shorts are just athletic shorts. Some sporting companies may sell shorts branded explicitly as "pickleball shorts," but there's no defining feature that makes them different from a similar pair of athletic shorts. To that end, though, most pickleball shorts tend to hit around the bottom of the thigh or top of the knee and are relatively loose for mobility.
Q: How should pickleball shorts fit?
A: The fit on a pair of athletic shorts depends on its type. For example, compression shorts should fit snugly, but not snugly enough to cause discomfort or unwanted friction. Shorts without a compression layer, on the other hand, are much more about your own comfort. As long as they fit you comfortably and stay on during your chosen activity, the fit is correct. Ensure you select an inseam that doesn't look too long for your height and body type while still suiting your style preferences.
Wrap-Up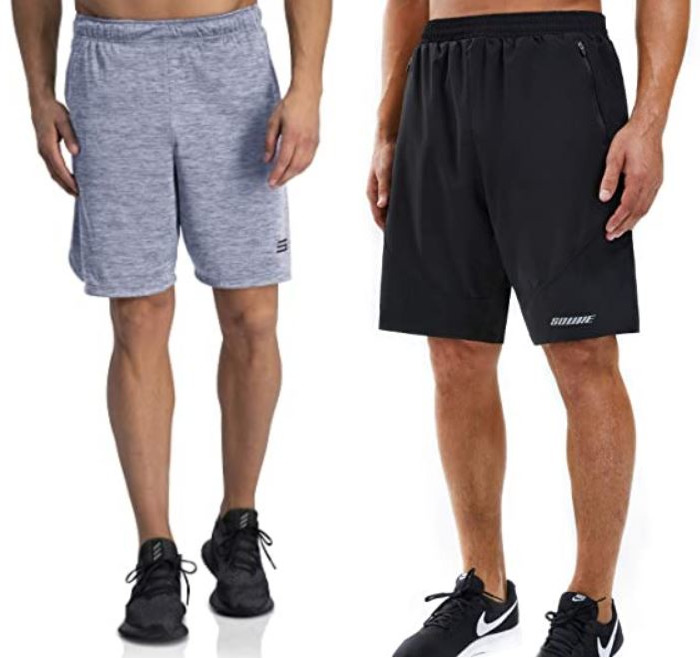 In the end, I think that the best pickleball shorts for most men will either be the Three Sixty Six Dry Fit Gym Shorts or the Souke Sports Men's Workout Shorts. Which is best for you all depends on what you're looking for in a pair of mens pickleball shorts. Do you prefer a tighter, moisture-wicking compression fit, or do you like a free-flowing vented fit?
Regardless of which you prefer (or whether your preference is for something else entirely), there'll surely be something on this list that suits your needs. Fortunately, none of the pickleball shorts on this list (aside from the cargo shorts, which were a bit pricey) are particularly expensive, so the cost doesn't need to play a massive role in your final decision.
I hope that this list has proven educational and valuable to you, even if you didn't find a pair of pickleball shorts that appealed to you personally.
Product Comparison
| | | | |
| --- | --- | --- | --- |
| Product | Material | Inseam Length | Price |
| Roadbox Men's 7" Workout Shorts | 88% polyester, 12% spandex | 7" | $ |
| BALEAF Men's 12" Long Shorts | 88% cotton, 12% spandex OR 55% cotton, 39% polyester, 6% spandex | 12" | $$ |
| Three Sixty Six Dry Fit Gym Shorts | 100% polyester | 9" | $$ |
| Souke Sports Men's Workout Shorts | Outer layer: 92% polyester, 8% spandexInner layer: 90% polyester, 10% spandex | 7.8" – 8.6" | $$ |
| Lee Men's Extreme Motion Crossroad Shorts | 73% cotton, 24% nylon, 3% spandex | 10.5" | $$$ |
Looking for more? Feel free to check out some of our other guides:
Learn: About Pickleball

, Why is it Called Pickleball?

, Pickleball Rules

, Pickleball Court Dimensions

, What is Pickleball?

, Pickleball Singles vs Doubles – Strategies and Rules

, Indoor vs Outdoor – What's the Difference?, Engage Pickleball vs. Onix Pickleball, and How to Play Pickleball Singles-Skinny Singles!
Equipment: What Type of Pickleball Paddle is Best?

, Best Pickleball Shoes

, Learn More About Pickleball Equipment and Where to Buy It

, Best Pickleball Clothes for Men and Women

, Best Pickleball Accessories And Must-Have Gear

, Onix Pickleball, The Best Pickleball Shoes for Men, and Best Pickleball Paddle

.
Play: How Can I Find Pickleball Courts Near Me