So, you want to start playing pickleball? Awesome, pickleball is such a great sport! It keeps you fit, it's fun, and it helps you make new friends! However, do you find that when you start shopping around for the best pickleball paddle for beginners, the sheer number of options is overwhelming for you?
That's where I come in. In today's guide, we've put together the top 5 pickleball paddle models that are perfectly suited for beginners. Unfortunately, there are many beginners who are using paddles that don't suit them, this can really hinder how they play. Don't worry though, we've got you covered. All of these paddles are great for those just starting out, you don't have to worry about making the wrong choice.
The Best Pickleball Paddles for Beginners – Reviewed
Here are our top picks from some of the best pickleball paddle brands out there in no particular order.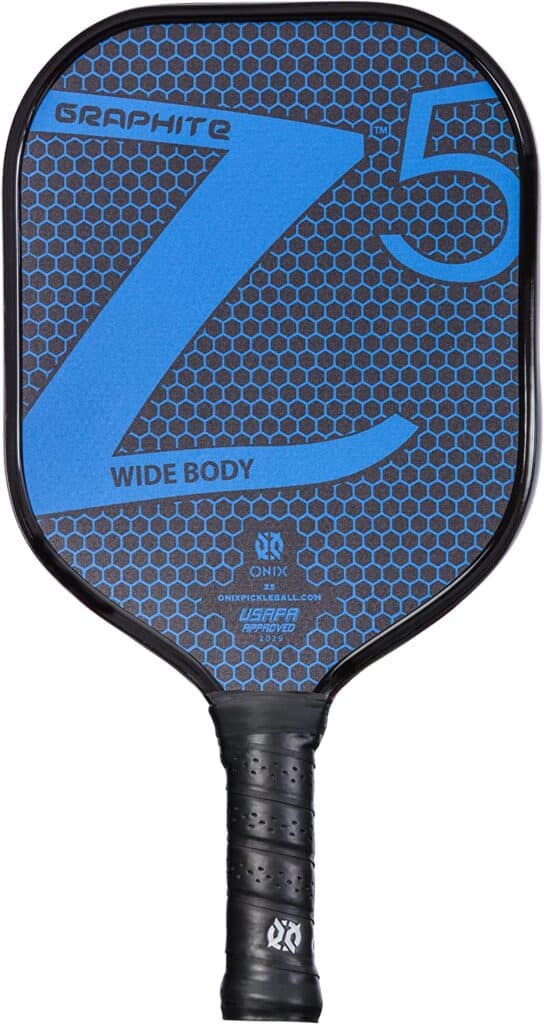 We're starting things off with the Onix Graphite Z5, one of the highest-ranked pickleball paddle models that are suitable for beginners. The great thing about this paddle is, it grows with you. This paddle is perfect to start out with but it's even a great paddle for advanced players. Meaning you don't have to worry about finding a new paddle when you advance.
This paddle features a classic widebody paddle shape with a 5-inch handle, and it weighs in comfortably at between 7.5 and 8.2 ounces. Its lightweight design allows you to generate significant power when smashing. The Z5 also has a good amount of pop, this means that the ball bounces quickly off the face once contact is made. Another plus for this paddle is it's approved by the USAPA for tournament games.
Things We Like
Excellent value for the price
Great for players of all levels
Lightweight design
Things We Don't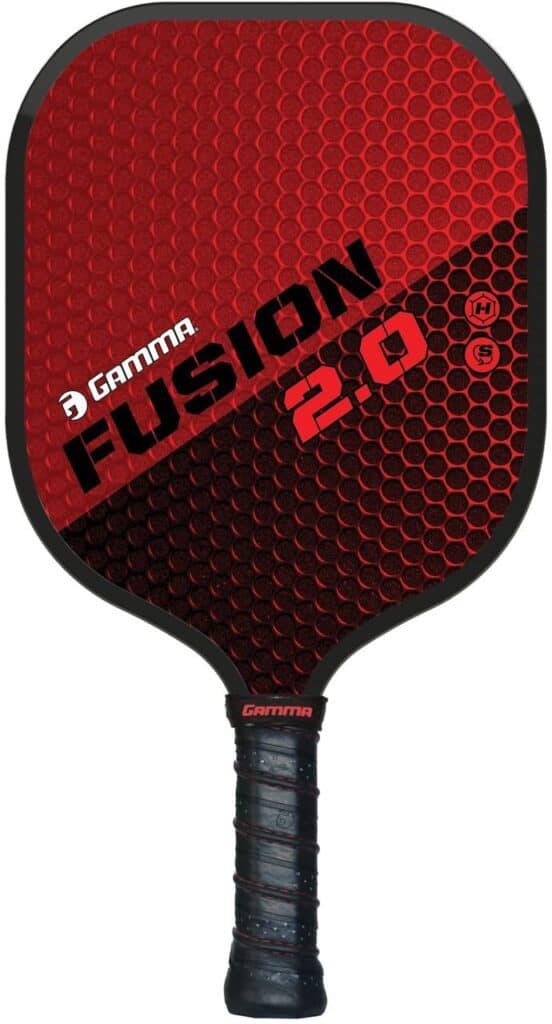 Next on the list is the Gamma Fusion 2.0, one of the most advanced paddles available.
The Gamma Fusion 2.0 is as good as it gets for a beginner's paddle. It has a core that is aluminum honeycomb, which offers great power and balance. The face is made of fiberglass which allows you to easily control the tempo of the match through its well-designed playing surface. The paddles' large sweet spot allows you to quickly and accurately return the ball. The grip on this paddle is very comfortable but if you like you can add your own grip to the stock handle to suit your needs. Lastly, the paddle is affordable, which means it really is worth taking the plunge on this paddle with all of its great features.
Things We Like
Large Sweet Spot
Well-balanced
Comfortable Grip
Things We Don't
Edge guard can fall apart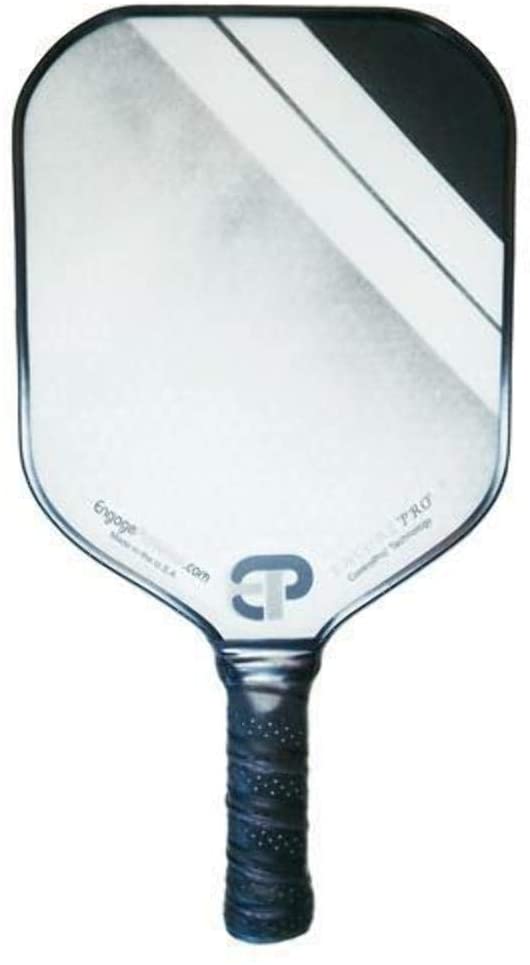 Engage is among the best brands of pickleball paddle and one worth considering in your search. The Encore Pro includes a core made from specialized polypropylene, and the face is made with proprietary fiberglass.
Like most of the other models on our list, it weighs between 8.0 and 8.3 ounces and is considered a mid-range paddle. It is one of the heavier options, so this paddle might take some getting used to, but it's worth it. Engage designed the face to produce a fair amount of spin whether you're serving or returning shots–a design that makes serving an enjoyable affair.
Additionally, the Encore Pro has a medium-sized grip that's 4 ¼ inches in circumference and 5 inches in length. It's approved by the USAPA, and it's available in several colors, though not as many as other options on our list.
The only downside is that Encore might do well to improve the quality of the grip. Some reviewers noted that it wore out a little too fast for their liking. But other than this flaw, the Encore Pro is an excellent, well-balanced choice that may very well become your best pickleball ally.
Things We Like
Comfortable grip
Helps with effective ball placement
Big sweet spot
Responsive
Made in USA
Things We Don't
Grip may wear out quickly
A bit heavy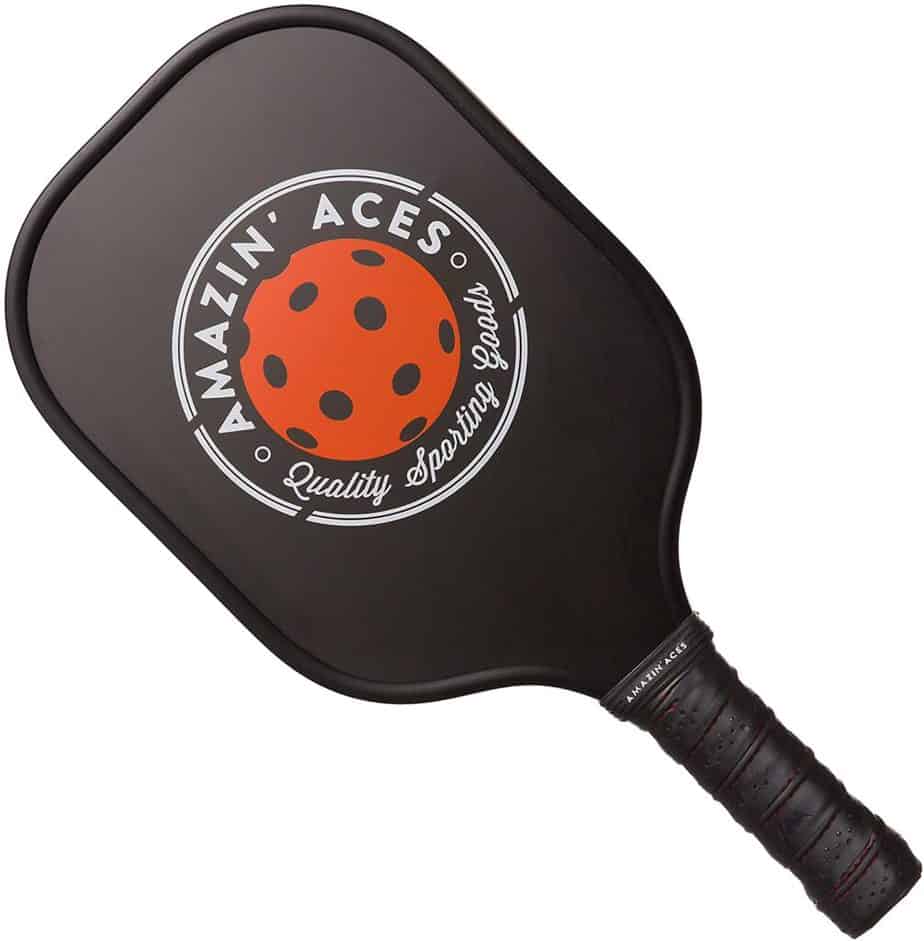 Fourth on our list is the Amazin' Aces Graphite pickleball paddle, which features a lightweight polymer core. This core is known to be the softest and quietest on the market. This paddle is slightly heavier than other options out there, it weighs 9.2 oz.
Things We Like
Affordable
Comfortable grip
Solid construction
Things We Don't
Grip is best for those with smaller hands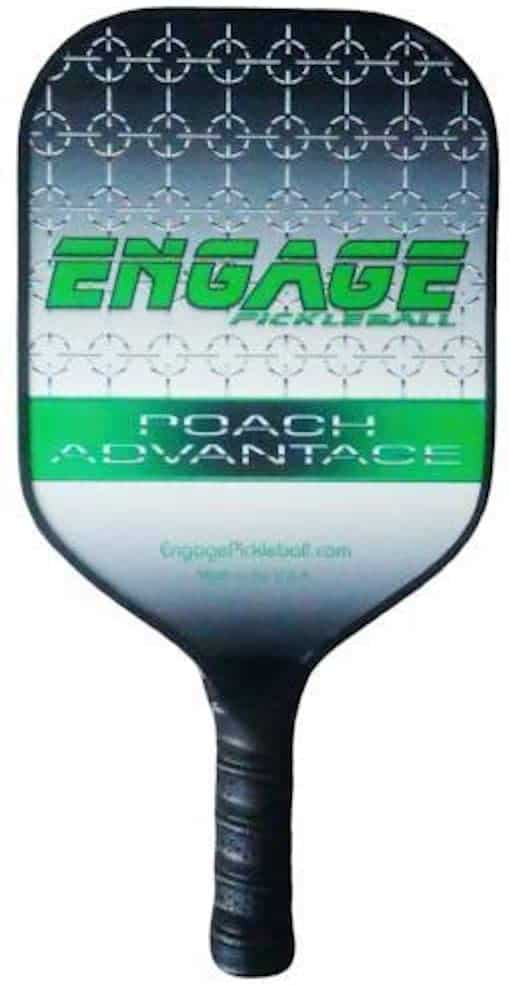 The last model on our list is the Engage Poach Advantage pickleball paddle. This paddle has a wide face with a large sweet spot. The Ultra Perforated Cushion Grip is both comfortable and stays in your hand. What we really like about this paddle is the included Cyclone Low-Profile Vinyl Edge Guard. We love this feature because it delivers a consistent feeling while you're playing, regardless of what speed you're swinging.
On top of that, the unique six-layer paddle skin can help you take your game up a notch. Having six layers of fiberglass polymer provides a unique advantage: it allows you to control the ball at varying swing speeds.
Things We Like
Wide body
Fantastic accuracy
Lots of spin
Things We Don't
Expensive
Heavier than other options
Features to Keep in Mind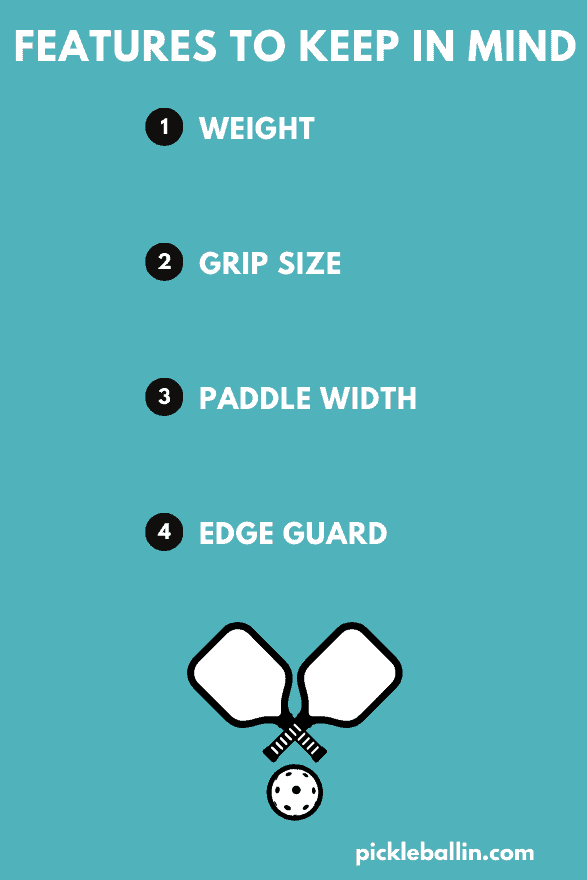 Here are some other features you should keep in mind as you search for the right pickleball paddle for you.
Weight
If there's one vital feature that you should pay attention to, it's definitely weight. Weight determines how the paddle feels when you're holding it, and it affects how well you swing and control the ball.
Pickleball paddles can range significantly in this area, from anywhere from six to fourteen ounces. Lightweight paddles are those under 7.3 ounces, while medium ranges from 7.3 ounces to 8.4 ounces. Anything over 8.5 is considered heavy.
We recommend holding different models to get an idea of what feels good in your hand.
Grip Size
Every pickleball player's goal is to take accurate, controlled shots, and finding the right grip is paramount to achieve that goal.
There is some debate about long vs. short grips. You'll hear that longer grips offer more stability, while shorter grips deliver greater control. But in our humble opinion, the grip should be neither too long nor too short. For most people, a good rule of thumb is that it be roughly the same size as your palm and comfortable to hold.
Paddle Width
The paddle's width is another feature to consider, as it influences how well you can hit the sweet spot. In most cases, paddle width should not exceed twenty-four inches.
Edge Guard
Some pickleball paddles have edge guards or protection for the edge of the paddle against chips and damage. Most people prefer medium-sized edge guards, though others go with large sizes, which increase the hitting surface. The trade-off with large edge guards is that the pickleball paddle's weight increases, which may or may not be something you want.
Wrap Up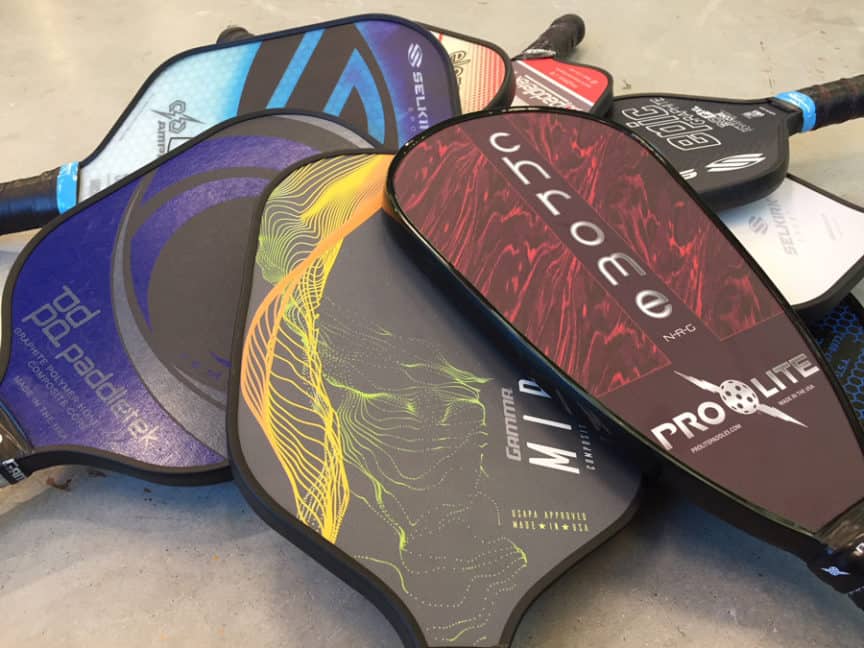 Of course, you might be wondering what our top pick would be. While the competition on this list is stiff–and you can't go wrong with any of the options listed–we do feel that there is one model that stands slightly above the rest. Our top pick would have to go to the Onix Graphite Z5 Pickleball Paddle.
It has several features that we think are useful for players of all ability levels. For one, we like the Nomex honeycomb core and graphite face, which help make your shots more accurate. Then there's Graphite Z5's comfortable weight, wide sweet spot, and long handle, all of which are characteristics that pickleball players look for in a paddle.
Overall, Onix helps players achieve a fun, dynamic play with this model, and you'll notice lots of pop when you hit the ball. Lastly, the price makes this pickleball paddle attractive. You can get a well-performing model at a price that won't break the bank, which many new to the sport will appreciate.
If you've found the information in this article useful and you're ready to buy the best pickleball paddle for beginners, you can find it here.
Looking for more? Here are some other articles I put together:
Learn: About Pickleball, Why is it Called Pickleball?, Basic Pickleball Rules, Pickleball Court Dimensions, What is Pickleball?, Pickleball Singles vs Doubles – Strategies and Rules, Pickleball Strategy – Advanced, and What is the Most Aggressive Shot in Pickleball!
Equipment: What Type of Pickleball Paddle is Best?, Best Pickleball Shoes, Learn More About Pickleball Equipment and Where to Buy It, Best Pickleball Clothes for Men and Women, Best Pickleball Accessories And Must-Have Gear, and Best Pickleball Paddle.