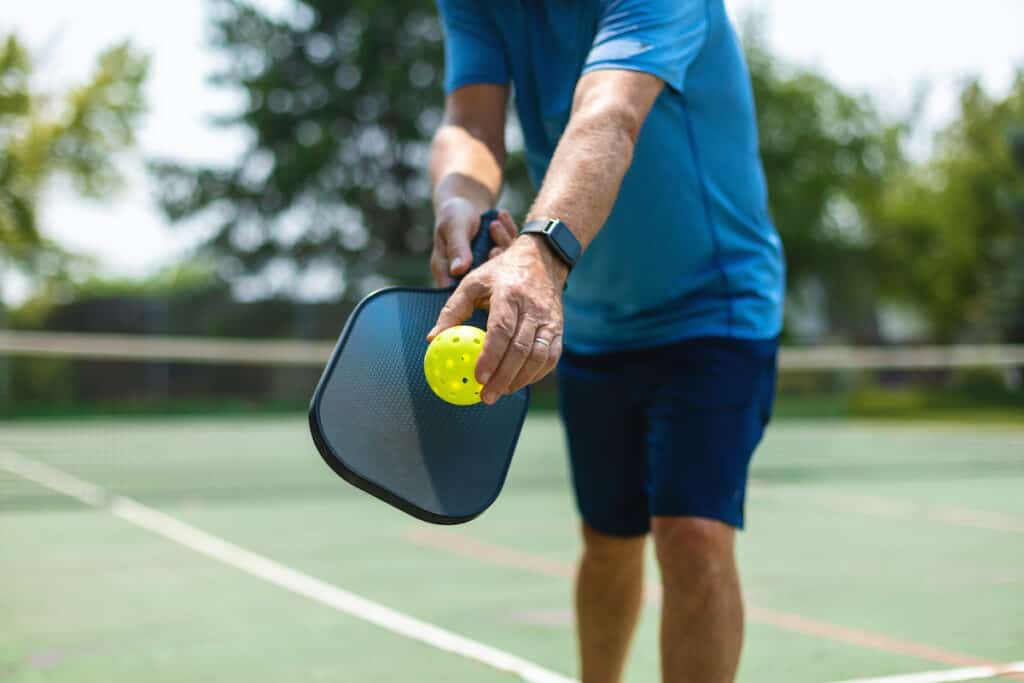 Before we dive into indoor vs outdoor pickleball paddles, let's take a step back. There is some importance to the type of pickleball paddle you use but things like pickleball balls, gameplay, and court size also matter. Pickleball balls are similar to wiffle balls in their design but are usually a little heavier. Pickleballs come in bright, vibrant colors, usually yellow or green. This is to help with visibility, so everyone has a fair chance of seeing the ball. I would like to mention though that there is actually no official rule about the color of the ball, only that the ball must be one consistent color.
Another thing to ask yourself no matter what kind of pickleball paddle you're playing with is this: Is that paddle USA Pickleball approved? USA Pickleball creates all of the official play rules in the U.S. So make sure you're playing with a USA Pickleball approved paddle so you can ensure you're getting used to a paddle that you'll be playing within tournaments.
What's the Difference Between Indoor and Outdoor Pickleball Paddles?
Understanding the difference between indoor and outdoor pickleball is most important since it's something that should be considered before choosing a paddle. Are you going to be playing pickleball indoors or outdoors? Once you answer that question, the type of paddle then matters a lot more when you know where you're playing.
So, What's Really the Difference?
Now, let's go over the difference between the paddles used in outdoor and indoor pickleball. The difference is really not that easily identifiable, so I'm going to share two things that matter most between indoor vs outdoor pickleball paddles.
The Surface of the Paddle
The surface of the pickleball paddle that is being used matters a lot. If the surface is on the softer side, the easier and better the game will be for the player using the paddle. The surfaces are more or less the same for both indoor and outdoor pickleball games but there's one thing that should be taken into consideration.
The bounce that the ball gets on an indoor court is smoother than one on an outdoor court. The types of paddles used are therefore different. If you're playing a game of pickleball on an indoor pickleball court you should use a lighter and easier to use paddle.
What Is the Paddle Made Of?
Pickleball paddle material is another thing that makes a big difference, it is what actually creates the difference between which paddles are good for indoor games and which one is good for outdoor games. There are a lot of materials that are used in making pickleball paddles, I'm sure you've heard of quite a few of them, if not all. There are graphite, fiberglass, wood, and wood composite pickleball paddles to just name a few.
Though the purpose of the materials is the same, they may be a little different. For example, the intensity you get when using a fiberglass paddle, for example, is not the same as the intensity that you get if you use a composite wood paddle. Each material has varying intensities and pros but notably, certain ones suit a different environment better.
Outdoor Pickleball Paddles: Are Usually Lighter Than Indoor Pickleball Paddles.
One really important thing to note is that outdoor pickleball paddles are usually lighter than indoor pickleball paddles. Outdoor paddles are often made with polypropylene and weigh between 7 – 11 ounces. The reason for this is that outdoor paddles have been designed for durability and portability. So a lightweight material is needed for these purposes.
I would like to compare Indoor paddles quickly. Indoor paddles on the other hand were designed with different considerations in mind. Manufacturers and players want a paddle that will be able to withstand abuse from players. This could be players hitting them against each other over long periods of time. You don't want the paddle breaking or cracking apart easily as an outdoor paddle would do if it were struck repeatedly against something like concrete.
Indoor Pickleball Paddles Are Usually Heavier Than Outdoor Pickleball Paddles.
As stated above, outdoor paddles are usually lighter and indoor paddles are usually heavier. This is because a heavier paddle has more mass, aka weight, behind the face of the paddle. This is crucial because it makes it more forgiving than a lighter paddle of equal size. The added weight also causes the user to have easier ball control and slower swing speed. This is great for those who are new to the game or are still getting used to the pace.
In addition to the heavier weight, indoor pickleball paddles tend to be larger in size when compared to outdoor pickleballs. This makes sense for indoor spaces because they can be quite large in comparison to outdoor courts.
The Best Indoor Pickleball Paddles
Gonex Pickleball Paddles
The Gonex Pickleball Paddles are USAPA approved. They have a durable graphitic carbon fiber face and a honeycomb interior composition. The paddles edge also has edge protection. All of these features combined reduce mishits while providing the user with better accuracy and stronger swing strength. The set comes complete with 2 paddles, 4 balls, and a portable carrying case.
Pros:
The paddles wide shape provides better control and power over your shots
The core is polymer honeycomb composite which ensures excellent shot placement when you hit the ball
The low profile edge guard protects the paddle during ground hits
The paddle has a cushioned grip which will ensure a comfortable and soft playing experience
Cons:
Some users of this paddle complain about experiencing dead spots, so I recommend trying out these paddles first before purchasing them to ensure they're the right fit for you.
Users have reported that the printed design and finish on the paddle can sometimes fall off. This can be pretty noticeable due to the dark color of the paddle.
Rally Graphite Pickleball Paddle
The Rally Graphite Pickleball Paddle This balance-focused paddle from Pickleball Central is made with a durable honeycomb composite polymer core to ensure powerful and smooth hits. It has a larger sweet spot with a ball-control edge.
Pros:
It's designed with a wide paddle face, edge guard hits will be minimized. The paddle face is also textured to help with enhancing spin and ball control
With a larger sweet spot, performance is improved even during off-center shots
Its weight of 7.7 to 8 ounces is ideal for players of all levels.
The cushioned grip is ergonomically designed for maximum comfort and less slipping
Cons:
With all the focus on performance and comfort, there's no mention of materials used to make the paddle durable and long-lasting. So, there's no guarantee if this material is as durable as it is powerful
Selkirk Amped Pickleball Paddles
The Selkirk Amped Pickleball Paddle has a FiberFlex fiberglass face and a polypropylene X5 core. This is truly a great paddle for anyone looking for a paddle that will give them precision and control. The Amped has a long handle and a large surface area, making it very versatile, keeping with the traditional paddle shape. This paddle is approved for tournament play by the USAPA.
Pros:
This pickleball paddle is very versatile, players of all skill levels can use it
The fiberglass face and polypropylene core provide great ball cushioning
The paddle has a large and consistent sweet spot
Cons:
This paddle is pricier than other options out there
Some users report the paddle being too light for them
The Best Outdoor Pickleball Paddles
Niupipo Pickleball Paddles
The Niupipo Pickleball Paddles have a graphite carbon fiber face and a honeycomb composition. This pickleball paddle is lightweight and has an ideal level of stiffness as well as that's perfect for power hitting and control.
Pros:
The interiors of these pickleball paddles are constructed with polymer honeycomb. This polymer honeycomb is sandwiched between two sheets of fiberglass to increase the durability of the paddles.
The grips on the Niupipo Pickleball Paddles are perforated for a more comfortable grip. The grip was also designed to be sweat-absorbent, this will help you keep a steady grip and play for long periods of time.
The overall design of this paddle is suitable for both intermediate and beginner players
Cons:
For people with larger hands, this paddle may not be the best option since it's on the smaller side.
Not a good option for professional players looking fora paddle with more advanced specs
These paddles only come in one color option, black and blue. This os not ideal for those who don't like that color combo.
Onix Graphite Z5 Pickleball Paddle
The Onix Graphite Z5 Pickleball Paddle has a graphite face and Nomex paper honeycomb core. This is a great combination because it allows the user to really increase their speed and maneuverability. Not to mention, the design of this pickleball paddle makes the paddle extremely lightweight.
Pros:
It has a Nomex honeycomb core which was designed to be lightweight and high in strength. This type of core adds power when hitting the ball. This ensure control during gameplay
The Onix Z5 has a wide-body shape. This makes it perfect for those who are looking for a paddle with a larger sweet spot.
This paddle is best for those transitioning from tennis to pickleball. This is because the handle design is very similar to a tennis racket handle. Players will be able to transition easily from tennis to pickleball.
Cons:
This paddle is a little bit more expensive when you compare it to its competitors
The materials used for the handle on this paddle were not specified. I recommend double-checking them before you decide to purchase the paddle.
HEAD Graphite Pickleball Paddle
The HEAD Graphite Pickleball Paddle is a great choice for both intermediate and advanced players. This is especially true for those seeking more power. HEAD is known for its lightweight carbon pickleball paddles. These paddles feature a graphite surface that provides a superior feeling and enhanced control for the more competitive players. Their gravity hybrid hitting surface provides a superior blend of comfort, control, power, and also has a handle stabilizer for excellent dampening on hard shots.
Pros:
The paddle is made of carbon making it very lightweight.
Offers you a lot of power without you need to sacrifice comfort
Made with handle stabilizer technology
Cons:
This paddle does have a shorter handle, so it may not be suitable for those with larger hands
Paddle surface does wear more easily than other brands
Some users report that the paddle is not well-balanced
Conclusion
Pickleball is a unique sport that is more accessible to a broader audience than other forms of exercise. This sport combines elements from badminton, tennis, and ping-pong in an easy-to-understand manner. This makes it suitable for those in a wheelchair, mature adults, and families with members of all ages.
If you're trying to choose between Composite vs Graphite pickleball paddles, the decision can be a difficult one. Despite the similarities between both, the two are starkly different when it comes to gameplay. No matter whether you choose composite or graphite, you're bound to improve the way you play over time. Both paddle options offer an ideal way to improve both striking power and grip strength.
Hopefully, this guide helped you understand Graphite Vs Fiberglass Pickleball Paddles. Do you have a graphite or fiberglass pickleball paddle? If so, what do you think of it? Please let us know in the comments below, we'd love to hear from you!
Looking for more? Here are some other articles I put together:
Learn: About Pickleball, Why is it Called Pickleball?, Basic Pickleball Rules, Pickleball Court Dimensions, What is Pickleball?, Pickleball Singles vs Doubles – Strategies and Rules, Pickleball Strategy – Advanced, and What is the Most Aggressive Shot in Pickleball!
Equipment: What Type of Pickleball Paddle is Best?, Best Pickleball Shoes, Learn More About Pickleball Equipment and Where to Buy It, Best Pickleball Clothes for Men and Women, Best Pickleball Accessories And Must-Have Gear, and Best Pickleball Paddle.