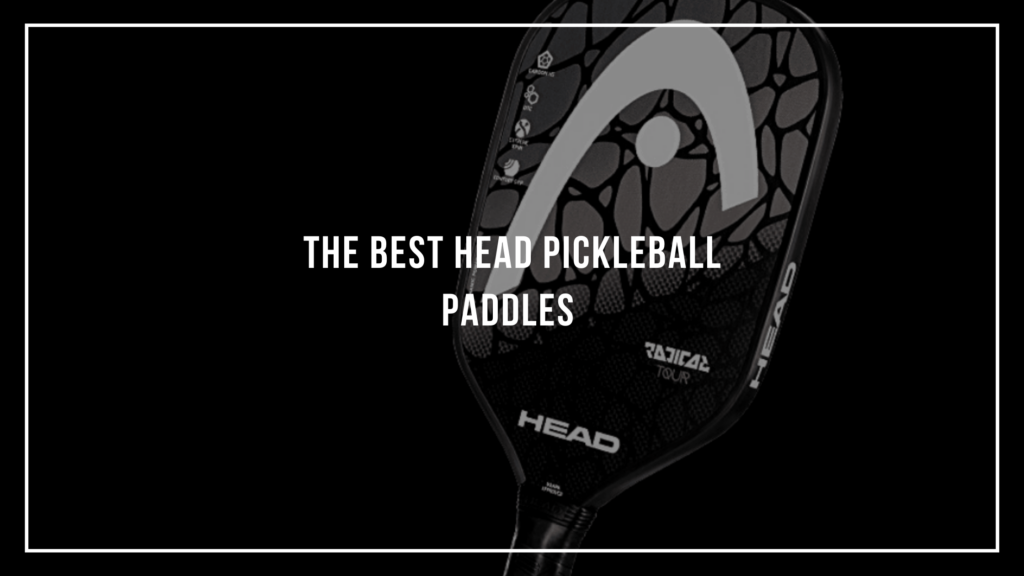 Whether you're breaking into the pickleball game or are a seasoned player, you'll want to get the best pickleball paddles. A top brand is HEAD, known for its unique designs and quality construction. Keep reading to discover the top five best HEAD pickleball paddles.
One of the most varied sports out there is pickleball. Pickleball combines the fun of badminton, ping pong, and tennis, allowing you to play the game anywhere, no matter your age or skill level.
If you're looking for a complete beginner's guide to pickleball check out: Pickleball Strategy: Complete Beginners Guide

!
The Top 5 HEAD Pickleball Paddles
Below are the best HEAD pickleball rackets that we found.
The overall best pickleball paddle we found is the HEAD Radical Pro. Suppose you are seriously interested in competitive pickleball. In that case, the HEAD Radical Pro Pickleball Paddle features the best HEAD technology with its polypropylene honeycomb core construction and ergonomic grip for minimal vibration and maximum power.
HEAD designed this racket for competitors looking for an extra pop. Its lightness helps the pickleball athlete move the paddle through the air with speed, and the fiberglass hitting surface provides excellent reflecting abilities. The Extreme Spin technology textured paddle face grips onto the ball to increase your accuracy without compromising your form.
This polypropylene HEAD pickleball paddle weighs 8.1 ounces, has a grip size of 4.25 inches, a thickness of 0.5 inches, a length of 16 inches, and a width of 7.875 inches.
Pros:
It has ample power despite its lighter weight from its honeycomb construction and ergonomic grip
Textured paddle surface grips onto the ball to increase your accuracy while generating spin
Fiberglass hitting surface offers incredible reflecting capabilities
Exceptional intermediate and advanced pickleball paddle, but also works well for beginners
Cons:
It does not have the best spin
Some users found dead spots, but most had no issues
The HEAD Extreme Elite Pickleball Paddle features the classic HEAD diamond design. It also has a fiberglass hitting surface for plenty of power. Its polypropylene honeycomb core construction has an ergonomic grip to improve your form and accuracy. This lightweight paddle glides through the air and has an attractive appearance.
This HEAD pickleball racket suits intermediate competitive players looking for a mid-level paddle. While not the highest quality paddle available, it is a step up from beginner paddles and costs less than the professional ones. It weighs 7.8 ounces, has a thickness of 0.44 inches, a length of 16 inches, a width of 7.875 inches, and a grip size of 4.25 inches.
Pros:
The lightweight paddle and soft, ergonomic grip prevent injuries of the wrist and elbow
Fiberglass finish has reflective capabilities and ample hitting power
Unique polypropylene honeycomb core, diamond shape, and ergonomic grip increase your accuracy while supporting your form
While designed for mid-level athletes, beginners can use it too
Cons:
Some buyers have reported discrepancies in the quality and design: some delaminated internally and others had dents in the surface
It has a smaller paddle surface than other HEAD pickleball products
The paddle has less texture, affecting the spin
If you want a pickleball paddle with a massive sweet spot, consider the HEAD Extreme Tour. This lightweight racket has a hitting surface composed of carbon and graphite, with an optimized tubular construction honeycomb polypropylene core. The unique diamond-shaped paddle offers exceptional control and feeling during gameplay, fast spin, and incredible swing speed.
This USAPA-approved pickleball paddle features Extreme Spin technology for control and spin and a Comfort Grip for ergonomic play and more reaction time. The grip features EVA foam material and helps with wrist motion while dampening vibration. Despite packing so much punch, it weighs only 7.6 ounces, has a thickness of 0.44 inches, a length of 16 inches, a grip size of 4.25 inches, and a width of 7.875 inches. The length provides exceptional reach and flexibility.
Pros:
Lightweight and easy to swing, providing plenty of power
Carbon and graphite hitting surface is robust and highly responsive
Honeycomb polypropylene core minimizes vibration and improves control
It has a large sweet spot, great feel, and fast speeds
Suitable for all skill levels, but mainly intermediate and advanced players
Cons:
It does not come with a cover
The grip becomes slippery with sweat
More focused on power than control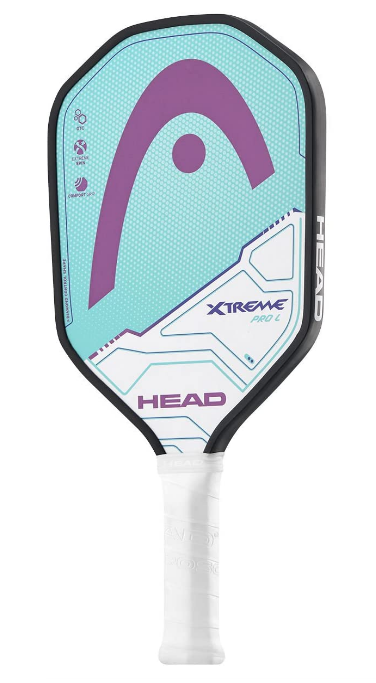 If you liked the HEAD Extreme Tour but want even more power, consider the HEAD Extreme Pro L Pickleball Paddle. This racket features a fiberglass surface, creating more power and improving the gameplay feel and performance. Also, it has a sleek look despite the textured Extreme Spin technology that provides increased spin and precision. Its polypropylene honeycomb core and ergonomic grip cement this paddle as a top choice for pro competitors.
The HEAD Extreme Pro L weighs 7.8 ounces, has a thickness of 0.44 inches, a length of 16 inches, a width of 7.875 inches, and a grip size of 4.25 inches. The slightly higher weight gives this paddle an advantage when playing singles in pickleball and makes it appeal more to advanced players than beginners.
Pros:
Fiberglass hitting surface creates a large sweet spot and offers power and control
The diamond-shaped paddle provides more control
The textured surface generates spin while retaining an aesthetically appealing look
Polypropylene honeycomb core and ergonomic grip for comfort and power
Designed for professional pickleball players
Cons:
It tends to fall apart after two to three months
Can hit the ball too powerfully
The HEAD Radical XL Pickleball Paddle has a large face with plenty of room for the sweet spot. Its length prolongs your reach and allows you to execute shots comfortably from tons of angles. The size lets you hit most balls that go your way, high or low. The polypropylene honeycomb core minimizes vibrations and offers greater control of your form and speed.
This model has a hitting surface made of graphite and carbon with Extreme Spin texture, all working to increase the accuracy and spin. The HEAD pickleball racket works well for beginners because of its large size.
It weighs 7.6 ounces, has a thickness of 0.5 inches, a length of 17 inches, a width of 7 inches, and a grip size of 4.25 inches. It is longer than most other HEAD pickleball products while remaining lightweight, giving it an advantage in terms of reach and control.
Pros:
Long and wide paddle surface offers excellent reach and control
Polypropylene honeycomb core minimizes vibration and maximizes power
Graphite and carbon hitting surface for a comfortable feel during gameplay
Works well for beginner, intermediate, and advanced pickleball players
Cons:
It does not have a cover
Grip becomes slippery with sweat
Creates a loud sound when it hits the ball
How to Choose a Pickleball Paddle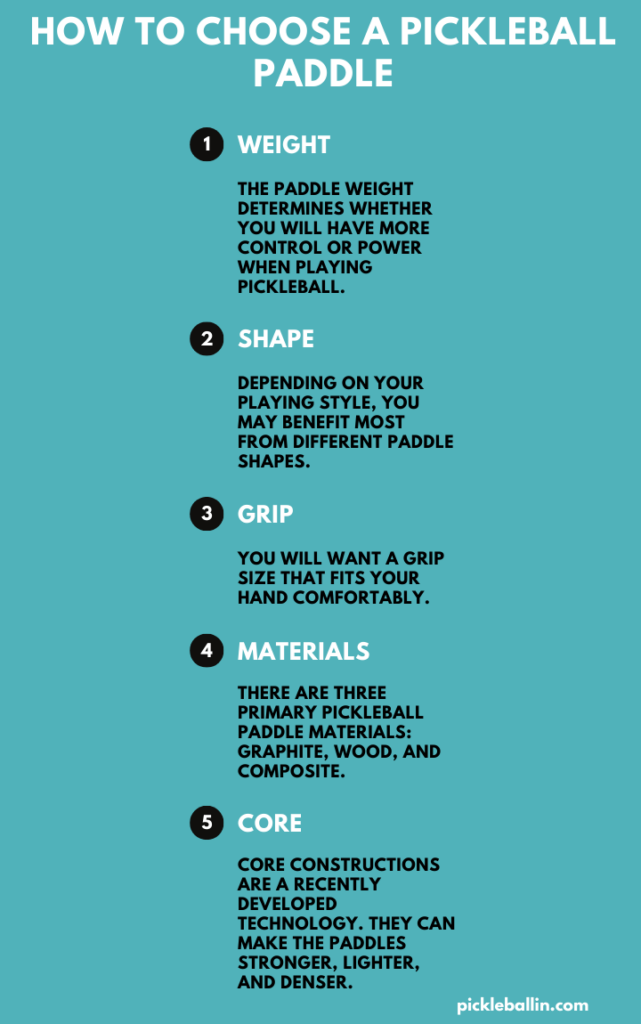 When choosing a paddle, try to remember the below factors to select the best option.
Weight
Shape
Grip
Materials
Core
Weight
The paddle weight determines whether you will have more control or power when playing pickleball. Lightweight rackets offer more control of your wrist movement, swing, and ball maneuvering, while heavyweight options allow you to slam the ball with greater distance and power.
If you have a tennis background, a heavyweight paddle may make you feel more comfortable. Those with a table tennis background may prefer lightweight paddles since that sport requires your wrists to produce powerful shots.
Beginners would do best with a mid-weight paddle until they discover their playing style. That way, you can determine if you prefer power or control. Those with arthritis or other joint conditions may also find mid-weight paddles easier to use without causing pain.
Light paddles weigh under 7.3 ounces, the mid-range is between 7.3 and 8.4 ounces, and anything heavier constitutes a heavyweight.
Shape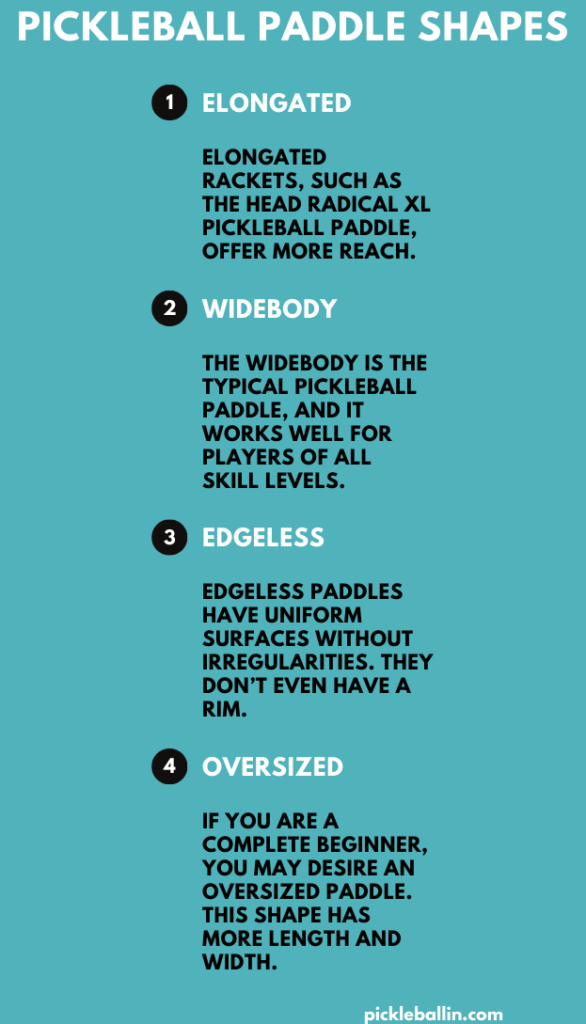 Depending on your playing style, you may benefit most from different paddle shapes.
Elongated
Elongated rackets, such as the HEAD Radical XL Pickleball Paddle, offer more reach. They act as an extension of your hands so that you can hit balls higher off the ground.
Widebody
The widebody is the typical pickleball paddle, and it works well for players of all skill levels. While it works for general playing strategies, you may wish to try other options to specialize in different techniques.
Edgeless
Edgeless paddles have uniform surfaces without irregularities. They don't even have a rim. Players who prefer the ball bouncing off the paddle's center rather than the edge may favor this shape.
Oversized
If you are a complete beginner, you may desire an oversized paddle. This shape has more length and width than the widebody, giving you a larger sweet spot to catch and return shots.
Grip
You will want a grip size that fits your hand comfortably. Larger grips provide stability, but if they get too large, you may drop the paddle. Conversely, smaller grips offer more control and spin, but they lack balance and power.
You can determine your grip size by measuring your hand with a ruler. To begin, you open your dominant playing hand with your fingers fully extended. Then, you align the ruler parallel to your ring finger with the bottom on your palm's middle crease. The grip size is the length from the tip of your ring finger to the bottom fold, and it should fall between four and five inches.
Sizes differ between countries, so check out a size comparison chart if needed. If you don't have a ruler handy, you can use the height test.
Under 5'2" – 4" grip
5'3" to 5'8" – 4.25" grip
Over 5'9" – 4.5" grip
The best method would be to practice with different grip sizes, but that isn't always possible. If you purchased a paddle with a too-small grip size, you could buy an extra grip. These also help if you wore out your current racket's grip.
Materials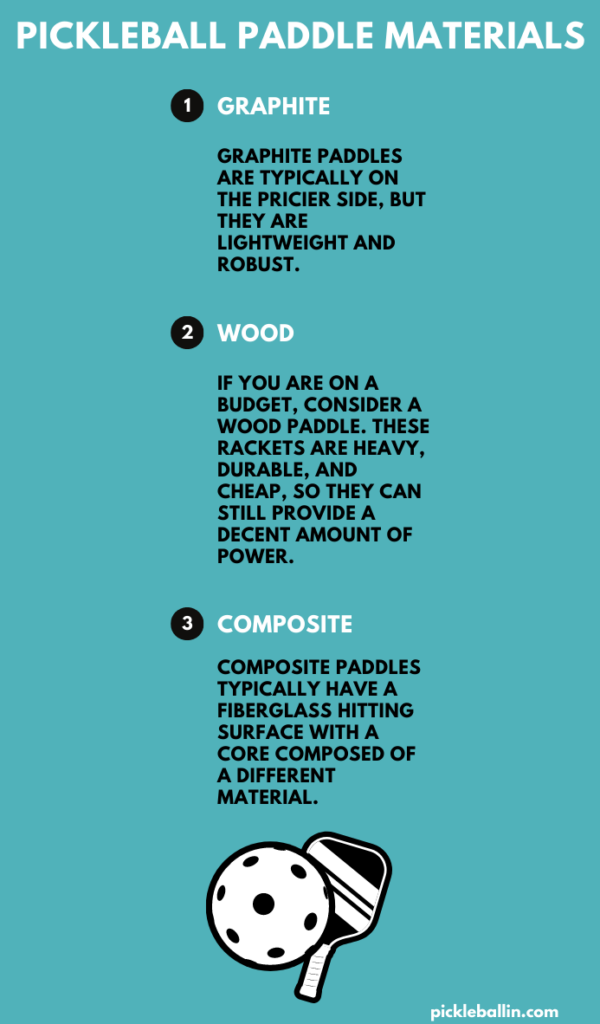 There are three primary pickleball paddle materials: graphite, wood, and composite.
Graphite
Graphite paddles are typically on the pricier side, but they are lightweight and robust. You can move them quickly and hit the balls with excellent power. They offer a balance between power and control, emphasizing the former, making them top picks for professional players.
Two of the reviewed HEAD pickleball rackets had a graphite construction. The Extreme Tour and the Radical XL both feature graphite and carbon as their principal materials.
Wood
If you are on a budget, consider a wood paddle. These rackets are heavy, durable, and cheap, so they can still provide a decent amount of power. They will last forever and are great for beginners who aren't committed to the game yet.
Nonetheless, these are not the best options for serious competitors. If you genuinely want to excel at pickleball, you will benefit from a graphite-based or composite paddle.
Composite
Composite paddles typically have a fiberglass hitting surface with a core composed of a different material. Textured fiberglass surfaces offer a fair amount of spin, making them suitable for advanced players.
These versatile paddles are often moderately priced, and they come in various weights and sizes. Many HEAD pickleball products are composite, including the Radical Pro, Extreme Elite, and the Extreme Pro L.
Core
Core constructions are a recently developed technology. They can make the paddles stronger, lighter, and denser. Common materials include polypropylene, aluminum, and Nomex.
Polypropylene
Polypropylene core constructions are silent but deadly. Engineers crafted them after aluminum to improve their power while reducing noise. Quiet paddles work well in private gyms, homes, and closed communities as they do not disturb passers-by.
All of the reviewed HEAD pickleball rackets have an optimized tubular construction (OTC) polypropylene honeycomb core.
Aluminum
Aluminum cores are light and quiet, and they preceded polypropylene. You will find extra ball control and paddle maneuverability with these, but they lack the power of polypropylene cores.
Nomex
The first material in professional pickleball paddles was Nomex. This material came from aircraft, and it continues to reign in the market. These cores are noisy and hardy, and they offer incredible power. Nonetheless, their loud popping sound may not fly where you intend to play.
Video Tutorial to Select Your Pickleball Paddle
Frequently Asked Questions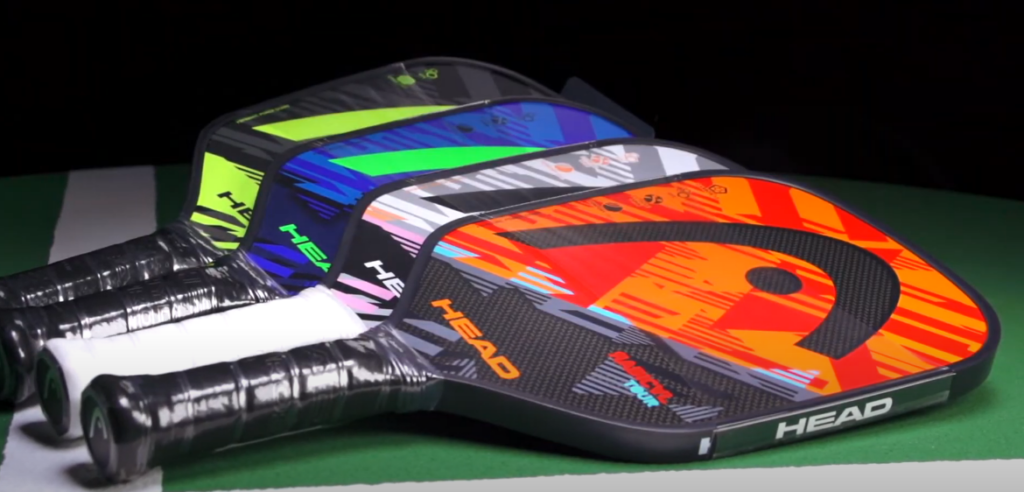 Q: What is the best HEAD pickleball paddle?
A: While the best HEAD pickleball paddle ultimately depends on your playing style, skill level, and budget, we recommend the HEAD Radical Pro Pickleball Paddle. While designed for advanced players, many beginners have found some merit in using it. This racket offers an exceptional balance between power and control while promoting accuracy and form.
Q: Where are HEAD pickleball paddles made?
A: HEAD manufactures their pickleball paddles in China. Nevertheless, they still have excellent quality and have lasted years for many players.
Q: Are HEAD pickleball paddles good?
A: Yes. HEAD pickleball rackets use some of the latest paddle technology developments to ensure their products have excellent power, reach, comfort, feel, spin, and control. They are often less noisy due to their polypropylene core construction, and they sell products for players of all skill levels.
Wrap Up
If you are interested in investing in a high-quality pickleball paddle, we strongly urge you to consider the HEAD Radical Pro. This paddle provides comfort, spin, strength, control, and reach. It has an aesthetically appealing design and features the latest pickleball racket technology. The HEAD Radical Pro should last you a long time, and you can use it at any skill level.
However, absolute beginners would benefit most from the HEAD Radical XL. This paddle has an extended reach, and its graphite hitting surface offers excellent power. On the other hand, advanced players may prefer the HEAD Extreme Pro L. This racket has a fiberglass hitting surface for more spin, heavier weight for more power, and the sleekest appearance of any of the above products.
HEAD designs some of the best pickleball paddles for competitors and weekend athletes alike. While they are too costly for the casual player who doesn't know if they want to commit to the sport, they prove useful for those who love pickleball. Please consider one of the above HEAD pickleball paddles next time you plan on making a purchase.
Looking for more? Here are some of our other guides we recommend:
Learn: About Pickleball

, Why is it Called Pickleball?

, What is Pickleball?

, What is a Fault in Pickleball?, Pickleball Serving Rules, and Pickleball Singles vs Doubles – Strategies and Rules

.

Equipment: Best Pickleball Clothes for Men and Women

, Best Pickleball Accessories And Must-Have Gear

, Best Pickleball Paddle in 2021, and Men's Pickleball Shorts.
Play: How Can I Find Pickleball Courts Near Me