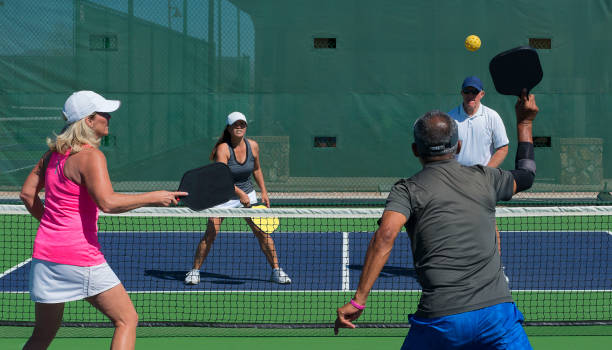 Pickleball is a game that's played with a pickleball paddle. Pickleball paddles are a racquet that is used to hit a ball. You need to have the best pickleball paddle if you want to have the best returning and serving experience. Pickleball paddles range in pricing, and I understand that not everyone can shell out a ton of money for a paddle. That's why I've put together a list of the best pickleball paddles under $100.
All of the paddles you see listed below cost under $100. I would like to note that even though these paddles are less expensive than many high-end paddles, you'll find a lot of pro players use these paddles. Advanced technology makes it a lot easier for both experienced and new players to get their hands on excellent pickleball paddles without breaking the bank.
What is the Best Pickleball Paddle Under $100?
You've probably arrived at this article because you asked the question, "What is the Best Pickleball Paddle Under $100"? Most people start with a beginner set when they start playing pickleball, so this is a general question when they're looking to upgrade. Don't get us wrong, beginner sets are great, but if you're someone who plays the sport often, you'll find that you're going to outgrow the set quickly.
The pickleball paddles you'll see below have different benefits. One may excel when it comes to control, and another may excel at speed. The one that's right for you is all going to depend on what kind of player you are.
Some may disagree that these are the best pickleball paddles under $100, but I tried to focus on paddles that are good quality and are in the $50 – $100 range. If you're upgrading from a beginner set, then any of these paddles are an excellent option.
The Top 3 Pickleball Paddles Under $100
Below you'll find the top 3 best pickleball paddles under $100!
Paddletek "New Era Bantam EX-L Pickleball Paddle

The Paddletek "New Era Bantam EX-L Pickleball Paddle is a great option for those looking for a paddle that will give a mix of maneuverability and power. Paddletek also has great build quality. I think that this paddle is one of the best polymer options around for the price. Paddletek did a great job revamping the paddle's whole design, and I have been extremely happy with its playability. It is a huge step up for anyone that's been playing with a beginner paddle. You will instantly notice an improvement in all aspects.
The paddle delivers unbeatable power without sacrificing control, has a velvet-textured polycarbonate surface that gives you lasting spin as you continue to crush your competitors, has an ultra cushion high-performance grip, a ⅛" edged shock guard, is 15 ⅝" long, seven ¾" wide, and has a weight of 8.3 oz.
Gamma Neutron 2.0 Pickleball Paddle
The Gamma Neutron 2.0 Pickleball Paddle is Gamma's fastest and lightest pickleball paddle. It has a textured graphite surface that generates extra spin when the ball comes in contact with it. There's also a Flush Fit Bumper that extends the hitting surface while also protecting the paddle from the court if you were to drop it. The Gamma Neutron 2.0 also feels very sturdy, thanks to the Unibody Handle. In addition, this paddle is constructed as one-piece, which increases durability.
The paddle is made from durable composite fiberglass. That's why it's so light in weight and easy to wield. The paddle weighs 7.9 oz., and has a 5″ grip. It's 4″ wide and 15 7/8″ long. Its core is 13mm thick, which means that it has a good amount of power behind it.
Onix Z5 Graphite Pickleball Paddle
The Onix Z5 Graphite Pickleball Paddle is a great choice for both beginners transitioning to a pro paddle or pros looking for a new paddle. It's made from graphite and has a large sweet spot, so it's easy to use and provides a good amount of control. The paddle is also a good value: it can be purchased for $85 – $90. The price varies by color. Overall, this isn't bad for the quality of the paddle.
If you're looking to learn pickleball, this paddle will suit you well! With the wide body of the paddle and well-balanced weight, you'll get used to playing with it quickly and will be able to hit the ball accurately. The core is polymer honeycomb and gives an audible "pop" sound when the ball comes in contact with it.
Wrapping Up
Of course, you might be wondering what our top pick would be. While the competition on this list is close–and you can't go wrong with any of the options listed–we do feel that there is one model that stands slightly above the rest. Our top pick would have to go to the Onix Z5 Graphite Pickleball Paddle.
It has several features that we think are useful for players of all ability levels. For one, we like the core and face material and the price. Then there's the comfortable weight, wide sweet spot, and control and power, all of which are characteristics that pickleball players look for in a paddle.
Overall, Onix helps players achieve a fun, dynamic play with this model, and you'll notice lots of pop when you hit the ball. Lastly, the price makes this pickleball paddle attractive. You can get a well-performing model at a price that won't break the bank, which many new to the sport will appreciate.
If you've found the information in this article useful and you're ready to buy the best pickleball paddle for $100, you can find it here.
Looking for more? Here are some other articles I put together:
Learn: About Pickleball, Why is it Called Pickleball?, Basic Pickleball Rules, Pickleball Court Dimensions, What is Pickleball?, Pickleball Singles vs Doubles – Strategies and Rules, Pickleball Strategy – Advanced, and What is the Most Aggressive Shot in Pickleball!
Equipment: What Type of Pickleball Paddle is Best?, Best Pickleball Shoes, Learn More About Pickleball Equipment and Where to Buy It, Best Pickleball Clothes for Men and Women, Best Pickleball Accessories And Must-Have Gear, and Best Pickleball Paddle.