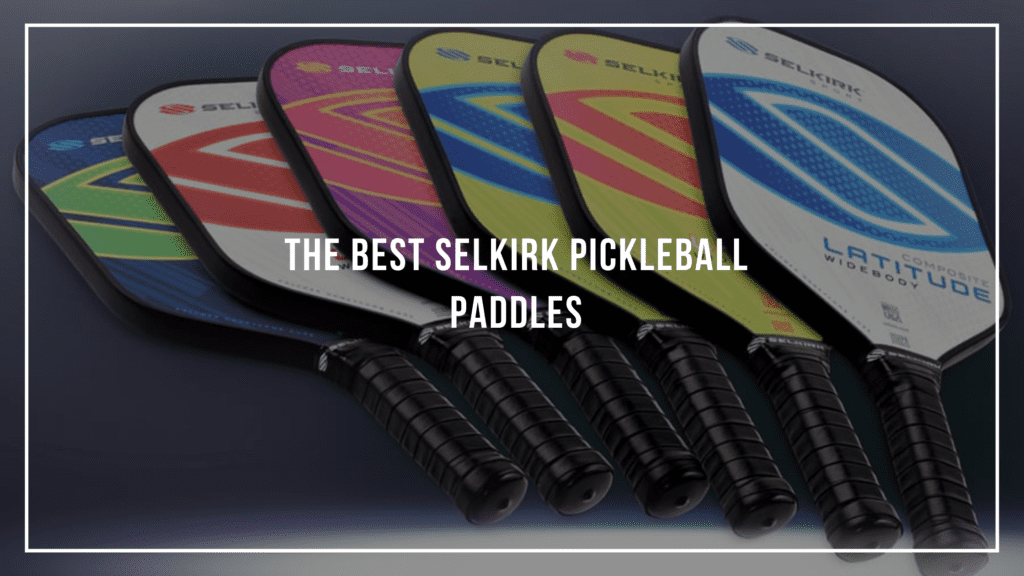 So, you want to start playing pickleball? Awesome, pickleball is such a great sport! It keeps you fit, it's fun, and it helps you make new friends! However, do you find that when you start shopping around for the best graphite pickleball paddles, the sheer number of options is overwhelming for you?
That's where I come in. In today's guide, I've put together the top 4 best Selkirk pickleball paddles. There are many Selkirk pickleball paddles out there, which can make it confusing on where to start if you're looking to purchase one. Don't worry though, we've got you covered. All of these paddles are great options, you don't have to worry about making the wrong choice.
The Best Selkirk Pickleball Paddles – Reviewed
Here are our top picks from some of the best Selkirk pickleball paddles out there in no particular order. 
The Selkirk AMPED Invikta X5 FiberFlex pickleball paddle suits all skill levels. It can be used by beginners just getting started or by pro players. This paddle is available in two different weight options, there is the lightweight option which weighs between 7.3 – 7.7 ounces, and the midweight option which weighs between 7.8 – 8.4 ounces. The Selkirk AMPED Invikta X5 FiberFlex pickleball paddle is 16.5″ long and has a paddle face that measures 7.375″ wide. I would like the note that the grip length is longer than most paddles. It's 5.25″ long and has a grip circumference of 4.25″. 
This is a very well-balanced paddle, it is designed to give you a great amount of power and complete control. The paddle face is made from Selkirk's FiberFlex technology, which produces more spin, while the paddle's core features Selkrik's X5 polypropylene honeycomb technology. This paddle is a great option for anyone looking for an elongated pickleball paddle.
Things We Like
FiberFlex paddle face provides a great mix of power and control
Oversized
Large sweet spot
Polypropylene X5 core
Things We Don't
The Selkirk Prime S2 X4 FiberFlex pickleball paddle is a great pickleball paddle and is still the paddle of choice for top pro players. The paddle has Selkirk's FiberFlex paddle face and an X4 version honeycomb core.
The Prime S2 X4 has an 8" paddle face and a handle that measures 4.75″. The paddle's dimensions make it great for blocking the ball and adding spin to your shots. You can even hit the ball with enough power to send it back all the way from the back of the court. If you're looking for a more affordable option for the AMPED S2, then pick this paddle! You may be compromising on some technological advancements that come with the AMPED range, but you will still be getting a great pickleball paddle that has been used in Open Championships.
Things We Like
Large Sweet Sopot
Quiet
Lightweight
Things We Don't
Can feel a little too lightweight in comparison to other paddles.
The Selkirk Latitude Composite Pickleball Paddle is the leading paddle in Selkirk's recreational pickleball paddle range. The Latitude paddle is a great option for those looking to neutralize the ball's spin and to control pickleball shots with power and precision. 
The Latitude Composite pickleball paddle is 15.5″ long and has an 8.25″ wide body paddle face. Its dimensions make it a great paddle for beginners because it has a big-hitting zone and a large sweet spot. This paddle has a handle length of 5.25″, which is on the lounger side. This allows you to play two-handed from the back of the court or around the net. The Latitude Composite pickleball paddle has a face made from vinyl, it lacks the FiberFlex tech used on the Selkirk's Prime and AMPED models. However, this paddle face finish gives you a lot of control 
Things We Like
Neutralizes spin and offers great control
Large hitting zone and sweet spot
Great for beginners
Things We Don't
The Selkirk Neo Composite Pickleball Paddle is a light to midweight pickleball paddle. It weighs between 7.6 – 8.4 ounces, has a paddle face that is 7 5/8″ across and has a handle length of 4 7/8″. These dimensions give you a well-balanced paddle that is easy to move with and hold. 
The NEO's composite face allows you to control your shots and helps decrease the impact of the ball from opponents who hit powerful spin shots. This paddle only costs $50 making it one of the best pickleball paddles that are on the cheaper side. If you are just getting started in pickleball or just want to play as a hobby we can't recommend the Selkirk NEO composite pickleball paddle enough. 
Things We Like:
Great for beginners
Great value for the price
A great non-widebody alternative to the Latitude
Things We Don't:
Shorter handle than others
Wrap Up
Of course, you might be wondering what our top pick would be. Again, don't get me wrong, all of the options listed are great choices but I do feel that there is one model that stands slightly above the rest. Our top pick would have to go to the Selkirk AMPED Invikta X5 FiberFlex Pickleball Paddle.
If you've found the information in this article useful and you're ready to buy the best Selkirk pickleball paddle, you can find it here.  
Looking for more? Here are some other articles I put together:
Learn: About Pickleball, Why is it Called Pickleball?, Basic Pickleball Rules, Pickleball Court Dimensions, What is Pickleball?, Pickleball Singles vs Doubles – Strategies and Rules, Pickleball Strategy – Advanced, and What is the Most Aggressive Shot in Pickleball!
Equipment: What Type of Pickleball Paddle is Best?, Best Pickleball Shoes, Learn More About Pickleball Equipment and Where to Buy It, Best Pickleball Clothes for Men and Women, Best Pickleball Accessories And Must-Have Gear, and Best Pickleball Paddle.