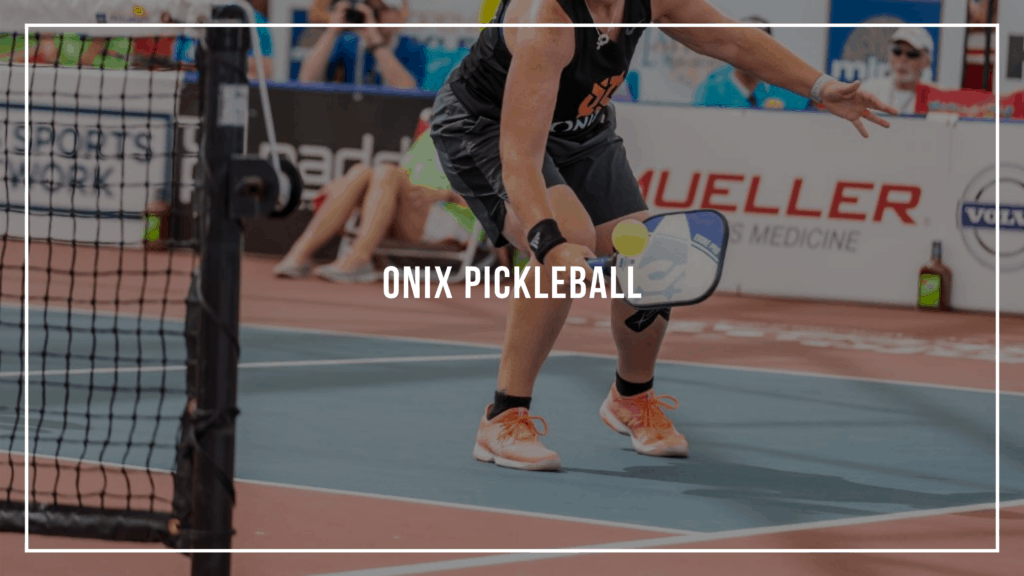 Pickleball is a fun game for singles or doubles, making it a favorite for families. If you're an avid pickleball player, you'll want to have the best gear, which may come from the well-known Onix brand.
The company has a reputation for producing multiple styles of durable, high-quality pickleball paddles. If you're interested in purchasing an Onix pickleball paddle, check out our top five choices and following buyer's guide!
If you're looking for a complete beginner's guide to pickleball check out: Pickleball Strategy: Complete Beginners Guide

!
5 Best Onix Pickleball Paddles
While Onix offers several quality products, we've picked the five best rackets to feature. From each model's unique features to materials and size, we'll go over every aspect you need to know before purchasing.
The Onix Evoke is a composite face pickleball that delivers maximum power at a medium weight between 7.8 and 8.2 ounces. This paddle has a thickness of 1.5″, a width of 8.3″, and a 15.5″ length.
The precision-cut polypropylene honeycomb core composite face helps improve your shots and give you more power without sacrificing speed, control, or spin.
The wrapped tennis grip with a slightly flared base provides a comfortable hold, while the wide-body gives you a more significant sweet spot. As an added plus, this model comes in a variety of colors, from green to purple to black.
Things We Like
Wide face for a larger sweet spot
Multiple color options so the whole family can have their favorite option
Wrapped grip for comfort
The medium-weight gives more power and control
Things We Don't
Weight sometimes is more than described
Edge trim often breaks loose
The Onix Z5 – the most popular Onix paddle – is a large face graphite pickleball paddle with a Nomex paper honeycomb core. It comes in twelve color options with a decorative Z5 logo.
A flared wood leather-wrapped 4 ¼" diameter tennis handle gives you comfort and control while the medium weight between 7.5 and 8.2 ounces gives your swing more power. This paddle is 15.5″ long, 1.5″ thick, and 8.3″ wide.
The wide-body shape and Nomex core give you a better sweet spot for improved accuracy and striking – perfect for beginners or advanced levels. And the colored edge guard keeps the ball from rolling off your paddle.
Things We Like
Flared handle is comfortable and gripped
Wide-body shape gives a better sweet spot
Twelve color options available so there's something for everyone
Medium-weight construction provides better speed and control
Things We Don't
Handle might break during use
Slippery grip
The Onix React has a Nomex and polypropylene Fusion core that provides more power and better control of your swings. This larger paddle is great for advanced users but may be too heavy for beginners.
This paddle's unique feature is the Nomex core insert, which gives optimal weight distribution and a better sweet spot. The rest of the paddle is a polypropylene base that offers excellent pop and control.
This paddle has a broader body size for extra coverage and a wrapped tennis handle for comfort and grip. The React is a larger, heavier paddle, with a weight of 7.9 to 8.3oz and dimensions of 15.5″ length, 1.5″ thickness, and a width of 8.3."
The design of this paddle is a black base with a chalky white repeat logo. In the center is a yellow Onix logo. The flared handle has black tape wrap, similar to a tennis racket.
Things We Like
Wider face gives more contact surface and a better sweet spot
Nomex insert provides perfect weight distribution and improves sweet spot
Heavier weight gives maximum power and control
Tennis racket handle is more comfortable to hold and handle
Things We Don't
Nomex insert may become loose and rattle
Insert can cause dead spots
The Onix Outbreak is a graphite paddle with TeXtreme Technology reinforcement that makes the face stiffer and stronger.
A wider-face provides more coverage while a thicker polypropylene core sweet spot for added pop, control, speed, and power.
This is a medium-weight paddle that's between 7.8 and 8.2 ounces. And it's one of the largest pickleball paddles with a 15 ½" length, 8 ⅛" width, and 1 ⅜" thick, and a 4 ⅜" grip.
There are three color options – black, blue, or red. The design is a black and gray checkerboard background with a different colored outbreak logo.
If you're an advanced pickleball player looking for a heavier, stiff paddle, the Outbreak could be for you. But this may be too much paddle for users with smaller hands or beginner skills.
Things We Like
Graphite construction with a thick polypropylene core sweet spot
Heavier weight gives more power and pop
Tennis handle grip provides better comfort for larger hands
Larger size gives more coverage and control
Things We Don't
Larger size could be uncomfortable for smaller users
Handle shape makes holding and swinging awkward
The Onix Stryker 4 is an oversized paddle with an extended sweet spot and a larger hitting surface. The graphite face and polypropylene core give you consistent power and touch.
This paddle is ideal for beginners up to advanced users and professionals. The grip is 4 ¼" in diameter with a square shape wrapped in tape.
The oversize paddle face is 15.5″ long, 7.8″ wide, and 1.5″ thick. The weight is between 6.9 and 7.4 ounces, making this a lightweight paddle.
There's only one color option, so you can't show your creativity. The edge trim is shiny black with a purple face and a white and black word graphic.
Things We Like
Overlarge face size gives more hitting surface
Lightweight design provides better speed and control
Extended sweet spot
Things We Don't
Square handle can be uncomfortable to hold
Only one color option
Information Center
Now that we've looked at the top five Onix pickleball paddles let's review some helpful buyer's information you should know about when shopping for a pickleball paddle.
Core Materials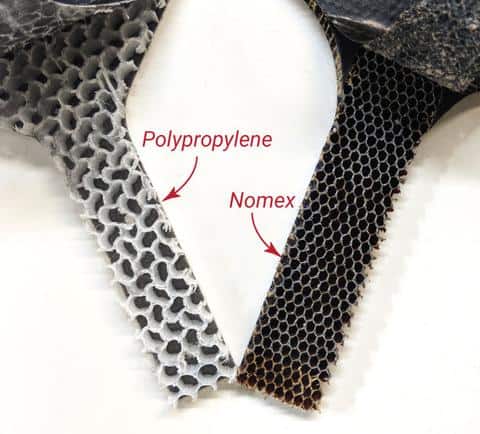 Composite paddles are made up of multiple components – handle, face, edgeguard, and core. When comparing different paddles, you'll want to pay particular attention to the paddle's core.
The core is one of the largest considerations you should weigh when choosing a paddle. There are three types of materials commonly used for the center – the inside. Although you can't see the inside, this design is usually a honeycomb shape.
The three common paddle core materials are polymer, Nomex, and aluminum. Onix does not produce aluminum paddles, so we're not going to go into detail about this type. However, we will go into depth about whether you should pick polymer, Nomex, or a combination of both.
Polymer
Most Onix paddles have a polypropylene honeycomb core that improves control, power, and durability. Out of all three materials, polymers are the best.
For those of you confused about what polymer is, we'll make it simple. It's a type of plastic. Polymer paddles are strong, but they're also flexible and long-lasting.
When you use a polymer paddle, you'll get powerful strikes that are easier to control than pure Nomex types. This material is best for beginners, but it's also a popular choice for advanced and professional players.
Nomex
Nomex is the oldest material used for pickleball paddles. The first paddles ever designed for pickleball were Nomex instead of a polymer.
Paddles made of Nomex are denser, which gives them more power. But it also makes them harder to control. And Nomex material is the loudest – expect your ears to ring when using a Nomex paddle.
A full Nomex paddle could be too much power for a beginner. If you're new to pickleball, you will do better starting with a polymer paddle.
However, the Onix Z5 and React are polymer composite with Nomex cores that create a better sweet spot and even weight distribution, so you get faster swing speeds, more power, and better accuracy.
Face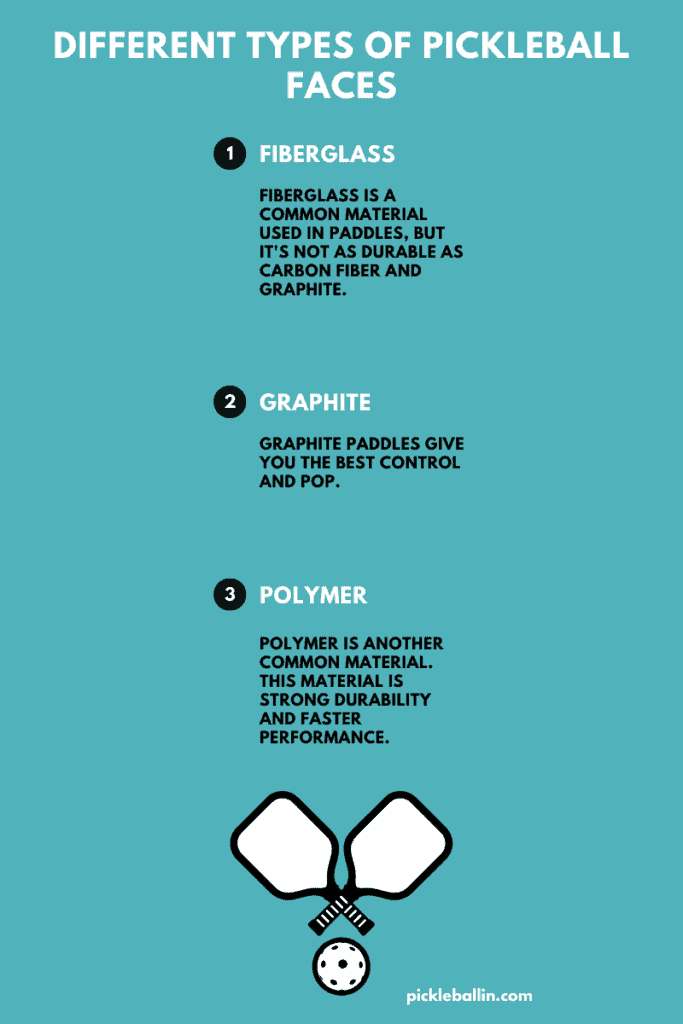 Composite pickleball paddles come in three different facing options. The facing makes up the flat surface, which bonds with the core. The face's construction can affect how much energy your paddle absorbs, the size of the sweet spot, and the paddle's weight. The face also affects the ball's spin.
Fiberglass
Fiberglass is a common material used in pickleball paddles. This type gives more pop, but it's not as durable as carbon fiber and graphite, so you risk damage with frequent use.
You can find fiberglass faced paddles with various cores. The benefit of fiberglass is that you get the best pop. This material is also more flexible, which helps strengthen the energy in the center.
Graphite
Graphite paddles give you the best control and pop without sacrificing weight. These usually weigh between 7.3 and 8.4 ounces. The design of a graphite paddle consists of a layer of graphite over the top of the core.
Graphite is a carbon fiber material, which is why these paddles are sometimes called carbon fiber paddles. These are incredibly light and extra stiff.
You can also get a better touch, which is when you feel the ball connecting with the paddle. When you can sense the ball hitting the face, you can change your swing strength to get the ideal travel and flight for your ball. These have a rigid surface that improves speed and power.
Polymer
A polymer is another common material for paddle facing. This material has its advantages, including strong durability and faster performance.
Weight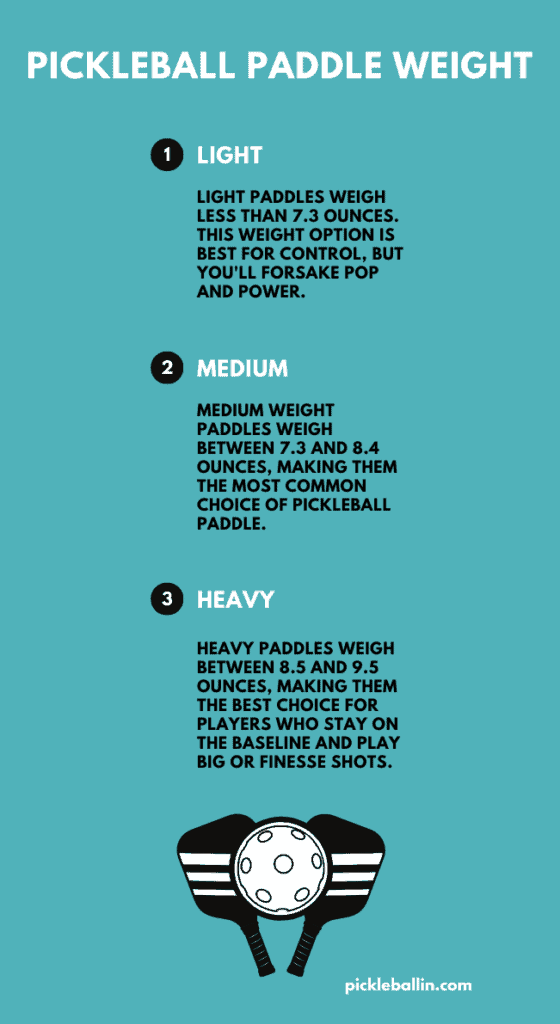 You'll also want to consider your paddle's weight, which affects your game, how much power you can exert, and how much control and accuracy you get from your shots.
Pickleball paddles can fall into three different weight categories – light, medium, or heavy. A beginner pickleball player would do best with a lighter paddle.
Advanced users may prefer a heavier paddle to get more swing power. Still, it will take lots of experience to get good accuracy, which is why heavier is not suitable for beginners.
Light
Light paddles weigh less than 7.3 ounces. This weight option is best for control, but you'll forsake pop and power. But for beginner players, the advantages of having more touch outweigh the losses.
You would need less strength to swing a light paddle, which means less arm fatigue. For power hitters, a lighter weight can give you better speeds. But you will also need more energy to swing these to make up for the loss of power, so a more lightweight paddle is not suitable for those with injuries.
Medium
Medium weight paddles weigh between 7.3 and 8.4 ounces, making them the most common choice of pickleball paddle.
Many beginners choose a medium weight paddle for their first type. As such, users who are unsure of which weight would be best should start with a medium-weighted paddle. This type is also ideal for players with injuries, physical limitations, or arthritis.
Heavy
Heavy paddles weigh between 8.5 and 9.5 ounces, making them the best choice for players who stay on the baseline and play big or finesse shots. If you prefer dinks, you will do better with a light paddle.
A heavy paddle requires more arm strength, which can exhaust your arm and put a strain on your elbows. But it also gives you more pop and power; you will lose some control of your hits. Heavy paddles also produce less head speed, which is ideal for weak hitters.
Grip Size
Finally, you'll want to consider the size and shape of the paddle's handle. Playing with a paddle that has the wrong grip can be uncomfortable and result in lousy performance.
The Final Verdict
Onix is one of the best manufacturers of pickleball paddles, but it can be overwhelming to choose the best option for you and your family.
For the best all-around paddle, get the Onix Evoke, or go with the Onix Z5 if you're looking for a graphite paddle. On the other hand, buy the Stryker 4 if you're looking for an over-large paddle. Either way, Onix paddles provide excellent quality and great diversity.
Looking for more? Feel free to check out some of our other guides:
Learn: About Pickleball

, Why is it Called Pickleball?

, Pickleball Rules

, Pickleball Court Dimensions

, What is Pickleball?

, Pickleball Singles vs Doubles – Strategies and Rules

, Indoor vs Outdoor – What's the Difference?, and How to Play Pickleball Singles-Skinny Singles!
Equipment: What Type of Pickleball Paddle is Best?

, Best Pickleball Shoes

, Learn More About Pickleball Equipment and Where to Buy It

, Best Pickleball Clothes for Men and Women

, Best Pickleball Accessories And Must-Have Gear

, and Best Pickleball Paddle

.
Play: How Can I Find Pickleball Courts Near Me