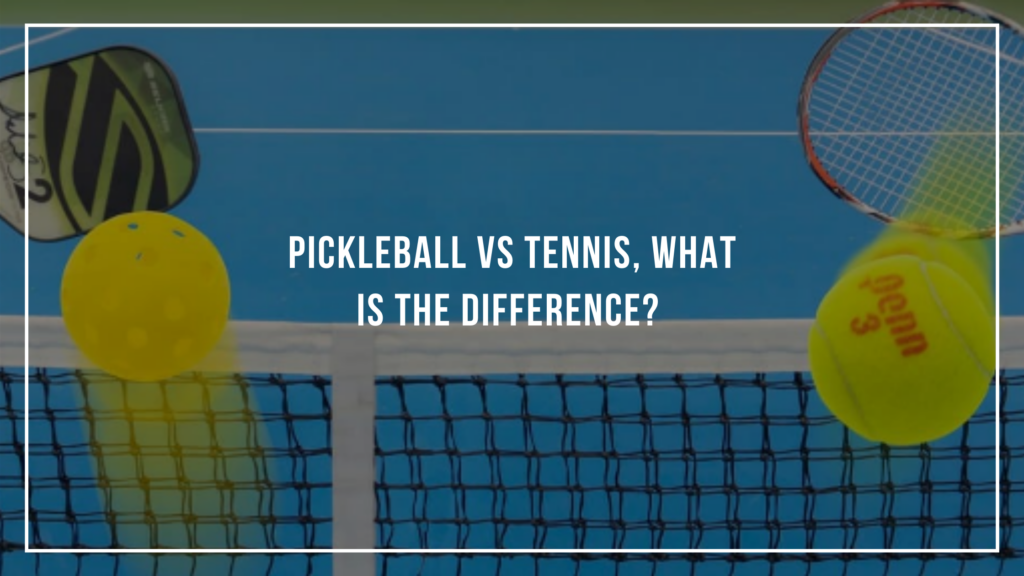 Pickleball is one of the fastest-growing sports in the U.S., attracting people of all ages as an alternative to traditional tennis. Though Pickleball is closely related to tennis, there are some marked differences between the two sports. Here, we're going to go over Pickleball vs tennis to see how the two stack up against each other, and which might be best for you to play.
If you're looking for a complete beginner's guide to pickleball check out: Pickleball Strategy: Complete Beginners Guide

!
Pickleball vs Tennis
About Pickleball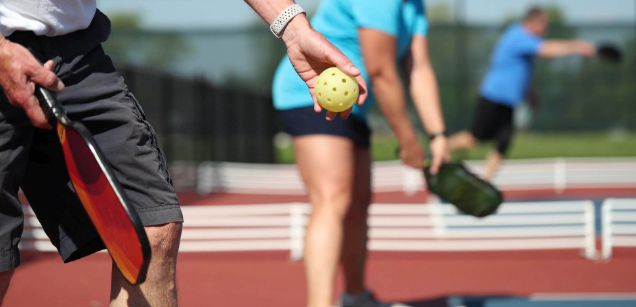 Pickleball takes some of the best aspects of popular racquet games such as badminton, ping pong, and tennis to combine them in a single game. While it contains many familiar aspects of other sports, Pickleball boasts its own unique rules, regulations, and equipment.
A Brief History of Pickleball
Pickleball is a relatively recent game to hit the sports scene, and it comes from surprisingly modest origins. The game was first invented in the mid-1960s just off the coast of Seattle, Washington.
Though accounts differ, most people seem to agree that Pickleball was first thought up by three seemingly average suburban dads.
Joel Pritchard, Barney McCallum, and Bill Bell wanted to keep their kids entertained while on summer vacation, but the usual pastimes of tennis, badminton, volleyball, and more just weren't cutting it. Instead, the fathers decided to take things into their own hands.
There are a couple of different reasons that the game we know today may be called "Pickleball." According to Joan Pritchard, wife of Joel Pritchard, the name is an homage to pickle boat crews, which combine leftover rowers from other teams into a motley team.
According to Barney McCallum, the origin of the name is even simpler than that. He says that the dads named their new game after Joel Pritchard's dog, Pickles, because he kept running off with the ball.
Regardless of how it was named, Pickleball quickly became a worldwide phenomenon. The first games of Pickleball were played with homemade equipment and simple, sometimes changing rules.
Nowadays, American Pickleball is officially regulated by the USA Pickleball Association (USAPA). They determine how the game is played and the equipment needed to play it.
The Court

Pickleball is played on a long, rectangular court with space for two players on either side of the net. While this is a similar setup to tennis, pickleball courts are on the smaller side. They typically measure just 20' by 44', which is about the same size as a badminton court.
Unlike a tennis court, a Pickleball court has a no-volley zone extending out 3.5' from either side of the net. This is commonly referred to as "the kitchen" and measures 7' in total. There's no doubles alley, so you play on the same size court regardless of the number of players.
The Ball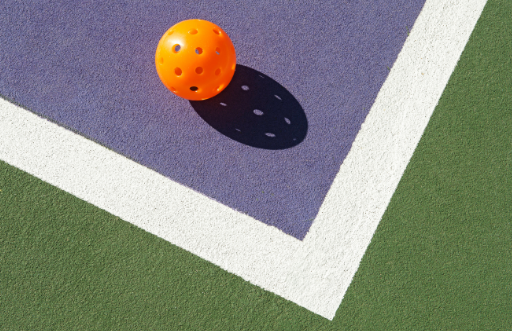 Pickleball uses a ball that's larger and more lightweight than a tennis ball. This makes it a slower, easier target that causes less damage on impact than your typical tennis ball. It's also less bouncy than a tennis ball, requiring different gameplay to get it moving across the court.
A regulation ball should be hollow and made of perforated plastic, measuring around 3" in diameter and weighing around one ounce. There's no official color, so you can choose whatever look you want when playing.
The Racquet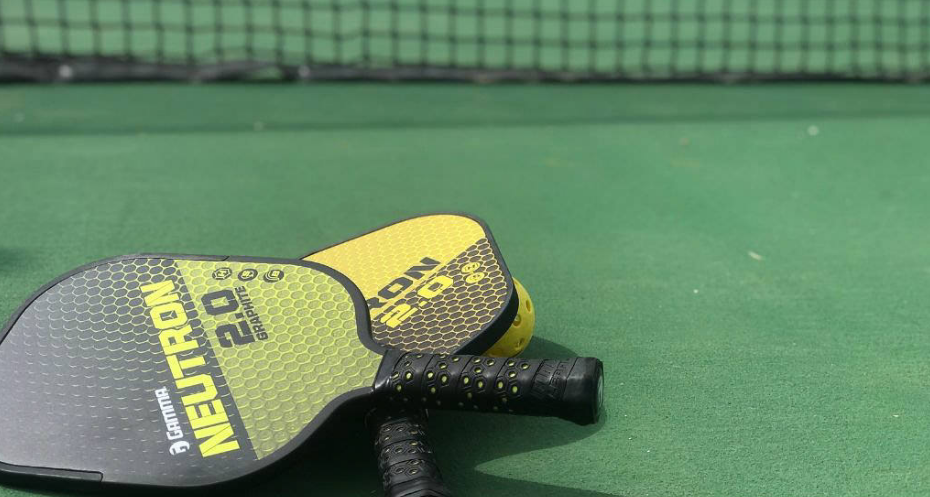 Pickleball paddles are fairly small, rectangular, and have a solid surface. They share more similarities with ping-pong paddles than they do with tennis racquets, though they're larger in size.
Instead of having a woven string face like tennis or badminton racquets, Pickleball paddles have a flexible honeycomb core covered by a solid, durable facing. The interior is most often made of a lightweight polymer, though some options use aluminum for more rigidity.
The exterior of the paddle is most often made of high-quality plastic or fiberglass. You can also find paddles with stronger and more flexible graphite or carbon fiber facing, though these tend to be pricier.
When it comes to paddle tennis vs Pickleball, the racquets are very similar in design. The main difference between the two is that Pickleball uses a paddle with a completely smooth face, while those used in paddle tennis can have texturing or even holes along the surface.
The Net
Pickleball and tennis both use a similar net, though it's hung at different heights. Pickleball nets are hung with the middle reaching around 34" from the ground, which is lower than tennis nets. This is in part to account for lower serves and swings. It also takes some of the strain off players' shoulders by giving them more range of movement with the ball.
The Rules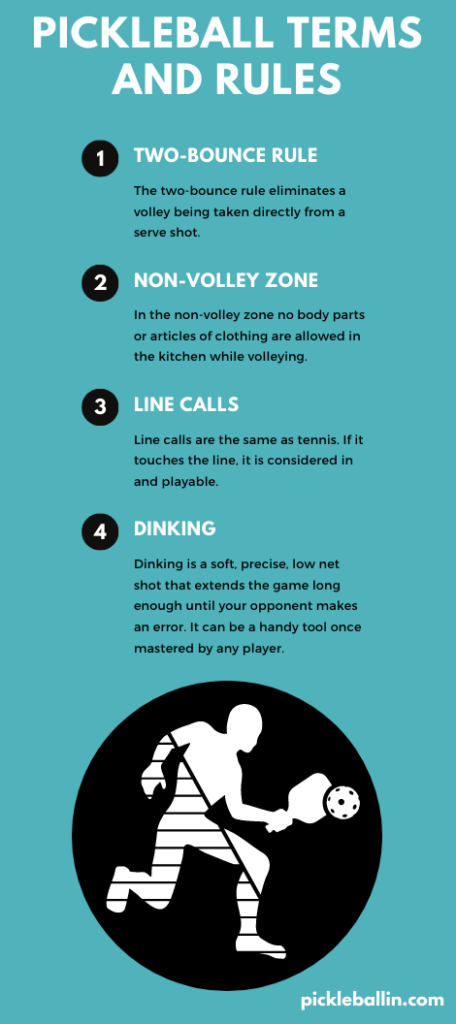 Perhaps where Pickleball stands out the most from tennis is the rules. Because the equipment and gameplay are different, so are the rules and regulations outlined by the USAPA.
In Pickleball, serves are much more restricted than in tennis. They must be performed underhand, and unlike in tennis, players can only score during their serve.
The scoring for Pickleball is also different, and it makes games a little bit shorter and easier to keep track of. The game ends when a team scores 11, 15, or 21 points. They must have at least a 2-point lead over their opponent to win.
Scoring and faults are similar in both tennis and Pickleball. The ball has to stay within court lines, and it must make a clean pass over the net to make a point. However, some faults are unique to Pickleball:
You can't volley the ball during a service return.
You aren't allowed to volley the ball on your first return after a serve.
The ball must hit the correct box on each serve.
You can't hit the ball inside the kitchen.
Why Play Pickleball?
People often choose Pickleball over tennis because it's easier to play than tennis. While tennis has a steep learning curve, Pickleball can be learned with just a few lessons or simply playing the game.
Unlike tennis, where muscle memory is important when it comes to pro leagues, Pickleball boasts relatively simple moves that are easy to pick up. Even beginners can build up the skill set needed to take on experienced players.
People also choose Pickleball because it's easier on the body than tennis. There's a lower risk of injury when playing.
The ball and paddles are too lightweight to do much damage if they make contact with a player. What's more, a smaller court and slower movements reduces the risk of slips, falls, and muscle strains.
The Benefits of Playing Pickleball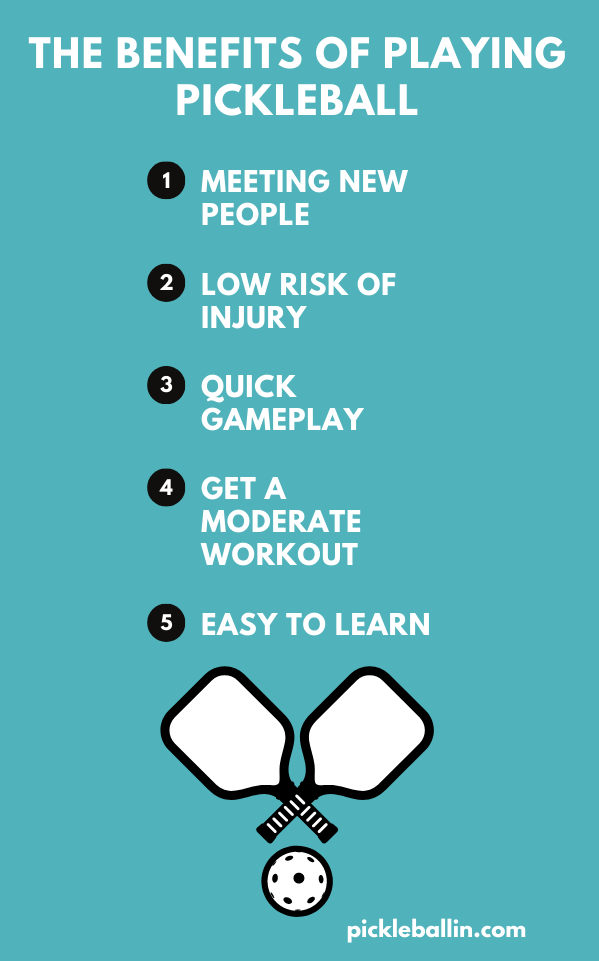 If you're on the fence about whether or not Pickleball might be right for you, consider some of the benefits you might enjoy by playing.
Meeting New People
Pickleball is an ideal game for socializing with friends and meeting new people. It's relatively double and requires multiple players, giving you the chance to catch up and converse with others on the court.
Many retirement centers are embracing Pickleball as a safe and entertaining team sport for their residents. Older adults who aren't sure where to meet new friends or even a new partner often join Pickleball leagues to meet others who share their lifestyle and interests.
Low risk of injury
Pickleball has smaller courts and lighter balls than tennis, making it a safer game for everybody involved. There's less running, and gameplay requires fewer vigorous shoulder movements. Pickleball players are less prone to common racquet sports issues such as shoulder and elbow injuries.
Quick Gameplay
Pickleball offers a quick game for those who don't have the free time available to take up tennis. On average, a Pickleball game takes less than an hour to play. Instead of playing three sets, the game ends when someone hits 11, 15, or 21 points.
Get a Moderate Workout
While Pickleball is less strenuous than tennis, that doesn't mean that the sport doesn't offer a good workout. Pickleball offers both a cardio workout as well as strength training, particularly for the lower body. Thanks to the gentle gameplay, you also have a lower risk of injury as you exercise than with sports such as tennis.
Easy to Learn
Pickleball has a fairly shallow learning curve when compared to games such as tennis. Beginners can challenge experienced players under the right circumstances. Just an introductory knowledge of the sport can help players to improve cardio, strength, and stamina.
Who Should Play Pickleball?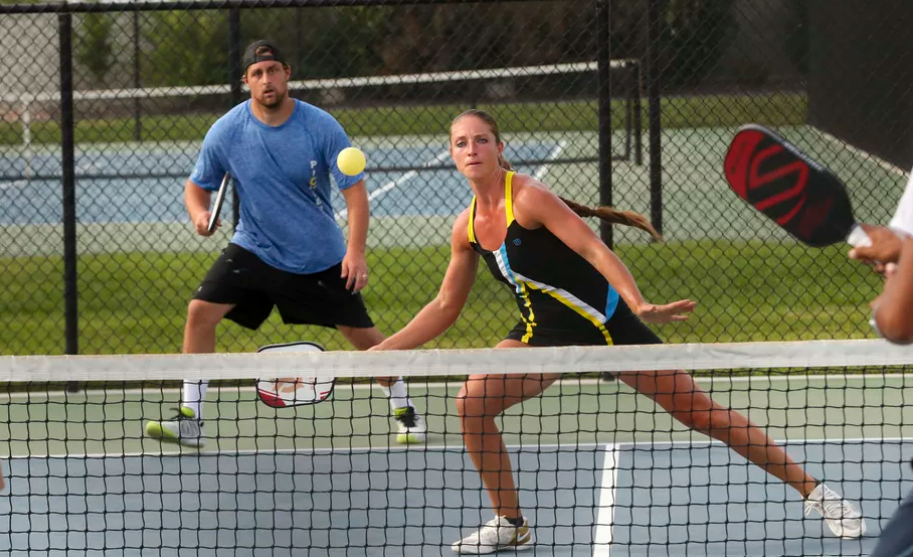 Pickleball is ideal for those who have a higher risk of injury when playing sports than others. This includes children, those with disabilities, and those recovering from injury. It's easy to learn and requires a limited range of motion compared to tennis.
One of the fastest-growing Pickleball communities is in the over-65 range. Pickleball is a great game for older adults concerned about slips, strains, and other minor injuries. Its slow speed and lightweight equipment make it a safe yet effective workout for just about everybody.
What are the Drawbacks of Pickleball?
While Pickleball is easy on fragile bodies, it doesn't come without its risks. It may not be the best choice for people suffering from back issues, as some moves can strain the lumbar area. Many shots require players to bend repeatedly, which can be hard on the lower back.
On the flip side, some players are concerned that Pickleball is too easy when compared to other sports. Many pro tennis players worry that including Pickleball in their routine will ruin their tennis game. However, there's little evidence that this is true.
Perhaps one of the biggest drawbacks of Pickleball is the limited scope of the sport. Since it was only introduced some 55-odd years ago, it hasn't had the chance to gain popularity internationally.
If you want to play Pickleball, you'll generally only find it in the United States. Even then, it can be a challenge to find proper courts and equipment if you're anywhere other than a popular metropolitan area. If you plan to play internationally, it's best to look up local circuits ahead of time, as Pickleball is still a relatively rare sport in most regions.
About Tennis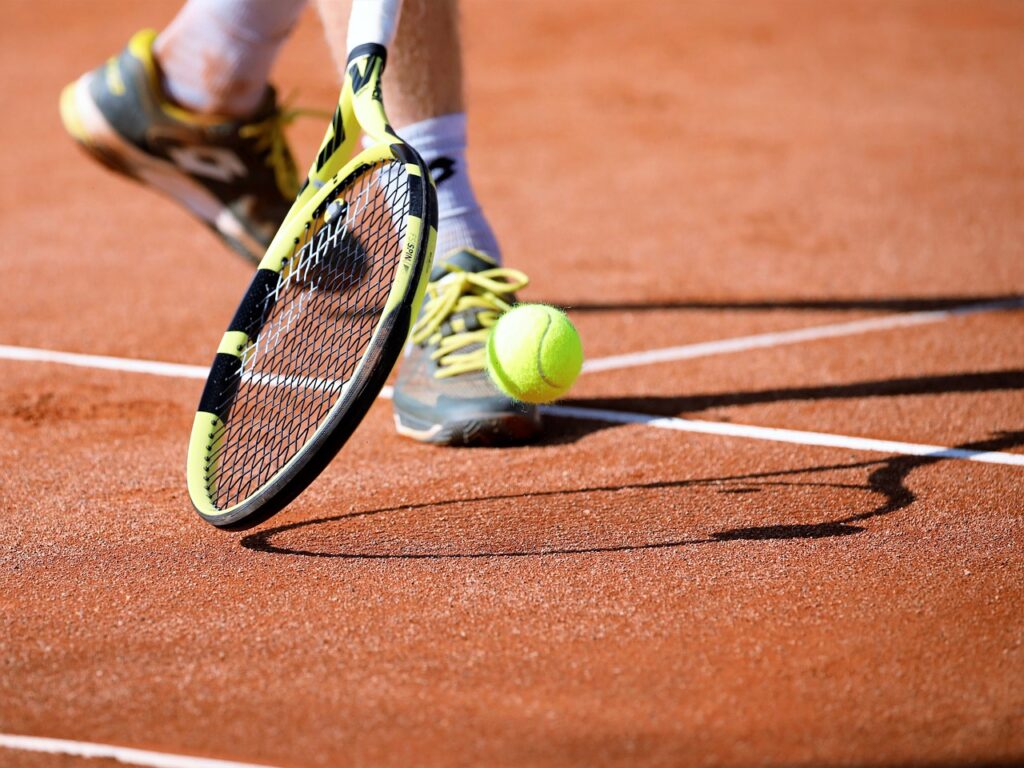 Tennis is one of the precursors to Pickleball, and while the two are undoubtedly similar, they share many differences as well.
A Brief History of Tennis
While Pickleball can be traced back to relatively recent origins, tennis has a much longer and richer past. The first form of tennis was a game called jeu de paume, or "game of the palm," which was a French version of handball played with racquets beginning around the 12th century.
Over time, the English adopted this game until it became what was known in the Victorian era as lawn tennis. It was primarily reserved as a pastime for wealthy families. It wasn't until around the 1960s that tennis became the popular spectator sport that it is today.
Nowadays, tennis is governed by a regulatory body known as the International Tennis Federation (ITF). They implement rules and regulations such as ball size, occasionally making small changes to the official rules.
The Court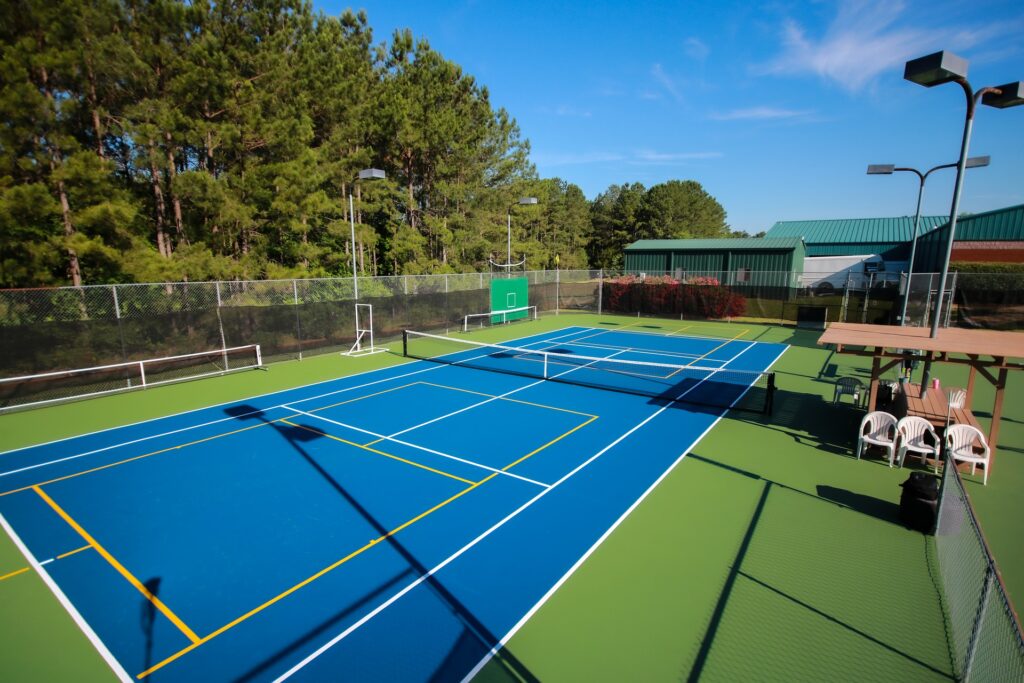 When it comes to a pickleball court vs tennis court, both are set up in a similar manner. They're long and rectangular with markings to dictate where players and balls are allowed. Tennis courts are slightly larger than those used for Pickleball.
A singles court measures 78' by 27', but it can be extended for a game with four players. When using the doubles alley, the width of the court extends to 36', which allows for more freedom of movement for both players on a team.
The Ball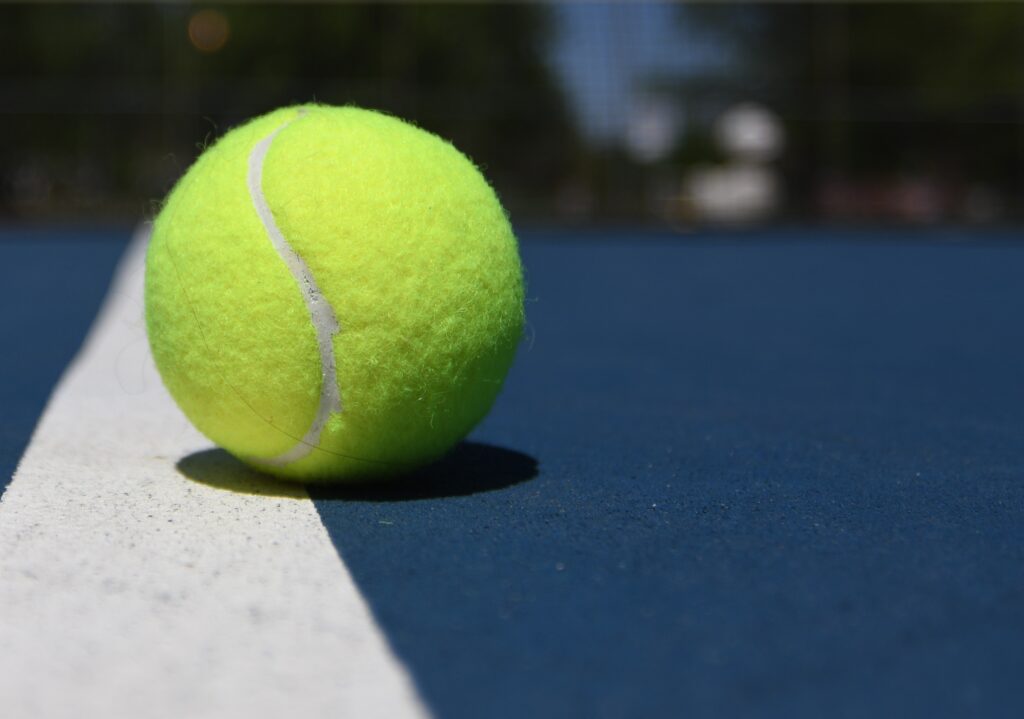 Tennis balls are smaller, heavier, and pack more of a punch than a Pickleball. Instead of being hollow, they typically have a rubber core with a felt exterior. Each ball is filled with pressurized air to give it more of a bounce when playing.
Regulation tennis balls have to be between around 2.5" to 2.7" in diameter and weigh around 2 ounces. They're also required to bounce between 53 and 58 inches when dropped from a 100-inch height.
The Racquet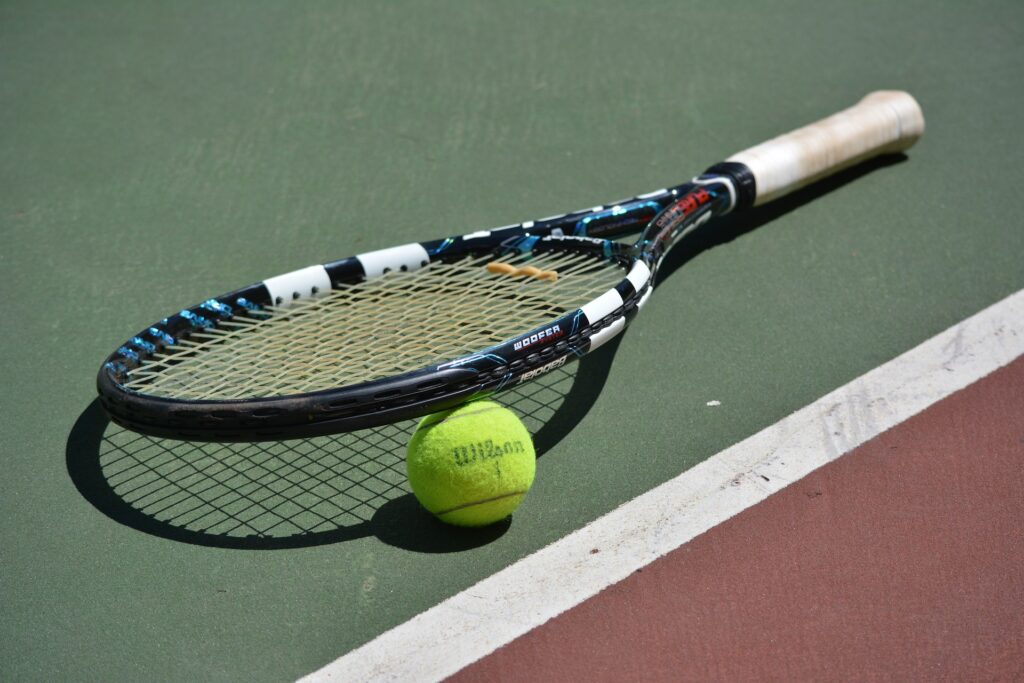 Tennis is played with ovular racquets that boast an elongated handle. They're larger and often heavier than Pickleball paddles, and for beginners, they often have more of a learning curve for proper use.
While Pickleball paddles have a smooth, solid face, tennis racquets have a strung surface. The mesh network of fibers allows for easy airflow, giving you a fast, smooth swing with little air resistance. Tennis racquets also have plenty of flexibility to account for the heavier, bouncier ball.
Historically, tennis rackets were made using natural gut or sinew strings. These strings along the face of the racquet are most often made of nylon these days, though some more expensive designs use stronger materials such as polyurethane, Vectran, or even Kevlar.
The frame of the racquet is usually made of harder, heavier material than a Pickleball paddle. It needs to remain rigid to keep the strings pulled tight. The first tennis racquets were made of wood, but this soon evolved to aluminum and steel.
Now, racquets use materials that offer strength and durability while still being relatively lightweight. You can find high-quality graphite and carbon fiber options, though these tend to be on the more expensive side of the spectrum.
Graphite composites include materials such as titanium or fiberglass to improve strength and flexibility as well as cost-effectiveness.
The Net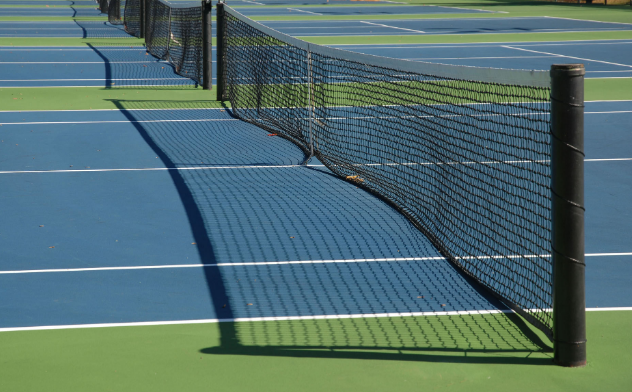 As in Pickleball, the net is hung at half-court for tennis. However, pickleball net height vs tennis net height is different. While both games use the same type of net, tennis places it a little bit higher to account for the bounce of the ball. According to official regulations, the height at the center of the net should be exactly 3'.
The Rules
While tennis and Pickleball share some rules, the two have fairly different gameplay formats. One of the most notable differences is when it comes to serves. While Pickleball restricts players to underhand serves, tennis allows the server to choose their own style.
Scoring is also different. In tennis, players can score whether it's their serve or not. Each game is divided into three sets, so it's fairly rigid in terms of play length.
Teams compete to win the most sets out of three, starting with zero points, also known as "love." A player or team must earn at least four points to win. Faults are similar to those in Pickleball and can earn the opposing team more points.
Why Play Tennis?
Most players choose tennis over Pickleball because they're looking for a more intense workout. Tennis requires much more movement around the court and gives you a vigorous upper body workout. Instead of getting moderate exercise, you get a high-intensity workout for your entire body.
Some people opt to play tennis instead of Pickleball simply because it's more widely available. Tennis has been around for centuries and is well-established in countries around the world. By contrast, Pickleball is just beginning to gain popularity outside of the United States.
The Benefits of Playing Tennis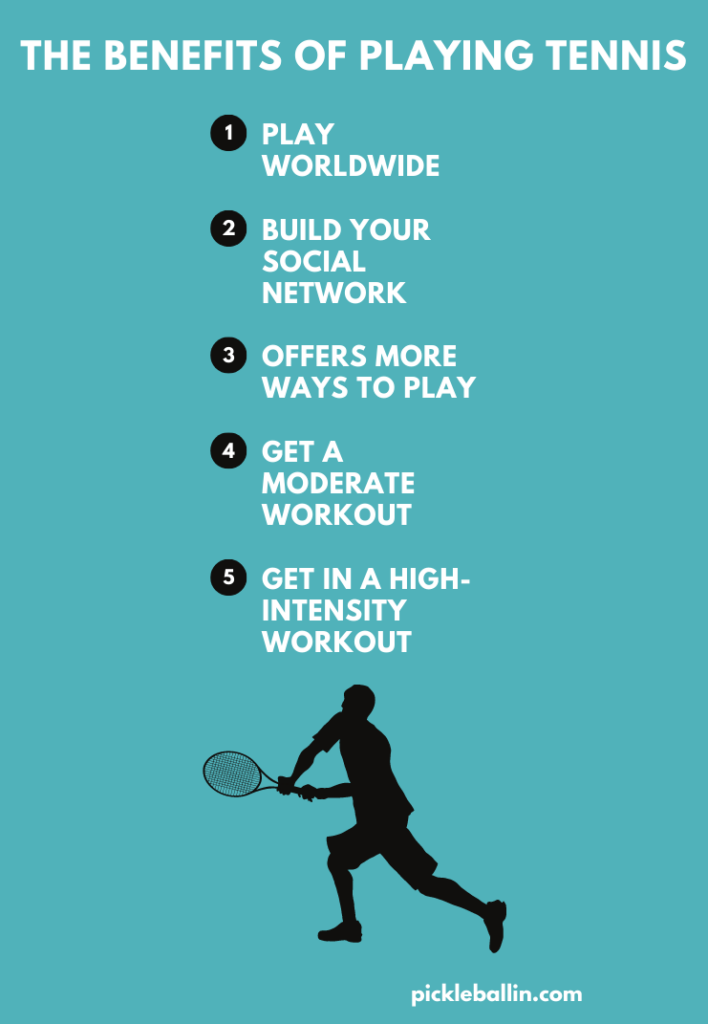 If you're thinking about playing tennis instead of Pickleball, there are plenty of benefits to consider before making a final decision.
Play Worldwide
If you want to play with other people, it's much easier to find tennis enthusiasts than it is Pickleballers. There are tennis clubs and leagues around the world, including championships such as Wimbledon in London, the French Open in Paris, the Australian Open in Melbourne, and many more.
Build Your Social Network
As with Pickleball, tennis is played with at least two players, making it a good way to get together with friends. With so many people playing, it also offers an excellent way to meet new people through tennis clubs, gym memberships, and more.
Offers More Ways to Play
Pickleball is relatively rigid in some of its rules, which can be off-putting to players who prefer more freedom in their game. Tennis, on the other hand, allows you to take more control. You get to choose who you play with, how you serve, and there are fewer faults to observe.
Get in a High-Intensity Workout
Tennis has a slightly bigger court than Pickleball, and the ball moves faster. This requires more movement and running, giving you a good cardio workout as you play. Swings also tend to be faster and harder, working the upper body and core muscles.
Who Should Play Tennis?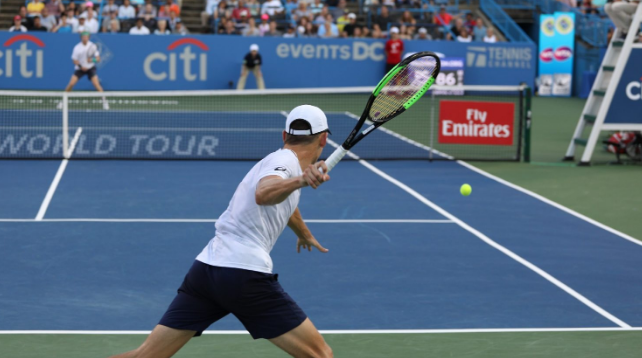 Tennis requires much more movement than Pickleball, and it can place a strain on unprepared muscles. It's best reserved for those who are physically fit and don't suffer from any injuries or disabilities.
Tennis is also a good sport for those who travel. If you like to keep fit on business trips or vacations, it's generally much easier to find a tennis court and equipment than it is for Pickleball. This is especially true when traveling internationally.
For college kids, tennis is usually a better option than Pickleball. Because it's relatively new, there aren't any scholarships related to the sport. With tennis, on the other hand, skilled players can enter the college division of the sport.
There is no college division for Pickleball. With tennis, however, high schoolers can win a scholarship based on skill from the NCAA Division III of the National Collegiate Athletic Association.
What are the Drawbacks of Tennis?
Tennis is much more physically demanding than sports such as Pickleball. Many of the moves place a strain on joints and muscles, which can result in complications over time.
Players are more likely to suffer from short-term injuries in areas such as the shoulder and elbow. Quick, constant movements along with heavyweight equipment make issues such as pulled muscles and torn tendons more likely.
Tennis also boasts a steeper learning curve than Pickleball. It can be difficult for beginners to pick up, as it requires strong muscle memory. You'll need plenty of practice and perhaps even lessons from a professional before you can face off against a more experienced player.
Pickleball vs. Tennis Showdown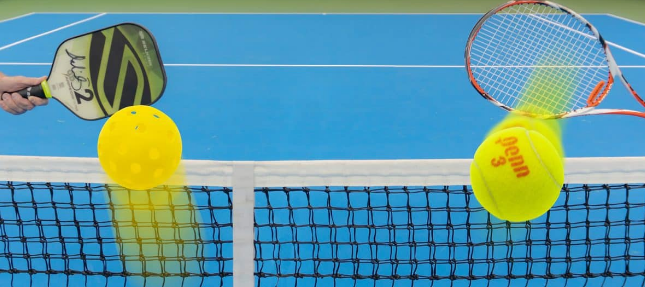 While Pickleball and tennis are undeniably similar, the two also share stark differences. Both have their pros and cons depending on what you're looking for in a sport. Here, we're going to go over whether Pickleball or tennis is the best option for you.
Pickleball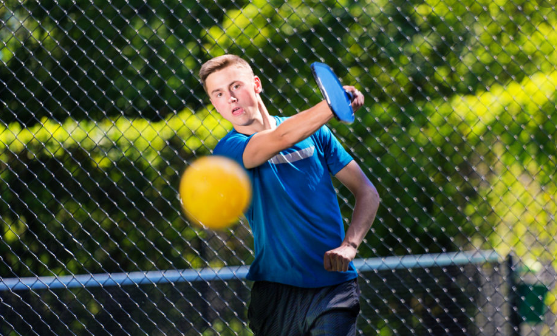 Pickleball is a gentle, slow-paced racquet sport that combines the best elements of other games such as ping pong, badminton, and tennis. It uses a relatively small court with a hollow, lightweight ball and solid paddles instead of traditional racquets.
Since its inception, the game has been gaining rapid popularity in the United States. It's ideal for older adults and those dealing with physical disabilities. Pickleball gives just about anyone the chance to get out, socialize, and fit in a moderate workout routine without worrying about injury.
Things We Like
Easy to play for just about anybody.
Low risk of injury, even for older and disabled adults.
Ideal for socializing with either new or old friends.
Quick games let you play anytime.
Easy moves allow beginners to play.
Things We Don't Like
Not as widespread as tennis, making it harder to find clubs and leagues.
Only offers a moderate workout compared to tennis.
Less freedom when it comes to rules.
Tennis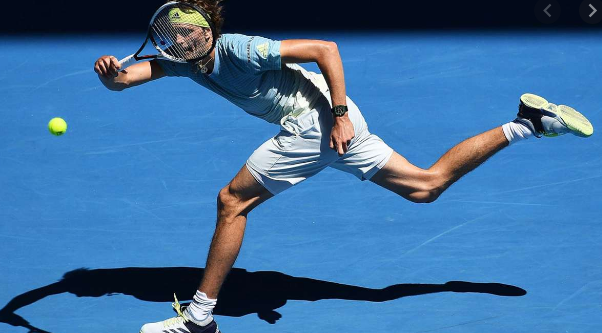 Tennis has been around for centuries, and it has a strong following in countries around the world. It's a fast-paced game that uses bouncy rubber balls and stringed racquets, and it has a steep learning curve for new players.
Nowadays, tennis is a worldwide sport. Many countries embrace some form of tennis, making it easy for players to find practice leagues, championships, and more just about anywhere. It's an ideal game for those who are looking for a fun, high-intensity workout.
Things We Like
Challenging enough for both beginners and experts.
Long games offer a serious, stamina-building workout.
Available worldwide for international travelers.
Fewer rules and regulations allow for more freedom during gameplay.
Plenty of different players to meet and challenge.
Things We Don't Like
More risk of a serious injury
Harder to learn than other racquet sports
Difficult to play as a beginner
In Conclusion
If you're trying to choose between Pickleball vs tennis, the decision can be a difficult one. Despite the similarities between both sports, the two are starkly different in gameplay, equipment, and even the players they attract.
Both Pickleball and tennis offer a good cardio workout along with some strength training. While Pickleball gives you a relatively moderate workout, tennis offers a high-intensity option that's best reserved for those in good physical condition.
When it comes to the social aspects of the game, both allow you to get together with friends and play with two to four people. While Pickleball's slower pace allows for conversation, tennis is more widespread, giving you a more widespread network of players.
No matter whether you choose Pickleball or tennis, you're bound to improve your physical prowess over time. Both sports offer an ideal way to improve both strength and stamina. By staying active, you can ensure that you live a long and healthy life, regardless of age.
Looking for more? Feel free to check out some of our other guides:
Learn: About Pickleball

, Why is it Called Pickleball?

, Pickleball Rules

, Pickleball Court Dimensions

, What is Pickleball?

, Pickleball Singles vs Doubles – Strategies and Rules

, Indoor vs Outdoor – What's the Difference?, and How to Play Pickleball Singles-Skinny Singles!
Equipment: What Type of Pickleball Paddle is Best?

, Best Pickleball Shoes

, Learn More About Pickleball Equipment and Where to Buy It

, Best Pickleball Clothes for Men and Women

, Best Pickleball Accessories And Must-Have Gear

, and Best Pickleball Paddle

.
Play: How Can I Find Pickleball Courts Near Me