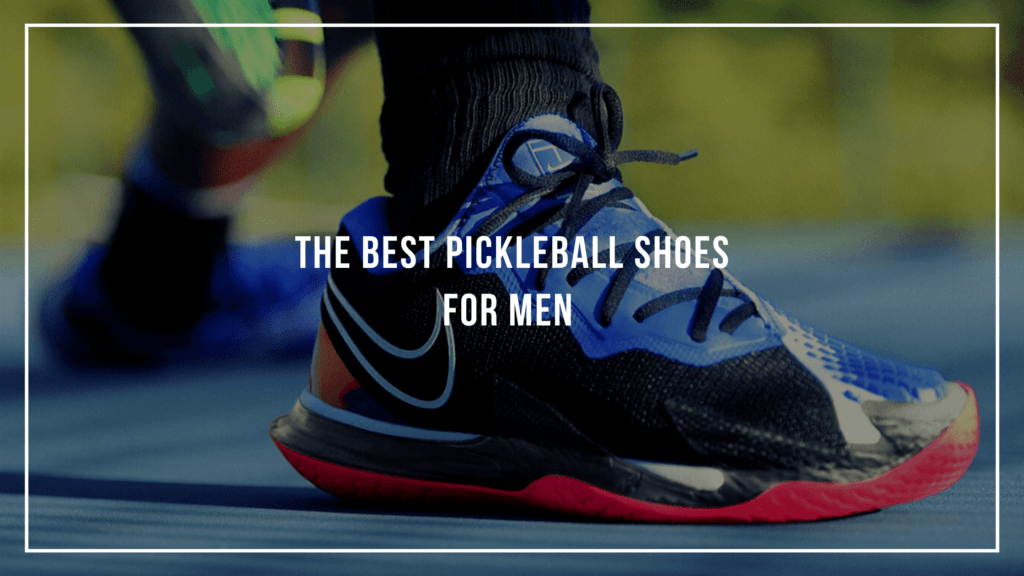 Pickleball combines elements of badminton, tennis, and ping-pong. Played with a plastic ball and paddle, it's a fun and friendly sport — but it can get fast-paced. If you want to stay safe and keep up, it's essential to have the right shoes. This guide highlights the best pickleball shoes for men.
If you're looking for a complete beginner's guide to pickleball check out: Pickleball Strategy: Complete Beginners Guide

!
Top 5 Picks for Pickleball Shoes for Men
The best pickleball shoes for men will allow for easy, precise movement and provide adequate support to avoid injuries. Here are five mens pickleball shoes that do the trick.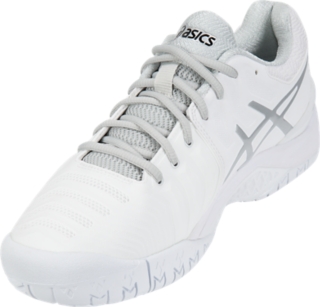 This lightweight shoe will serve you well during a fast game of pickleball. It's 100% synthetic with a slip-proof rubber sole, offering sufficient traction whether you're playing on an indoor or outdoor court. The proprietary "flexion fit" upper is designed to mold to the foot, offering maximum comfort and support.
Gel cushioning at the rear and front of the foot attenuates shock, while the toe protector at the front enhances durability. This shoe is also proof that you don't have to sacrifice style for function. You can choose from four vibrant color combinations: white/silver, black/red, black/red/silver, and blue/orange.
What we like:
Flexible upper for comfortable wear and blister protection, great for long games
Gel cushioning at the heel and under the ball of the foot absorbs shock
Durable material resists wear and tear when playing on a hard court
What we don't like:
Toe cap at the front may pinch, especially for those with wider feet
This shoe stands out due to its extra soft knit upper. This is especially handy if you have wider feet and find that your toes tend to get pinched. The outer upper is made of Adidas's proprietary abrasion-resistant material, ADITUFF™. For pickleball players who tend to drag their feet, this is a big plus. It's convenient if you play on outdoor courts, which tend to be rougher.
Although robust, the knit upper still offers plenty of ventilation to avoid sweaty feet. The interior provides maximum comfort, with a plush filling and seamless insole with plenty of cushioning. This shoe is also great for those with weak ankles, as it has a small ankle collar for added support. Meanwhile, the "boost" technology is designed to cushion the foot with every step.
What we like:
Super flexible and soft knit upper conforms to wider feet
Durable outer will hold up thanks to the ADITUFF™ proprietary material
Ankle collar adds stability for those with weak ankle joints
What we don't like:
Bulkier and heavier than some other shoes on this list, which can be a burden and cause fatigue during longer games
A long game of pickleball is sure to leave you sweaty from head to toe. These court shoes are the answer. They are made of highly breathable material. The "flow-cool" design also features mesh and ventilation holes across the entire upper. The inside of this shoe offers a moisture-wicking lining, ensuring your feet stay dry no matter how long you play.
Although the profile is relatively low, this shoe still offers plenty of stability. A foam ankle collar adds sturdiness and the tread pattern features a herringbone design that will protect against slips, falls, and scuffs. You will also enjoy a roomy toe box. Last but not least, this tennis shoe is ultra-light, making it a good pick for an active day on the court.
What we like:
Extremely breathable shoe designed to promote airflow and minimize sweating and moisture buildup
Lightweight design for added agility and springiness
Wide toe box with plenty of room, making for added comfort
What we don't like:
Low profile isn't ideal for individuals with weak ankles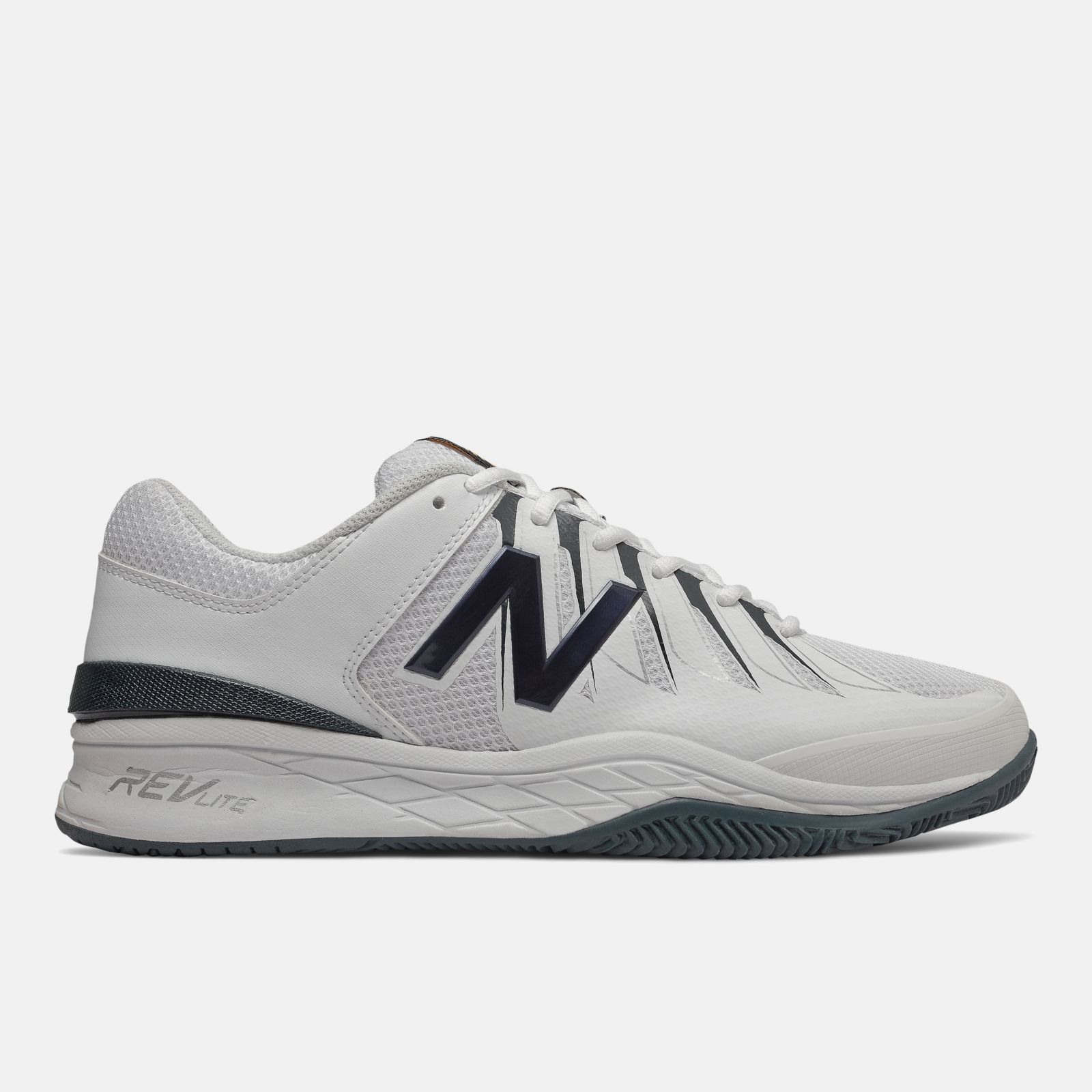 This athletic shoe features an ultra-cushioned sole to pad your foot, allowing for safe jumps, turns, and leaps on the court. The rubber sole also offers excellent traction and stability. The lightweight midsole is made of foam, allowing for fast action. Finally, the rubber outer sole is non-marking, so if you want a shoe for indoor court use, this one will do the trick.
Meanwhile, the upper is made of a unique blend of synthetic material and mesh (75% and 25%, respectively), encouraging good breathability. The long-wear drag tip is great for quick-moving games and helps to keep you from tripping over your toes. One consideration is the narrow fit: These shoes aren't ideal for individuals who need a wider fit to be comfortable.
What we like:
Innovative upper material with 75% synthetic and 25% mesh material
Long-wear drag tip allows for quick movements and adds durability
High-traction rubber sole prevents slips
What we don't like:
Narrow fit can be uncomfortable for individuals with wider feet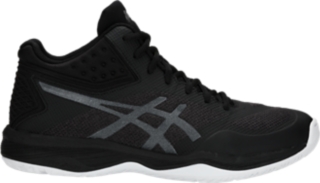 Pickleball players who need extra ankle support are sure to love this court shoe. This is technically a volleyball shoe and features a high top, which is excellent for ankle support. Additionally, these shoes look great. While the design may appear deceptively bulky, it features a light rubber sole, offering incredible traction without adding weight.
The upper is similarly breezy, featuring knit fibers that wrap comfortably around the foot. The midsole provides extra cushioning to prevent injuries and enhance comfort, giving you a bit of extra bounce in your step. The sleek design comes in various color combinations, from an elegant black-on-black to an eye-popping black and yellow and a striking racer blue and silver.
What we like:
Snug and supportive fit helps to avoid missteps and injuries
Streak-free sole prevents scuff marks on indoor courts
Excellent cushioning to absorb shock and minimize wear and tear on joints
What we don't like:
Lightweight sole is prone to tears, which isn't ideal for more aggressive players
Pickleball Shoes for Men 101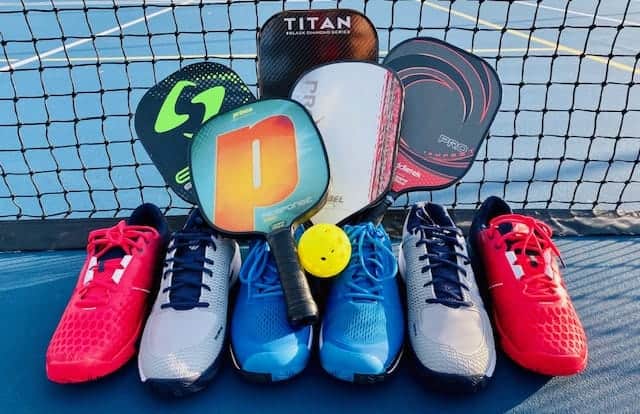 You might think that any old pair of tennis shoes will do when playing pickleball. However, the right shoes are critical to preventing injuries and improving your game. Find out more below.
The Importance of the Right Men's Pickleball Shoes
Court and tennis shoes are made specifically for the lateral moves that are an integral part of pickleball and other court sports, and they help to support you with more bulk in the middle of the shoe. This is so important because when you are moving side to side quickly, you need to keep yourself centered.

pickleballpad.com
To understand why shoes make such a difference in pickleball, it helps to understand the game. Pickleball involves hitting a plastic ball across a net with a paddle. It can be played in singles or doubles. Pickle-Ball Inc. explains that the sport is played on a badminton-size court measuring 20 by 44 feet. Players can volley or hit after a single bounce.
A game of pickleball moves fast when played right. Similar to tennis, it requires a lot of quick stops and starts. You will have to change directions rapidly and frequently to get to the ball. If you are playing a doubles game with another person, you also have to take care not to get in your teammate's space.
The rapid stop-and-start movements demanded by pickleball can put an immense strain on your joints, notably your knees and ankles. Older players, in particular, may find that they experience discomfort after a rousing game of pickleball. According to Harvard Health, the joints' cartilage wears away over time, making you more susceptible to joint pain as you get older.
The right shoes will accommodate the unique stop-and-start nature of pickleball, offering support for joints and reducing the risk of injury. Just what makes the "right" shoe? Read on to find out.
What Makes for Great Pickleball Shoes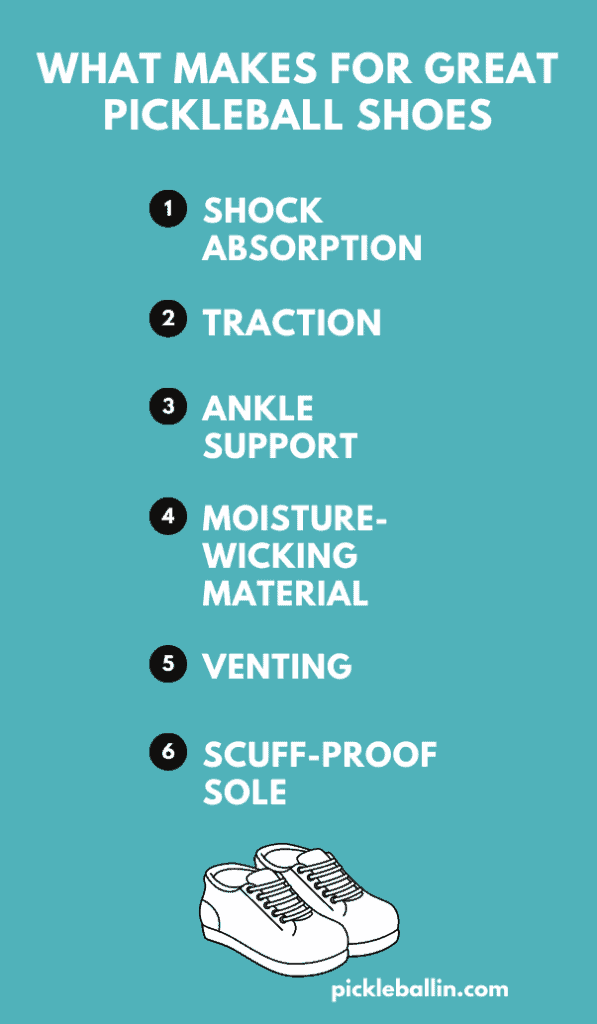 Technically, there is no such thing as a pickleball shoe. That means you have to find shoes designed for other purposes. Tennis shoes are an ideal option, because tennis mimics many of the movements seen in pickleball. It likewise requires players to stop, start, and change direction frequently. This stresses muscles, ligaments, tendons, and joints, and tennis shoes are designed accordingly.
When selecting the best pickleball shoes for men, here are some characteristics to look out for:
Shock absorption to reduce the impact on joints.
Traction to prevent slips and falls.
Ankle support for added stability.
Moisture-wicking material to keep feet dry.
Venting to prevent moisture and bacteria buildup (and related odor).
Scuff-proof sole if you plant to play on indoor courts.
Last but not least, don't dismiss the importance of style! You want a pair of pickleball shoes that you like the look of and enjoy wearing. As the above guide to some of the best pickleball shoes for men makes clear, there's no shortage of options regarding color and design. You don't have to settle for a shoe you don't find aesthetically appealing.
This video provides additional tips on how to choose the best pickleball shoes for your needs:
How to Care for Pickleball Shoes
Once you've found a great pair of pickleball shoes, you want your investment to last. Proper maintenance will ensure longevity. First, keep shoes dry to avoid moisture buildup, which can result in mold and mildew growth — not to mention bad odors.
If the shoes do get wet, place them upside down on some dry newspaper to dry out. Better yet, set them in the sun for faster drying. Sprinkling some baby powder inside will also help absorb added moisture and give the inside of your shoes a pleasant smell.
To keep your pickleball shoes looking their best, use a shoe cleaner like Jason Markk Premium Shoe Cleaner, which comes recommended by the professionals at GQ Magazine. It's formulated to keep the sneaker fabric intact while removing stains. Use a soft-bristle toothbrush for cleaning. You can get laces white again by soaking them in warm water with bleach.
Check out this video to clarify if your existing shoes are safe or if it's time for new pickleball shoes:
How to Get the Most Out of Your Pickleball Shoes
To get the most out of your pickleball shoes, you have to take care of them as described above. Additionally, always wear socks with your shoes. This prevents sweaty feet and blisters. It also keeps moisture and bacteria from building up in the shoe.
Additionally, you want to ensure a proper fit for your shoes. If they are too big, you will slip and slide inside of them. If they are too small, they will be uncomfortable. Tennis Express provides pointers on how to best lace your shoes for an ideal fit and even has guidelines on lacing for different foot types, such as high arches versus wide feet.
Frequently Asked Questions About Pickleball Shoes for Men
Now you know why the right pickleball shoes are so important and have an idea of what to look for in a great shoe. You may still have some lingering questions about pickleball footwear, however. Read on for responses to the most common queries.
What makes a good pickleball shoe?
A great pickleball shoe will offer shock absorption, ankle support, traction, and comfort. Good shoes will also be made of moisture-wicking material, preventing sweaty feet and odors. Venting can further help prevent dampness and improve long-term wearability.
Are there pickleball shoes?
There's no shoe explicitly designed for pickleball. You will have to select your pickleball shoes from other athletic footwear options. Tennis shoes are the best choice because the two sports involve similar physical actions. For those with weak ankles, volleyball shoes (which have a higher profile) are also an option.
How often should you replace pickleball shoes?
This depends on how often you play. If you play once a month, you won't have to replace the shoes as quickly as you would have to if you played daily. If the traction of the shoe's sole is worn down or you're noticing foot or joint pain after playing, it's time for new shoes.
The Bottom Line: The Best Pickleball Shoes for Men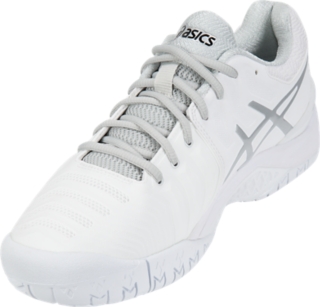 When choosing the best pickleball shoes for men, there are many characteristics to consider. Factors like the fit, shock absorption, and traction will influence the shoe's comfort and functionality. There's also the style factor to consider. Ultimately, this makes the "perfect" pickleball shoe a purely subjective matter.
That said, the ASICS Men's Gel-Resolution 7 Tennis Shoe is an all-around crowd-pleaser that's hard to find fault with. This shoe has everything you need for a rousing game of pickleball, including good cushioning, shock absorption, traction, and support. Click here to purchase the ASICS Men's Gel-Resolution 7 Tennis Shoe.
Looking for more? Feel free to check out some of our other guides:
Learn: About Pickleball

, Why is it Called Pickleball?

, Pickleball Rules

, Pickleball Court Dimensions

, What is Pickleball?

, Pickleball Singles vs Doubles – Strategies and Rules

, Indoor vs Outdoor – What's the Difference?, and How to Play Pickleball Singles-Skinny Singles!
Equipment: What Type of Pickleball Paddle is Best?

, Best Pickleball Shoes

, Learn More About Pickleball Equipment and Where to Buy It

, Best Pickleball Clothes for Men and Women

, Best Pickleball Accessories And Must-Have Gear

, and Best Pickleball Paddle

.
Play: How Can I Find Pickleball Courts Near Me