Onix and Engage are two popular manufacturers of pickleball gear. Both companies produce high-quality, long-lasting pickleball paddles. We're going to make a comparison of Engage Pickleball vs. Onix Pickleball. We're going to look at the history, benefits, who it's best for, and the companies' downsides. We'll also talk about some features of each brand and compare them side by side.
Our goal is to help you understand both brands and determine which product lineup would be the best pick for your needs.
If you're looking for a complete beginner's guide to pickleball check out: Pickleball Strategy: Complete Beginners Guide

!
Engage vs. Onix: Histories
We're going to start our comparison guide by looking at the history of both companies. We're going to look at where each company operates, what facilities they have, and other interesting facts.
Engage History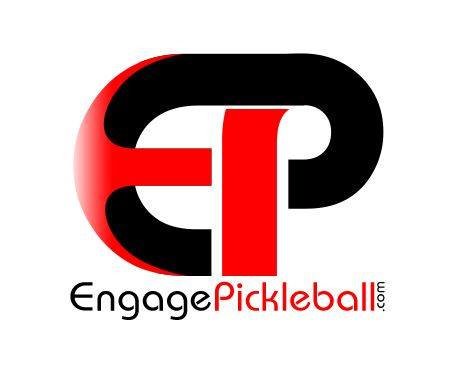 Engage Pickleball headquarters operates out of Oxford, Florida, and all of its products are made in the USA with supplies bought from US-based producers. They also have a Pro Shop and Academy training center, also located in Oxford.
Numerous companies are authorized dealers for Engage products. The Engage Pickleball company believes in having business ambassadors who help share their products throughout the country.
All paddles produced by Engage Pickleball are compliant with USAPA guidelines and acceptable for sanctioned tournament use.
Engage isn't just about producing pickleball equipment. This company also aims to help players become good at the game through Engage camps and clinics.
You can join a day camp that consists of three six-hour day sessions for the complete training of eighteen hours. During this camp, you learn the fundamentals of pickleball, including hitting, attacking, defending, and dinking.
There are also single-day clinics that last three hours. They cover much the same material, just in a faster time frame and in less depth and training practice.
And Engage isn't just about making money, but also about making a difference. This company donates 5% of its total revenue to youth activities, including contributing paddles to nearby communities, establishing the sport in local schools, and hosting junior tournaments.
When we design a paddle, it goes through a rigorous and thorough testing process to ensure it plays, lasts, and withstands the punishment. 

engagepickleball.com
Onix History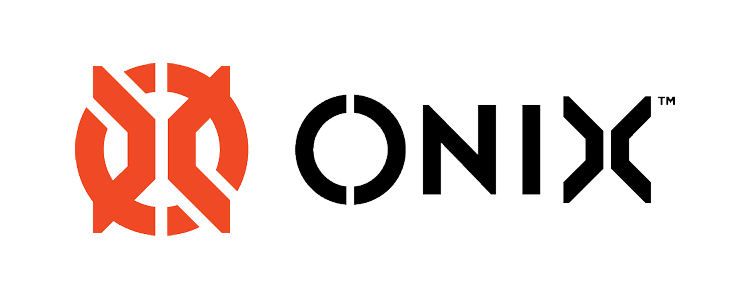 Onix is a younger company that hasn't even celebrated its twentieth anniversary. They opened their doors in 2005, but they've built up quite a reputation as one of the best paddle producers in this short time.
This company has headquarters in Evansville, Indiana. And all Onix products are made in the USA, so you're supporting a local business when you buy from them.
Onix is one of 40 sports goods equipment brands owned by Escalade Sports, also based in Evansville. Escalade Sports has been acquiring sports goods companies since 1922. 
We know that the secret to giving you the advantage is in our engineering. That's why we are devoted to ensuring every one of our athletes has the best paddle and ball for their game. We never stop developing gear to revolutionize the sport. ONIX Pickleball is proven to deliver.

onixpickleball.com
Onix vs. Engage – Products
Now that we've looked at both companies' histories and current events, let's look at what products they make and sell. If you're trying to find the perfect gift for a friend who enjoys Pickleball, a paddle from one of these companies can be a great choice, among others.
Both companies are popular pickleball paddle manufacturers. But that's not the only thing these two brands sell.
Onix
Onix is a small company run by pickleball experts who incorporate their dedication and love for the game into making high-quality pickleball products.
This company is most known for pickleball paddles and is the favorite of many professional USAPA tournament players. However, they're also a popular choice for beginners and advanced players. Onix produces recreational, performance, and intermediate paddles.
Onix also produces pickleball balls – both tournament and championship, nets and net weights, bags, water bottles, eyewear, wristbands, hats, headbands, paddle grip tape, paddle covers, and Onix clothing.
In terms of the warranty, Onix drops the ball compared to Engage. Onix offers a limited warranty against manufacturer craft and defects. This warranty is very limited on what they will cover for replacement or repair.
Any paddles in the Recruit Series have a 90-day warranty from the time of purchase. Paddles that are not part of the Recruit Series have a one-year warranty from the time of purchase.
Engage
Engage is a company that understands the game of pickleball enough that they produce multiple types of pickleball gear.
This company is most known for its exceptional tournament pickleball paddles, a favorite for beginners and professionals alike. Each paddle is USAPA tournament approved.
But they're also not limited to only paddles. You can also buy nets, pickleball, and other standard pickleball accessories. Engage offers bags, backpacks, towels, and clothing. Compared to Onix, Engage does not have as much of a lineup of accessories and non-paddle goodies.
They care about their customers, which is why they offer a 30-day no-questions-asked, money-back guarantee. In addition, each paddle comes with a lifetime warranty for defects and provides a 5-year guarantee for no dead spots.
Engage vs. Onix Downsides
All products have negative attributes, which you should consider thoroughly before making a final selection on your pickleball paddle.
Although not a major con, Engage pickleball paddles are a higher price than Onix. Given the superb performance of both pickleball paddles, many people may decide the higher cost isn't worth the investment for beginners but well worth it for professional players.
Some models of Onix and Engage pickleball paddles do not have edge-guards, which is a trim around the rim of the paddle. These one-piece constructions are often cheaper, but they don't hit the ball as well.
However, some edges tend to break off off the paddle, causing your paddle to malfunction. Onix paddles have a higher rate of falling apart than Engage. Onix paddles also have a higher rate of breaking along the handle.
Engage vs. Onix – Which to Use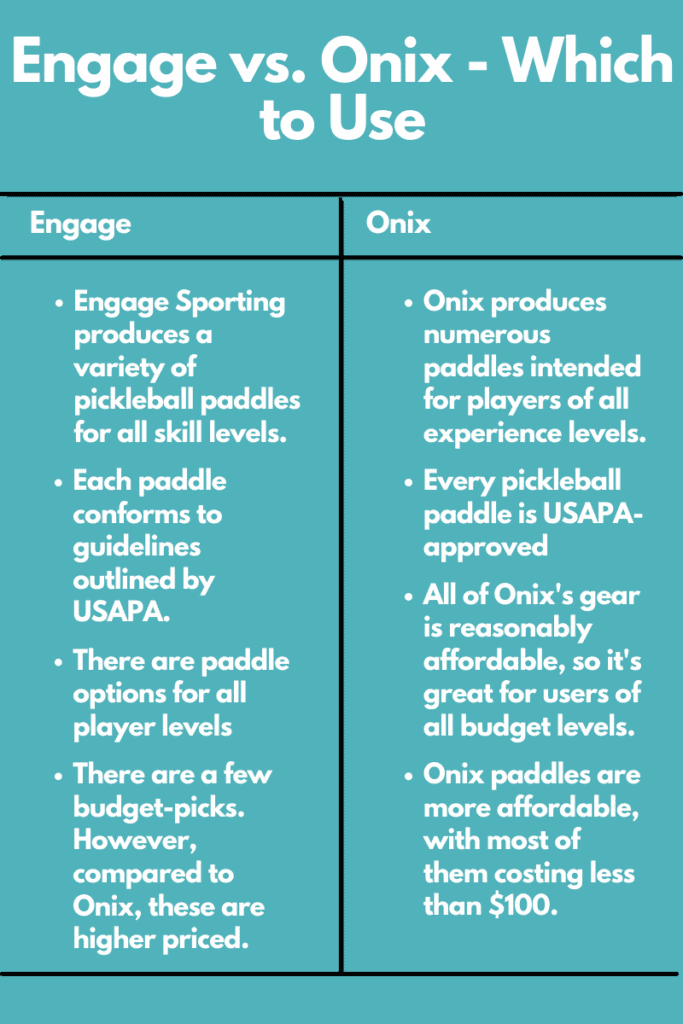 Both Engage and Onix have exceptional reputations for high-quality pickleball paddles. And both companies offer gear for beginners, advanced users, and professionals. It may seem like either one would be a good pick. Here's how to decide which paddle brand would be best for you.
Engage
Engage Sporting produces a variety of pickleball paddles for all skill levels. Each paddle conforms to guidelines outlined by USAPA, and most of them can be used for sanctioned tournaments, although some may not meet the approved standards.
There are paddle options for all player levels, from beginners who've never played up to professional players, including some big names. They also have options to improve specific areas of your game, like spin or reach.
There are a few budget-picks, but the majority of Engage paddles fall within the range of $100 to $150, which is reasonable for a high-quality pickleball paddle. However, compared to Onix, these are higher priced.
Onix
Onix produces numerous paddles intended for players of all experience levels. There are options for aggressive or defensive players, younger users, beginners, advanced players, competitive, and professional users.
Every pickleball paddle is USAPA-approved, so no matter which model you choose, it meets the rule requirements for competitive play.
All of Onix's gear is reasonably affordable, so it's great for users of all budget levels. And there are unique elongated design shapes that allow for players who come from other sports like tennis.
Onix paddles are more affordable, with most of them costing less than $100. Even the paddles designed for professional play can cost between $60 and $90, compared to upwards of $150 for an Engage.
Professionals Using Onix vs. Engage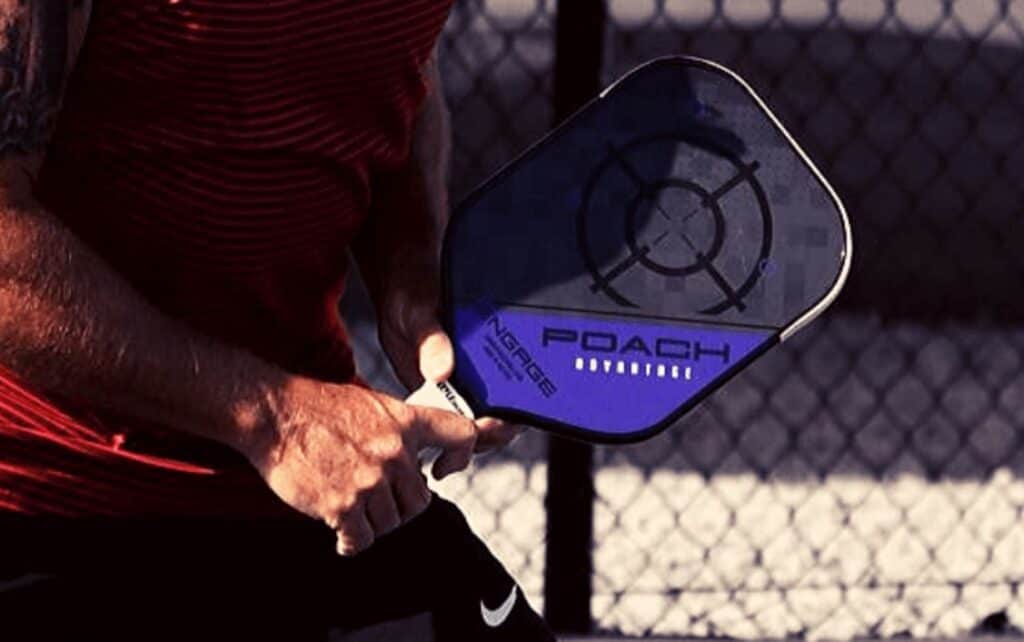 Since both brands are widely popular, it's not surprising that there are professional athletes who rely on these paddles for their competitive games.
There are currently six pickleball pro players that use Onix paddles. Engage is also a favorite of professionals, including a gold medalist. Here's a list of professional athletes who use each brand.
Marcin Rozpedski (USAPA National) – US Open and Tournament of Champions Gold Medalist = Engage
Gig LeMaster = Engage
Brian Staub = Engage
Matthew Bloom = Engage
Corrine Carr = Engage
Steve Cole = Onix Composite Evoke Pro
Wes Gabrielsen = Onix Voyager Pro
Bonnie Williams = Onix Composite Evoke Pro
Kris Anderson = Onix Composite Summit C1
Bryon Freso = Onix Outbreak
Tyler Loong = Onix Graphite Z5
Engage vs. Onix Materials
Engage and Onix use similar construction materials, but they also have different materials for some parts. We're going to look at common materials used for the core, face,
Core
Onix offers paddles with multiple core options – Ribtec, unique to Onix, has a carbon rib; Fusion, a polymer base, and a Nomex insert; polypropylene honeycomb; and Nomex honeycomb.
On the other hand, Engage offers a ControlPro polymer core, or a black core, which is a polymer with a different chemical composition for better control. There are no Engage paddles with Nomex. Onix paddles with Nomex have better sweet spots and better control.
Face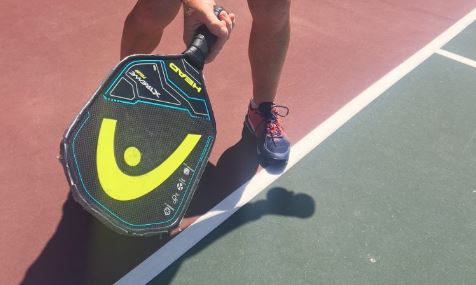 The face is the part of the paddle that makes contact with the ball. Having the right material for your face is an essential part of your shopping trend.
Onix uses graphite material for the construction of the paddle face. Graphite has the advantage of being lightweight, giving you better speed, twists, and pop. And it's durable enough to withstand frequent use without breaking.
Engage also uses graphite material for the construction of some paddle faces. However, they also use other materials, including fiberglass, which they apply in thin layers to cover the core.
They also construct paddles with FiberTek and GripTek, two unique components that provide more grip and improve player accuracy and control.
Onix vs. Engage Product Comparisons
Now that we've looked at the comparison between the two companies, let's do a side-by-side review of some of the top products from both brands so you can see how they measure.
We'll compare important features, dimensions, materials and provide a pros and cons list for each product and how it compares to its competitor. We've broken these down into four helpful categories.
Best Paddle for Beginners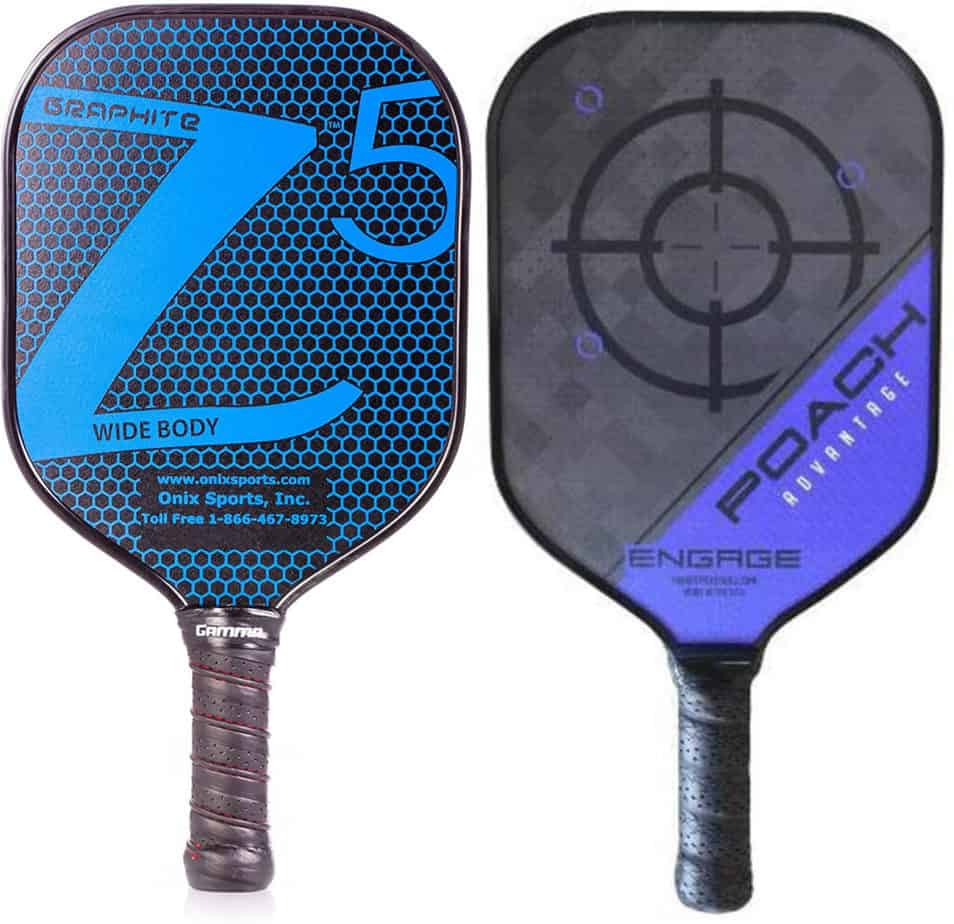 Beginners have specific needs for pickleball paddles, including a medium weight, a defined sweet spot, and an overlarge hitting surface. We've found the best beginner paddle from Onix and Engage to compare side by side.
| | | |
| --- | --- | --- |
| Feature | Onix Z5 | Engage Poach Advantage |
| Core | Nomex honeycomb | Control Pro Black polymer |
| Dimensions | 15.5" length x 8.3" width | 16" length x 8" width |
| Grip diameter | 4 ¼" | 4 ¼" |
| Grip length | 5" | 5" |
| Weight | Medium 7.5-8.3oz | Medium 7.5-8.3oz |
| USAPA-approved | Yes | Yes |
| Sweet spot | Large | Large |
| Body shape | Large | Large |
| Skin | Graphite | Six-layer fiberglass composite |
| Color options | 12 | 5 |
As you can see from this comparison, both the Z5 and the Poach Advantage have the same size grip diameter and length, and a large body shape and sweet spot, which are excellent traits for beginners.
The Z5 does have more color options than the Advantage, which isn't usually a deciding factor for new shoppers. The Advantage has a six-layer fiberglass composite face, whereas the Z5 has a graphite face.
In terms of useability, fiberglass is not as strong as graphite, but it offers more pop. Graphite is strong and gives you more ball control, without as much power. Graphite is more durable, but fiberglass allows you to have more force behind your hits.
Onix Z5 Pros
Nomex honeycomb core for better weight distribution
The large sweet spot for easier hitting
Medium weight is easier to control
Wide width for more hitting space
Onix Z5 Cons
Graphite doesn't have as much power.
Poach Advantage Pros
Control Pro Polymer center
Medium weight for easier swinging
A wide-body with a large sweet spot
Poach Advantage Cons
Fewer color options
Fiberglass isn't as durable as graphite
Best for Professionals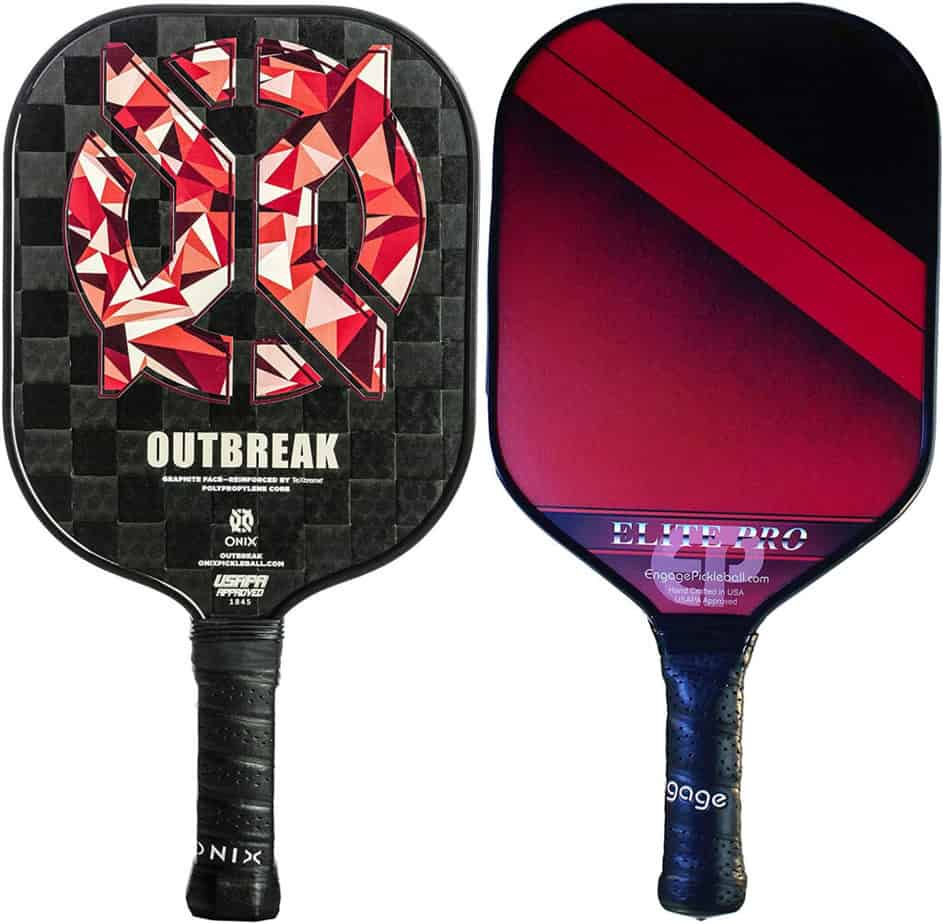 Advanced and professional players have different needs than beginners. Experienced players may prefer a paddle with more weight and a narrower face with a smaller sweet spot. Here's a side by side comparison between the best-advanced paddles from Onix and Engage.
| | | |
| --- | --- | --- |
| Feature | Onix Outbreak | Engage Elite Pro |
| Core | Polypropylene | ControlPro II Polymer |
| Dimensions | 15 ½" length x 8 ⅛" wide | 16" length x 8" width |
| Grip diameter | 4 ⅜" | 4 ¼" |
| Grip length | 5" | 4 ¼" |
| Weight | 7.8 to 8.02 ounces | 7.8 to 8.3 ounces |
| USAPA-approved | Yes | Yes |
| Sweet spot | Maximum | Maximum |
| Body shape | Wide | Average |
| Skin | Reinforced Graphite | Liquid Graphite |
| Color options | 3 | 13 |
You get more color options with the Elite Pro than you do the Outbreak. But in terms of design, the Outbreak looks cooler.
Both paddles have a graphite face, a similar weight, and a polymer core. Both paddles are also acceptable for USAPA-hosted matches, so either is great for competitive play.
The Engage Elite Pro does have a ¾" shorter grip length and a thinner handle of 4 ¼", which might be better for smaller hands. The Pro is half an inch longer than the Outbreak, but it's not as wide.
The Outbreak gives you a wider face, an extra ½" of length on the grip, and ⅛" more width, but less paddle length. If you need more hitting surface and sweet spot, the Outbreak might be a better choice than the Elite Pro.
Onix Outbreak Pros
Maximum sweet spot
USAPA approved
Wide hitting surface
Long grip handle
Onix Outbreak Cons
Few design options
Shorter than Elite
Engage Elite Pros
Liquid graphite construction for durability
Maximum sweet spot
More narrow handle diameter
More color options
Engage Elie Cons
Best for Tennis Players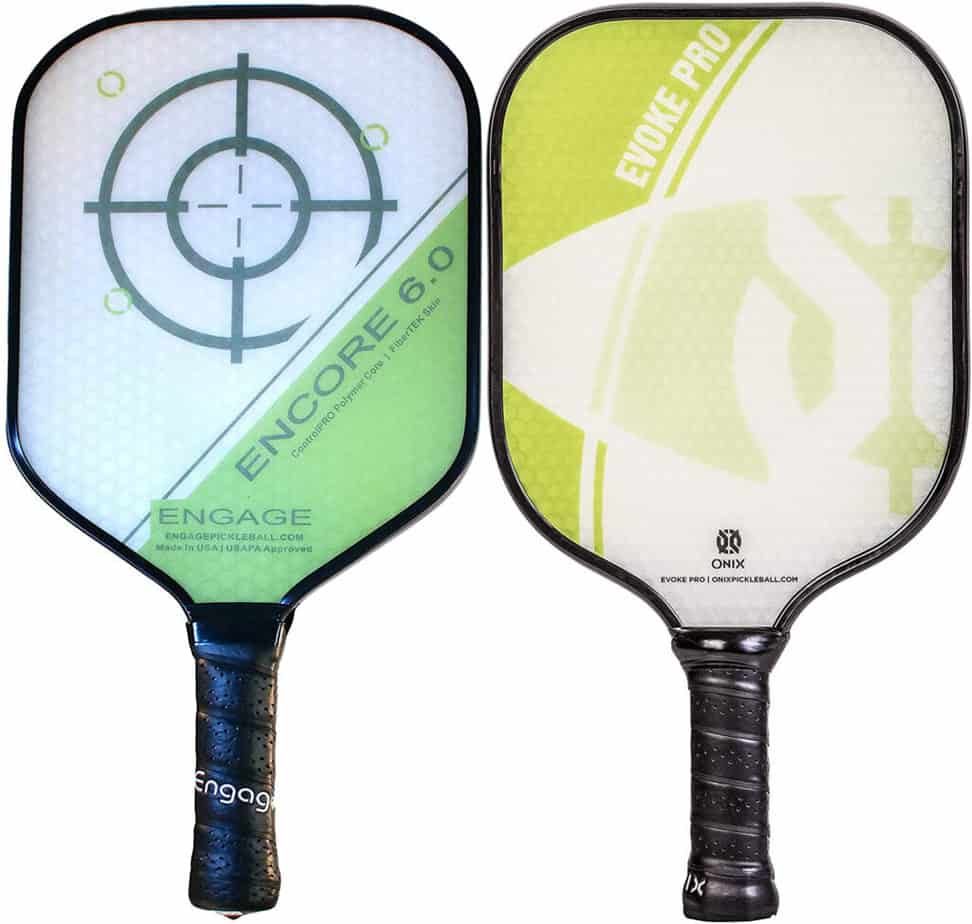 Pickleball is a racket sport that many players cross over to from playing other racket activities like tennis, racketball, or badminton.
It can be challenging to adjust from a tennis racket to a pickleball paddle. To make the change easier, many former tennis players choose pickleball paddles with tennis-shaped handles. Here are the best Engage and Onix pickleball rackets with tennis handles.
| | | |
| --- | --- | --- |
| Feature | Onix Evoke Pro | Engage Encore 6.0 |
| Core | Polypropylene | Thick ControlPro Polymer |
| Dimensions | 15 ½" length x 8 ⅓" wide | 15 ½" length x 8 ¼" width |
| Grip diameter | 4" | 4 ¼" |
| Grip length | 5" | 4 ¼" |
| Weight | 7.5 to 8.2 ounces | 7.8 to 8.3 ounces |
| USAPA-approved | Yes | Yes |
| Sweet spot | Large | Large |
| Body shape | Wide | Wide |
| Skin | Reinforced Graphite | FiberTek |
| Color options | 14 | 6 |
The similarities between the Onix Evoke Pro and the Engage Encore 6.0 include a similar weight, a large sweet spot, a wide-body size, and they're both USAPA-approved.
Now, onto the differences. Although both paddles have a polypropylene polymer core, the Engage Encore 6.0 is thicker, which gives you power without losing touch. The Encore also features unique Vibration Control Technology, which isn't available in the Evoke Pro.
The Evoke Pro has 14 color options, whereas the Encore 6.0 only comes in six colors. The Evoke Pro skin is reinforced graphite, which gives you better protection and deflection, but the FiberTek skin provides accuracy and better grip.
If you want a longer grip length but a thinner diameter, you'd prefer the Evoke. The Encore 6.0 has a shorter grip of 4 ¼," but it's also an extra ¼" thicker. Both paddles have the same length face and almost the same width.
Onix Evoke Pro Pros
Large sweet spot
A wide-body for more hitting surface
USAPA approved
14 colors
Longer handle
Onix Evoke Pro Cons
Thinner diameter handle might not be comfortable for large hands
Thinner core
Engage Encore 6.0 Pros
FiberTek face offers more grip
Thicker diameter handle better for larger hands
Medium weight
Thicker core
Unique Vibration Control Technology
Engage Encore 6.0 Cons
Shorter handle
Fewer color options
Best Paddle for Physically Limited Players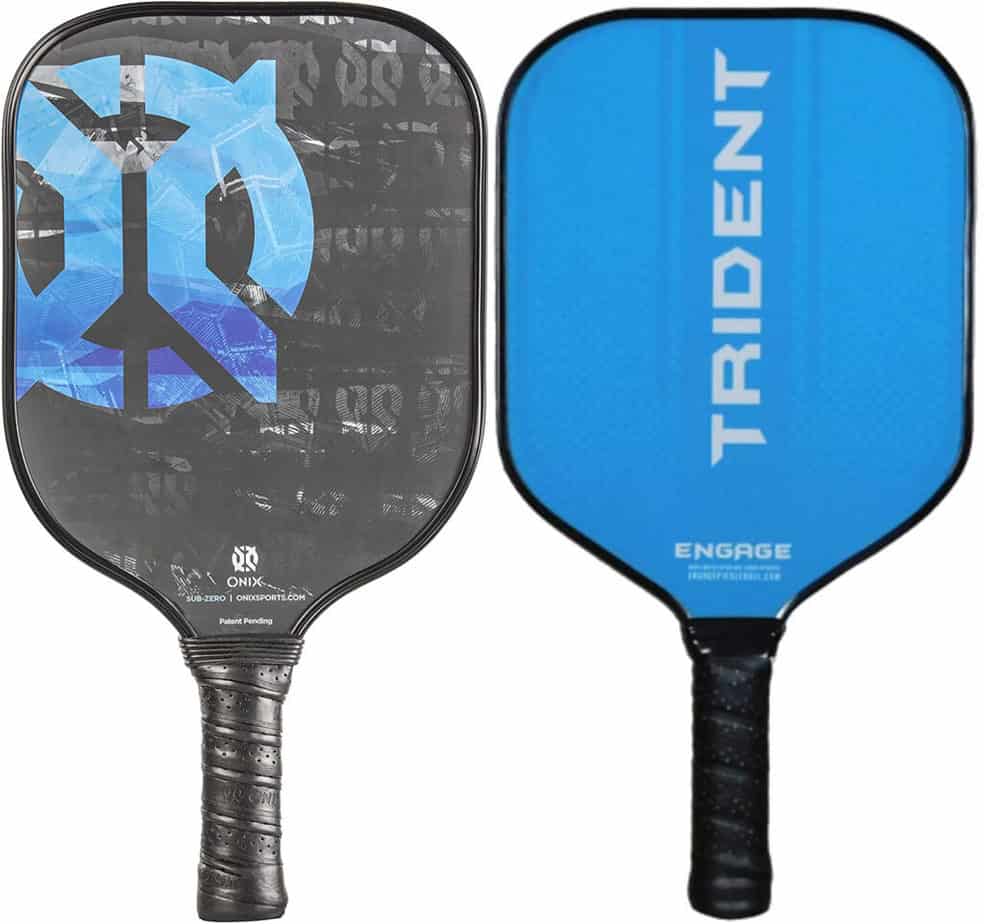 Pickleball is a fun game for players of all ages, skill levels, and physical exercise tolerances. You can enjoy this fun hobby, regardless of physical injuries or limits.
Common injuries that players experience while playing pickleball are tennis elbow, arthritis, joint pain. There may be issues with a player's elbows, wrists, or shoulders.
These players would do better with a medium weight paddle between 7.3 and 8.3 ounces with the right grip diameter, usually smaller size, less than 4 ½." Here's our Onix and Engage recommendations for players with injuries or limitations.
| | | |
| --- | --- | --- |
| Feature | Onix Sub-Zero | Engage Trident |
| Core | Ribtec foam | ControlPro 3 Polymer |
| Dimensions | 15.7" length x 8.2" wide | 15 ½" length x 8 ⅛" width |
| Grip diameter | 4" | 4 ¼" |
| Grip length | 5" | 4 ¼" |
| Weight | 7.5 to 7.9 ounces | 7.9 to 8.3 ounces |
| USAPA-approved | Yes | Yes |
| Sweet spot | Large | Large |
| Body shape | Wide | Wide |
| Skin | Graphite | 5 layer GripTEK |
| Color options | 1 | 5 |
The unique Ribtec core of the Subzero provides better stability and control while improving your accuracy and velocity.
And the medium weight means this paddle will be easy to swing without absorbing too much force to cause aching joints. The wide-body shape and graphite face give you improved speed and durability.
On the other hand, the Trident's 5-layer GripTEK skin provides a paddle that maximizes the amount of time the ball stays on your paddle for better accuracy and control. Combined with the polymer core, this paddle absorbs vibrations, so you have a soft touch without the pain of feeling the ball make contact.
Trident can help you maximize your spin, touch, and control with a lightweight design and even weight distribution. The tennis shaped handle is comfortable in your grip, perfect for arthritis or tennis elbow.
Onix Sub-Zero Pros
Ribtec core gives more stability and control
Medium weight is good for injuries
Fast swing speeds
Improves accuracy and velocity
Onix Sub-Zero Cons
Only one color choice
Slicker face surface
Engage Trident Pros
5-layer GripTEK skin keeps the ball on the paddle better
Absorbs vibrations, so you don't suffer fatigue
Maximizes spin, control, and touch
Tennis-handle shape adds comfort
Engage Trident Cons
Heavier weight
Shorter handle
In Closing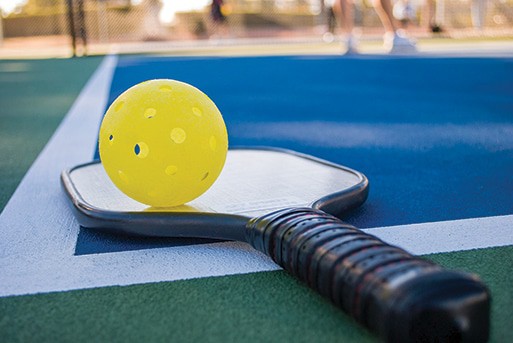 When it comes to Engage Pickleball vs. Onix Pickleball, Engage and Onix are two popular pickleball paddle manufacturers enjoyed by beginners, advanced users, and even big-name professionals. It can be challenging to determine which model would be best for you as it varies by individual. But when you know your needs, it makes the process easier. We've given you the best model of each brand for different categories.
But just because we've listed these four products for each brand for a total of eight, we did not list many more. Both companies have a wide selection of pickleball paddles in different weights, materials, and additional features. Don't be afraid to look at some of the ones we didn't mention.
Remember to consider your needs as you're comparing the different models. Beginners need a medium weight (between 7 and 8 ounces) paddle. Advanced users may prefer a heavier weight, as these provide more power. But for amateurs, more weight can result in wild, inaccurate shots.
Looking for more? Feel free to check out some of our other guides:
Learn: About Pickleball

, Why is it Called Pickleball?

, Pickleball Rules

, Pickleball Court Dimensions

, What is Pickleball?

, Pickleball Singles vs Doubles – Strategies and Rules

, Indoor vs Outdoor – What's the Difference?, and How to Play Pickleball Singles-Skinny Singles!
Equipment: What Type of Pickleball Paddle is Best?

, Best Pickleball Shoes

, Learn More About Pickleball Equipment and Where to Buy It

, Best Pickleball Clothes for Men and Women

, Best Pickleball Accessories And Must-Have Gear

, Onix Pickleball, The Best Pickleball Shoes for Men, and Best Pickleball Paddle

.
Play: How Can I Find Pickleball Courts Near Me