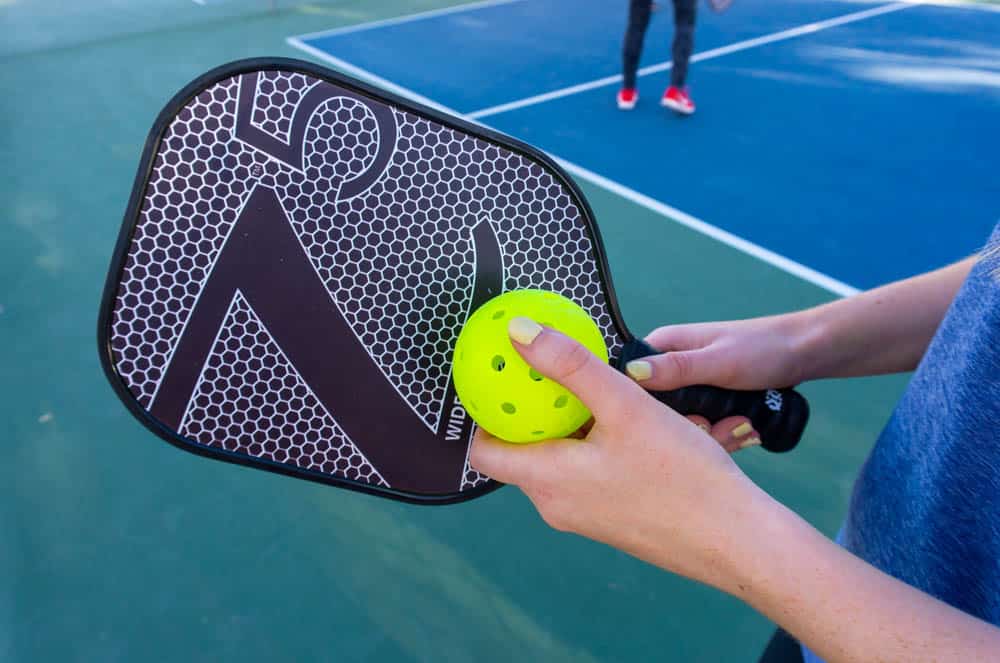 When playing a game of Pickleball, are you starting to notice that it's not always how hard you hit the ball but where you hit the ball? As more and more players enter the sport, you start to see more hard hitters instead of hitters that prioritize controlled and precise shots. More often than not, that will win you the point. Now, don't get me wrong, all pickleball paddles can generate the power needed for a slam shot, but not all pickleball paddles can create the right amount of spin.
That's where I come in. In today's guide, I've put together the top 3 pickleball paddles for spin. I know it can be confusing because there are so many models. Don't worry, though; I've got you covered. You don't have to worry about making the wrong choice.
The Best Pickleball Paddles for Spin – Reviewed
Here are our top picks from some of the best pickleball paddles for spin out there in no particular order.
The Best Pickleball Paddles for Spin – Our Top Pick: Engage Encore Pro
​​
The Engage Encore Pro is one of the few paddles available that provide all of the necessary components needed to help you add to spin to the ball. The main reason for this is because of the premium quality surface of the paddle which is fiberglass. This material provides a longer contact time between the paddle and the ball.
The longer the ball remains in contact with the paddle means the more you have control over the spin. To help with this process, this USAPA-approved pickleball paddle also provides a rather excellent drip. It's comfortable so you can play for long periods of time and maintain control over your paddle.
This paddle has a ControlPRO polymer core that helps deliver maximum power, while its wide design ensures you get a large sweet spot. Fun fact: this paddle has the largest sweet spot out of all of Engage's paddles.
With all of that being said, it's no wonder why the Engage Encore Pro is my top pick.
What We Like:
Pros like Marcin Rozpedski and Brian Staub use this paddle
Available in 10 different options
Produces little noise
What We Don't Like:
Not as durable as other paddles available
Pricey
The Best Pickleball Paddles for Spin -Premium Option: Paddletek Tempest Wave Pro
The Paddletek Tempest Wave Pro is a great paddle for adding spin to your shots. Adding spin to your shots can really take your game to the next level. So if you're looking for a way to get a competitive edge, we really recommend this paddle because you'll be able to achieve masterful spin and deadly speed.
This attractive-looking paddle makes speed a top priority. It utilizes smart response technology to ensure that every hit you make will be driven hard and fast without compromising control.
Another great thing about this paddle is its balance weight, it helps give shots some much-needed swiftness. The paddles high-performance grip ensures that even if you're playing for a long period of time that you'll never suffer from arm, elbow, or wrist fatigue.
What We Like:
The edge shock guard is small which offers a larger playing surface.
Has a large sweet spot
Power and precision comes from the polymer honeycomb core
What We Don't Like:
Expensive
Doesn't come with a paddle cover
The Best Pickleball Paddles for Spin – Budget Option: Onix Composite Z5
The Onix Graphite Z5 Pickleball Paddle is a fierce competitor for one of the best pickleball paddles for spin. It's not number one on our list but it's still an excellent choice.
It being an excellent choice is mostly due to the combination of materials that are used for its construction. The surface of the paddle is made from graphite, it provides a substantial amount of paddle-to-ball contact. This is perfect for spin. The core of the paddle is made from a combination of paper honeycomb and Nomex. These materials offer the kind of power needed for top-flight pickleball.
The wide-body design and grip of this pickleball paddle is superior to almost all other paddles on the market.
What We Like:
The price is great for this quality of paddle
Lightweight, which is awesome for long-term play
Large sweet spot
What We Don't Like:
Doesn't come with a paddle cover
This paddle may be too much for players who are just starting to play
The Best Pickleball Paddles for Spin – Best for Competitions: Selkirk Amped
The Selkirk Amped Pickleball Paddle was another top contender for the best pickleball paddles for spin. After much consideration, we decided that the Selkirk Amped Pickleball Paddle may not be the top choice but it's still a paddle to consider. It's a fine option for players who aren't ready to go pro but are still competing in amateur competitions.
The grip on this paddle is high-quality and the face is made from cutting-edge FiberFlex fiberglass to help deliver spin shots and also retaliate against your opponent's spin shots. All the while maintaining absolute control and accuracy.
On top of all that, the core is made from polypropylene which provides incredible durability. This kind of durability is crucial if you're a serious player.
What We Like:
Used by pro players like Kaitlin Christian and Tyson McGuffin
USAPA approved
Has a longer handle, this makes it a great choice for players who have experience with tennis
What We Don't Like:
Pricey
Possibly too heavy for some players
Paddle Features to Keep in Mind
Of course, if you're reading this article you're most likely looking specifically for spin so you may be okay with compromising in some areas. However, I'm still going to share other features to keep in mind as you search for the right pickleball paddle for you.
Weight
If there's one vital feature that you should pay attention to other than control, it's weight. Weight determines how the paddle feels when you're holding it, and it affects how well you swing.
Pickleball paddles can range significantly in this area, from anywhere from six to fourteen ounces. Lightweight paddles are those under 7.3 ounces, while medium ranges from 7.3 ounces to 8.4 ounces. Anything over 8.5 is considered heavy.
Grip Size
Every pickleball player's goal is to take accurate, controlled shots, and finding the right grip is paramount to achieving that goal.
There is some debate about long vs. short grips. You'll hear that longer grips offer more stability, while shorter grips deliver greater control. But in our humble opinion, the grip should be neither too long nor too short. For most people, a good rule of thumb is that it be roughly the same size as your palm and comfortable to hold.
Paddle Width
The paddle's width is another feature to consider, as it influences how well you can hit the sweet spot. In most cases, paddle width should not exceed twenty-four inches.
Edge Guard
Some pickleball paddles have edge guards or protection for the edge of the paddle against chips and damage. Most people prefer medium-sized edge guards, though others go with large sizes, which increase the hitting surface. The trade-off with large edge guards is that the pickleball paddle's weight increases, which may not be something you want.
​​Frequently Asked Questions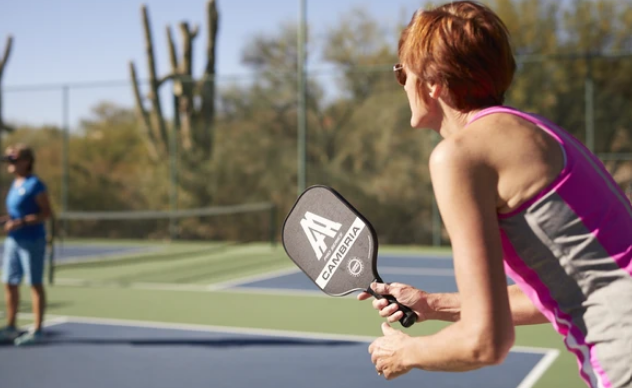 When looking for the best pickleball paddles for spin, you may have a few questions. It doesn't matter if you're a beginner or have some pickleball experience. You should learn as much as you can about paddles.
Here are some common paddle questions.
How Long Do Paddles Last?
The lifespan of a paddle depends on the materials and construction. For example, if the paddle's interior is thin and the exterior is too smooth, your paddle may not be suitable for long-term use. However, it can be good to get you started.
You should also consider that the area between the paddle and the handle is crucial. That can be a weak spot on a lot of paddles, and that can cause your paddle to break even when the surface is still usable.
If possible, feel the paddle and inspect the edges and the handle. Then, you can determine if it's durable enough to last through many games.
What Paddles Give You More Power?
Heavier paddles have the most power. While lightweight paddles can be easier to hold and maneuver, they won't be as strong.
You can also look for super-heavy-weight paddles for even more power. But if you just need an average amount of that, you can get a medium-weight paddle.
What Paddles Offer More Control?
While a larger paddle is more powerful, you may sacrifice control. Smaller and lighter paddles are better for players who need to respond quickly in a game.
You should look for a lightweight or medium-weight paddle for more control. A smaller head can help reduce the overall weight so that you can have more control over your shots.
Can a Good Paddle Help a Beginner?
Many things can help beginner pickleball players, and the right gear is essential. You don't need the most expensive paddle, but you do need a good-quality one that won't break the first time you use it.
As a beginner, you may want to start with a lighter paddle. While it won't be as powerful, it won't strain your wrist. Once you start playing more, you can decide if you want a heavier, more powerful paddle.
How Should You Hold Your Paddle?
While playing, try to keep your paddle near your chest. That will help improve your reaction time to make more shots early on.
You should also consider stretching before you play. Many pickleball injuries are preventable by warming up. Start by walking or jogging around the court, then stretch out your wrists and arms to help avoid fatigue.
Make sure your paddle feels comfortable and secure in your hand. If the handle feels too short, you may not have the best pickleball paddle for you. On the other hand, it shouldn't feel like you have to strain to hold the paddle securely.
Are Expensive Paddles Better?
While many expensive paddles are excellent quality, they aren't always the best. Therefore, you should consider your current paddleball experience and your needs.
Sometimes, paddles are more expensive because they're thicker and heavier. So if you want something lighter, you may prefer a more affordable option.
Wrapping Up
Now that you know about the best pickleball paddles for spin, hopefully, any questions you had were answered, and you're now closer to figuring out what kind of pickleball paddle is right for you.
When it comes down to it, whether it's graphite, composite, or wood, is not the most critical factor in picking out your paddle as most believe. Each has its benefits and drawbacks, and there are other factors that you also need to take into consideration when choosing the best paddle for spin.
The bottom line? Buy whatever paddle that feels right in your hands. I understand if you already have a specific model or brand in mind; but in the end, it should all comes down to a paddle that feels right for you and fits your skill level.
It's crucial for you to be comfortable with your paddle; this is because the game is going to be much more enjoyable this way. Pickleball is quickly becoming the most popular sport in the country, and it's a fun activity to pass the time or even grow to play professionally! Take your time and ask questions when picking out your paddle to be sure you get it right!
Looking for more? Here are some other articles I put together: