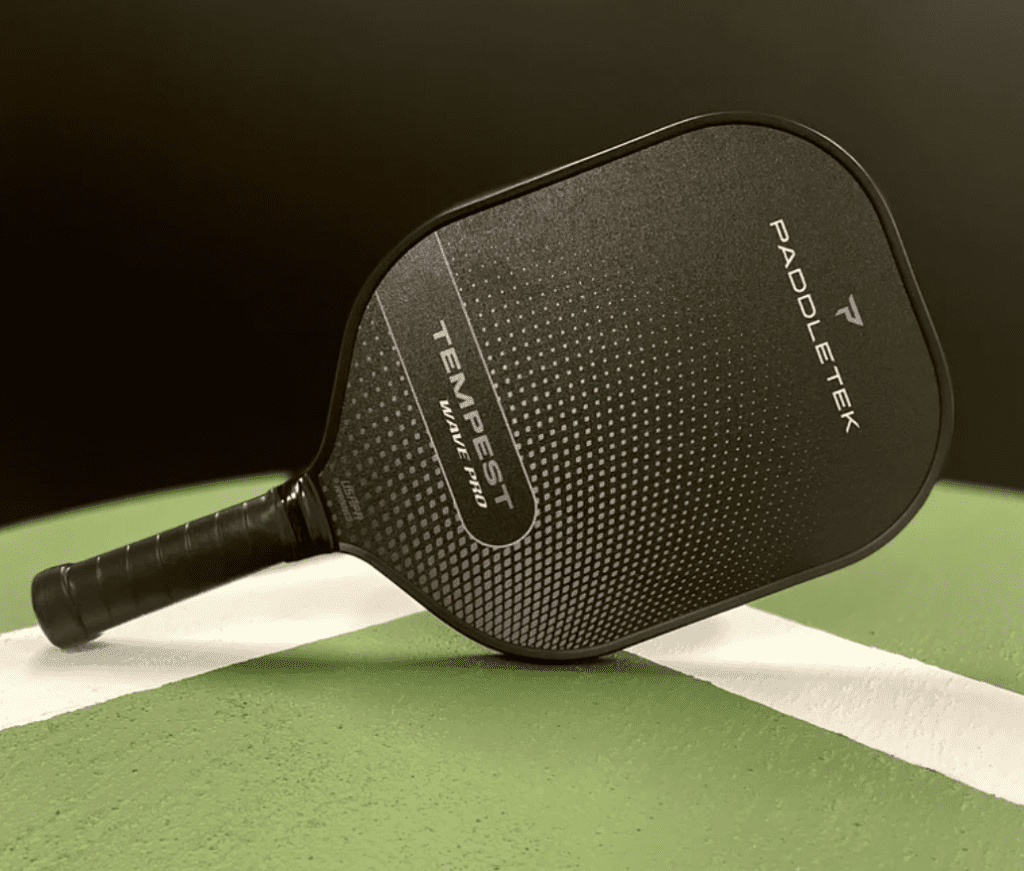 All of the paddles you see listed below are great for pickleball players of all skill levels. So are you ready to start playing pickleball or level up your pickleball game? This guide will help you find the best widebody paddles for pickleball and help you understand what the best options are for you.
Pickleball is a game that is social, friendly, and fun! The rules of the game are simple and easy for beginners to learn. However, don't let this simple description fool you. Once you get the hang of playing, games can quickly turn into fast-paced, competitive games.
Pickleball is a combination of badminton, tennis, and ping-pong, so it shouldn't be surprising to you that you play with a paddle. Pickleball paddles are a racquet that is used to hit a ball. Therefore, you need to have the best pickleball paddle if you want to have the best returning and serving experience. Pickleball paddles range in size, but a prevalent choice is widebody pickleball paddles. However, there are so many options out there I understand that it can be hard to know where to start. That's why I've put together a list of the best widebody paddles for pickleball.
Different Pickleball Paddle Features
The days of finding and using an old wooden ping pong paddle to play a game of pickleball are gone. Today's pickleball paddles come in sizes, materials, and weights. It's important to note that each of these features has some benefits as well as tradeoffs that you should be aware of.
Sizes
Size is essential when it comes to pickleball paddles. This is because it affects how far you will need to stretch for the ball and the amount of jump the ball will have when it bounces off the face of the paddle. Choosing the right size will entirely depend on your playing style and the type of grip you like.
Materials
In recent years, pickleball paddles have been made from different materials. Back when pickleball first started and up until a few years ago, a lot of pickleball models were made from wood. Wood is sometimes still used today, but it usually has some coating to help provide more durability, control, and impact on the ball.
However, players that are more advanced use paddles that are made from better materials like composite, graphite, and carbon fiber. These kinds of paddles also use better materials for the core, like Nomex, aluminum, and polypropylene.
Weight & Balance
Pickleball paddle weights can range significantly, anywhere from 6 ounces to 14 ounces. Pickleball paddles made from newer materials weigh around 6 to 9 ounces. It may seem like a few ounces wouldn't make a huge difference, but you'd be surprised. When you swing the paddle to hit the ball countless times during a match, you'll definitely notice the difference those few ounces can make.
Balance is another essential feature of pickleball paddles. You may find that some pickleball paddles are heavier towards the top, while others are heavier towards the bottom by the grip. Paddles that are balanced offer equal weight distribution in the middle of the paddle.
I want to go over with you why balance is important quickly. When you swing the paddle, the heavier side usually leads the shot. Meaning if the paddle is not balanced where you think it is, your shot may not go where you want it to. Don't worry, though. It's easy to check where a paddle is balanced. To check, lay your paddle horizontally over a few fingers. Wherever you place your fingers on the paddle and the paddle doesn't tip shows where the center of the paddle is. If your fingers have to be placed at the top for this to happen, then the paddle is top-heavy. If your fingers are more toward the bottom of the paddle, then it's bottom-heavy.
The Top 3 Best Widebody Paddles for Pickleball
I've listed some of the best widebody paddles for pickleball below; there's a variety here, so you should be able to find the right fit for you!
Pro-Lite Titan Black Diamond Pickleball Paddle
One of the best widebody paddles for pickleball is the Pro-Lite Titan Black Diamond is one of the top paddles on the market today. It's been used by a variety of pro players, including Brian Ashworth. The Titan Black Diamond was the first paddle by ProLite for their Professional Black Diamond Series. This is for sure an advanced pickleball paddle worthy of professional play at national championships. The price is up there on this paddle, but if you can afford it, anyone who plays with this paddle will appreciate the quality.
The paddle's face is made from 100% carbon fiber, which gives it excellent shock absorption. The texture on the face is also enough to help you put extra spin on the ball. The Titan Pro has a weight that ranges from 7.5 to 8.3 ounces. To put that into perspective for you, the average paddle weighs around 8 oz.
This pickleball paddle is made of the same carbon fiber material that NASCAR uses to manufacture car bodies. The edge guard is low profile but significant enough to protect the edge of the paddle while still maintaining a very minimal impact on the paddle face. This reduces the chances of mis-hits or unintended redirection of the ball.
If you're serious about pickleball, looking to invest in a quality pro paddle, and can afford to pay the price, the Titan Pro Black Diamond by Prolite is a fantastic choice.
HEAD Radical Elite Pickleball Paddle
The HEAD Radical Elite Pickleball Paddle is a great entry-level option for players who are looking for a paddle that provides power. The paddle features HEAD's dynamic power shape and weighs around 8.1 oz. However, since it's an entry-level paddle, it doesn't feature the Extreme Spin Technology. Don't let that scare you off from this paddle, though; it's a great option with power-packed features!
The paddle is incredibly sturdy. It not only looks professional but also delivers in all aspects as well. It's amongst the most inexpensive paddles available to purchase today due to no fancy features. It just offers the user raw power. This paddle has an Ergo grip which helps dampen the vibration when playing.
Paddletek Tempest Wave Pro Pickleball Paddle
The Paddletek Tempest Wave Pro Pickleball Paddle is one of the best widebody paddles for pickleball. It's a fantastic choice for pickleball players of all skill levels, including pro players! The face of the paddle is made of graphite, which is excellent for delivering power with little swing! The graphite is also lightly textured so that the face bites into each return and gives the ball some spin.
The paddle is 15 ⅞ inches long and 8 inches wide. These dimensions mean that it's a standard wide paddle. You may or may not know, but this is the most popular paddle size among pickleball players. This is because wide paddles like this have a sweet spot that is easy to locate and adjust to. This also helps with applying topspin or backspin to the pickleball ball!
This paddle weighs around 7.6-8 ounces, which means it's a medium-weight paddle. However, I would like to mention that paddles can weigh up to 13 ounces, so 8 ounces is pretty light. With this weight, you won't have to worry about developing swing fatigue early in the game. But, on the other hand, it's not too light that you lose power when swinging.
Pickleball Paddle Features to Keep in Mind
Here are some other features to keep in mind as you search for the right pickleball paddle for you.
Weight
Suppose there's one vital feature that you should pay attention to its weight. Weight determines how the paddle feels when you're holding it, and it affects how well you swing.
Pickleball paddles can range significantly in this area, from anywhere from six to fourteen ounces. Lightweight paddles are under 7.3 ounces, while medium ranges from 7.3 ounces to 8.4 ounces. Anything over 8.5 is considered heavy.
Grip Size
Every pickleball player's goal is to take accurate, controlled shots, and finding the proper grip is paramount to achieving that goal.
There is some debate about long vs. short grips. You'll hear that longer grips offer more stability while shorter grips deliver greater control. But in our humble opinion, the grip should be neither too long nor too short. For most people, a good rule of thumb is that it be roughly the same size as your palm and comfortable to hold.
Edge Guard
Some pickleball paddles have edge guards or protection for the edge of the paddle against chips and damage. Most people prefer medium-sized edge guards, though others go with large sizes, which increase the hitting surface. The trade-off with large edge guards is that the pickleball paddle's weight increases, which may not be something you want.
Frequently Asked Questions
When looking for the best pickleball paddle, you may have a few questions. It doesn't matter if you're a beginner or have some pickleball experience. You should learn as much as you can about paddles.
Here are some common paddle questions.
How Long Do Paddles Last?
The lifespan of a paddle depends on the materials and construction. For example, if the paddle's interior is thin and the exterior is too smooth, your paddle may not be suitable for long-term use. However, it can be good to get you started.
You should also consider that the area between the paddle and the handle is crucial. That can be a weak spot on a lot of paddles, and that can cause your paddle to break even when the surface is still usable.
If possible, feel the paddle and inspect the edges and the handle. Then, you can determine if it's durable enough to last through many games.
What Paddles Give You More Power?
Heavier paddles have the most power. While lightweight paddles can be easier to hold and maneuver, they won't be as strong.
You can also look for super-heavy-weight paddles for even more power. But if you just need an average amount of that, you can get a medium-weight paddle.
What Paddles Offer More Control?
While a larger paddle is more powerful, you may sacrifice control. Smaller and lighter paddles are better for players who need to respond quickly in a game.
You should look for a lightweight or medium-weight paddle for more control. A smaller head can help reduce the overall weight so that you can have more control over your shots.
Can a Good Paddle Help a Beginner?
Many things can help beginner pickleball players, and the right gear is essential. You don't need the most expensive paddle, but you do need a good-quality one that won't break the first time you use it.
As a beginner, you may want to start with a lighter paddle. While it won't be as powerful, it won't strain your wrist. Once you start playing more, you can decide if you want a heavier, more powerful paddle.
How Should You Hold Your Paddle?
While playing, try to keep your paddle near your chest. That will help improve your reaction time to make more shots early on.
You should also consider stretching before you play. Many pickleball injuries are preventable by warming up. Start by walking or jogging around the court, then stretch out your wrists and arms to help avoid fatigue.
Make sure your paddle feels comfortable and secure in your hand. If the handle feels too short, you may not have the best pickleball paddle for you. On the other hand, it shouldn't feel like you have to strain to hold the paddle securely.
Are Expensive Paddles Better?
While many expensive paddles are excellent quality, they aren't always the best. Therefore, you should consider your current paddleball experience and your needs.
Sometimes, paddles are more expensive because they're thicker and heavier. So if you want something lighter, you may prefer a more affordable option.
Wrapping Up
Of course, you might be wondering what our top pick would be. While the competition on this list is close–and you can't go wrong with any of the options listed–we do feel that there is one model that stands slightly above the rest. Therefore, our top pick would have to go to the Pro-Lite Titan Black Diamond Pickleball Paddle.
It is on the pricier side, but it's worth it if you can afford it. This paddle has several features that we think are useful for players of all ability levels. For one, we like the core and face material and the price. Then there's the comfortable weight, wide sweet spot, and control and power, all of which are characteristics that pickleball players look for in a paddle.
Overall, Pro-Lite helps players achieve a fun, dynamic play with this model, and you'll notice lots of pop when you hit the ball. Lastly, the price makes this pickleball paddle attractive. You can get a well-performing model at a price that won't break the bank, which many new to the sport will appreciate.
If you've found the information in this article useful and you're ready to buy the best widebody pickleball paddle, you can find it here.
Looking for more? Here are some other articles I put together: